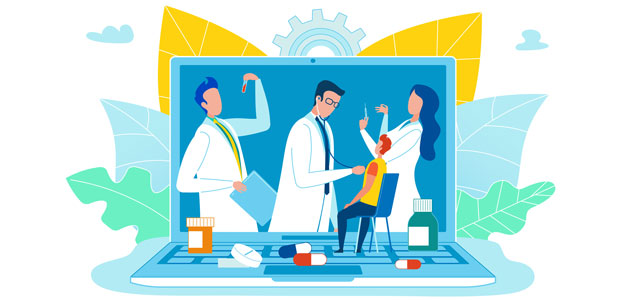 Top 10 innovative healthtech startups
In their previous article, entitled 'The top 5 trends to watch out for, beyond 2021!' MarketNgage discussed what's shaping the healthcare industry and what is their impact on the future. In this article they discuss the top healthtech startups that are taking the world by storm with their futuristic products and innovative thinking.
We all know that, COVID-19 pandemic severely stressed the medical industry and caused disruption in all facets of healthcare domain in a remarkably short span. The pandemic exposed major gaps and made healthcare sector vulnerable, which the paved way for new startups to overcome those issues by adopting emerging technologies. For instance, artificial intelligence (AI) in healthcare is proving incredibly valuable in remote health monitoring and treatment during the pandemic.
In the wake of the pandemic, it became clear that we need medical and healthcare solutions which are beyond, virology, immunology, and epidemiology. Healthtech startups are jumping on this bandwagon to fulfil those needs as world economy recovers from the global crisis.
Healthtech startups are redefining the modern healthcare industry and are introducing some promising solutions to cater the increasing needs. MarketNgage predicts that these startups will provide an intense competition to top healthcare giants unless they discover novel ways to boost their product's performance, productivity, and efficiency.
Let's find out some of the most promising startups in five domains and analyse how they are identifying and overcoming problems in healthcare industry.
1. What is the growth of telehealth startups in 2021?
Use of telehealth software escalated during the pandemic as it eliminated the contact between patients and healthcare workers. MarketNgage reported that adoption of remote monitoring and diagnosing solutions along with heightened awareness of healthcare applications will quadruple the sales revenue in telehealth sector by the end of 2031.
London based teleheath startup; Babylon Health is taking the market by storm as the company is looking to go public by the end of 2021. This startup has designed artificial intelligence (AI) software which can provide remedies for broad range of ailments ranging from influenza to bronchitis and skin allergies.
The software offers you an online appointment with doctors and provides 24 hours digital consultation. Company has its operations centre in North America, U.K. and Asia Pacific and is planning to penetrate emerging markets of South America and Middle East.
To survive in this steep competitive environment, Babylon Health is forming a partnership with primary healthcare providers to make their service accessible to millions of people. In U.S., they formed an alliance with Centene Corporation to provide 24/7 primary care to American population.
To capitalise on these lucrative opportunities, several telehealth solution providers have emerged in the past few years. After extensive market research, MarketNgage identified the following telehealth companies that are going to transform the industry in 2021 and beyond.
Healthtech startup VillageMD is turning heads of medical professionals as it has invented a innovative three step model to deliver medical care. Through VillageMD's docOS proprietary operating system, patient can access world class physicians and has proved to deliver results in par with normal clinic settings. Virtual visits allow the patient to connect with medical professionals from the comfort of your home.
DocOS uses artificial intelligence to analyse patient's data over a thousand clinical source systems, helping doctors to make better decisions. Leveraging on healthcare expertise and advanced analytics, VillageMD physicians use insights to understand patient needs.
VillageMD has joined hands with Walgreens Boots Alliance and are focusing on opening at least 600 new Village Medical at Walgreens locations in more than 30 US markets by 2025.
2. Start-Ups Moving Ahead of the Curve with Big Data Analytics
Collection and retrieval of healthcare service data is a lengthy and tedious process, as majority of health data is passively collected by hospitals and institutes. New healthtech startups are combining image recognition technology with machine learning algorithm to detect diseases and recognize related abnormalities at a more accelerated pace. The trained algorithm is assisting clinicians to diagnose wide spectrum of diseases using patient images and records like photos, test results, x-rays, and other medical images. Thus, adoption of big data analytics in healthcare sector will offer excellent opportunities for start-ups to expand their foothold in the market.
Freenome is a biotechnology health startup you must look out for in 2021. The company has merged the field of biology and medicine with speed and effectiveness of machine learning. Freenome assists doctors to detect early onset of cancer with a simple blood test through their 'Multiomics' platform.
This US based company employs a team of machine learning experts, programmers, biologists and clinicians to discover cancer in its initial stages and assist doctors in developing the next gen precision therapies through knowledge, tools and expertise.
In August 2020, Freenome closed a $270m financing led by investors like Bain Capital Life Sciences and Perceptive Advisors. The funding will be used to advance novel multiomics blood testing platform for early cancer detection. The other investors include Fidelity Management & Research Company LLC, Janus Henderson Investors, Farallon Capital Management, Rock Springs Capital, Cormorant Asset Management, EcoR1 Capital, LLC, Catalio Capital Management, and the Colorectal Cancer Alliance.
In the same way, U.K. based startup Optellum designed and developed clinical decision support software for early detection, diagnosis and treatment of lung cancer. 
The software uses artificial intelligence (AI) and machine learning algorithms to analyse millions of data points from one of the world's largest clinical datasets.
In August 2021, Optellum announced to collaborate with the Lung Cancer Initiative at Johnson & Johnson. According to the agreement, Optellum will apply its AI-powered clinical decision support platform to improve the lung cancer survival rates through early intervention and prevention.
3. Startup Companies making lives easy with Internet of Medical Things
Growing versatility of smartphones and mobile apps have played a crucial role in remote monitoring and tracking chronic illness for millions of patients around the world during COVID-19 pandemic. Combination of internet of things (IoT) with telehealth technologies gave birth to internet of medical things (IoMT). New generation of portable devices are coming with wearable built-in ECG sensor devices and wearable EKG monitoring sensors all in-sync with IoMT that allows users to track their skin temperature, glucose level, and blood pressure readings. These rapid technological advancements will boost the wearable medical devices market growth.
IoMT consistently monitors patient's vital signs and automatically administers suitable amount of medicines or drugs to manage patient's vitals within safe range and prevent overdosing situations.
Startups are developing wireless implanted medical device and external drug delivery system. The external drug delivery devices are equipped with smart sensors which monitor the environment conditions and notify the user if medicine is spoiled or about to be spoiled.
Medicsen is a Spanish healthtech startup which is currently developing a smart patch for non-invasive drug delivery systems for diabetic patients. The patch can be activated and operated through machine learning algorithms or manually by the user. It offers direct access to personalised health data and can predict glucose levels assisting in delivering the required amount of insulin.
MedAngel is a Dutch startup which developed a mobile app that helps people monitor temperature of their medicines and insulin through their smartphones. Company also covers the last-mile of cold chain management and improves the safety of the patient. To gain competitive advantage in this market, the company took part in the Rockstart Digital Health Accelerator program in the Netherlands and is actively working towards expanding its product portfolio.
4. Startups that offer Robotic Automation Solutions in Healthcare
New healthtech startups are integrating virtual reality, advanced interaction control system, and smart sensors with robotics to develop service robots that can take up menial and mundane tasks, thus overcoming the issue of shortage of healthcare workers and allows doctors to focus on urgent and complex tasks. MarketNgage forecasts that global disinfection robot market sales will grow at 15% CAGR over the upcoming decade. Robotic automation is also penetrating the surgical applications as these systems are providing surgeons a better chance to successfully complete complex surgeries.
Jetbrain Robotics is an Indian healthtech startup that specialises in end-to-end autonomous mobile robotic solutions and develops service robots to assist with nursing and internal logistics management. The autonomous robotic solutions for patient care uses machine vision and indoor navigation technology to help hospital staff with medical transportation.
In the fall of 2020, Solaris acquired Jetbrain Robotics for developing new smart logistics and assistive care, with unique products rolling out in the market by spring of 2021.
Innovative Future is becoming popular in European healthcare industry as it offers digitised strategies and solutions to leading healthcare centres across Europe and helps in delivering superior patient care. It provides robotic process automation (RPA) technology to streamline manual and transactional tasks, optimise appointment scheduling, and execute billing, claim processing, inventory management automation, and operations.
5. Startups that offer Virtual Reality (VR) Based Medical Treatment
Prolonged treatment of chronic pain leads to many harmful side effects like addiction to pain medicines like morphine and codeine. Startup companies are developing VR based medical treatments to distract patients from thinking about pain while undergoing therapy. Some leading healthcare institutes are using VR-based training modules for healthcare staff training. Virtual reality software for medical & wellness application provides doctors and students a safe simulated environment for practicing without any consequences.
As United Nations plans on reducing the mortality rate due to drug overdose by 2050, VR is emerging as one of the go-to technology that can reduce user dependency on pain medication. Startups are working in conjunction with top healthcare companies towards making VR based treatment more affordable and develop suitable infrastructure for employment of these systems.
XRHealth is one such startup which has developed VR software for medical and wellness applications. Their products are designed to provide optimum rehabilitation care, effective pin management, and perform patient data analysis. XRHealth is based in Israel, and its flagship product VRReliever is in high demand in Europe and Asia as it tackles patient pain through complex and pleasing interactive imagery in VR.
In 2021, XRHealth in partnership with ehealth company Reducept launched a new program specially designed to address pain management. This new program will use a VR game designed by Reducept which will train the patient's brain to manage pain.
The gamified experience is based on acceptance & commitment therapy and cognitive behavioural therapy, which provides targeted behavioural techniques to address pain.
Dual Good Health is a London based startup that develops VR software for emergency medical training (EMT). Their product portfolio includes VR-based training modules for healthcare staff, emergency and paramedic staff, and obstetrics specialists. Their life like training programs are based on national and international standards and allows trainees to devote extended hours on training and experience improved learning outcomes.
In January 2021, Dual Good Health joined the Oculus ISV program, as the company is aiming to improve their VR ecosystem and gaining the upper hand in the VR healthcare market by connecting with millions of people.
What is the future of these start-ups beyond 2021?
MarketNgage reports that, despite facing firm resistance from top medical and healthcare device manufacturers, the healthtech startups will exhibit tremendous growth backed by growing consumer awareness regarding health and wellness and digital technology becoming more accessible. Strategic collaboration with healthcare institutes and healthcare service providers is in the cards as these budding startups are looking to strengthen their market position.
Investors are looking to invest in these new startups to gain impressive financial returns from the increasing demand of remote healthcare system among consumers. With the emergence of digital health monitoring, the healthcare industry is ushering into a modern era which will be dominated by these start-ups, concludes MarketNgage.