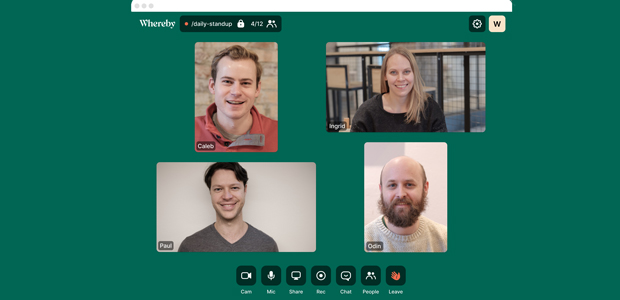 The Tools You Need To Run a Company Remotely
With the COVID-19 pandemic in full swing and uncertainty over when we will be returning to our offices, every company big and small is now adjusting to remote working.
Whilst video conferencing and task sharing tools were already on our radar, we have now had to adopt them fully and use them as part of our everyday work routine. In some respects, the year 2020 has been accelerated and forced us to adopt technology much quicker - and in a recent blog post by video conferencing tool Whereby, they highlight the remote tools you need to run a successful company.
Whereby
Formerly known as appear.in, Whereby was one of the earliest video conferencing tools and originates from Norway. The main advantage of Whereby over rivals such as Zoom and Teams, is that you get your own personalised URL upon registration. So if you sign up today as John Smith, your video conferencing URL to send to your guests will be something like whereby.com/john.smith
No need for sending long URLs, codes and passwords to your staff members and colleagues, your personalised URL will always stay the same, making onboarding much quicker and time effective. There is no downloading of an app or a software onto your desktop, you simply click on the URL and you are in. Whereby also offers all the standard features such as screen-sharing, branded backgrounds, video recordings and live chat functions.
The pricing is very similar to your popular web conferencing tools, with a free version available, a professional package from $9.99 or a business version from $14.99 to include extra administrators and users in your meeting rooms. 
Slack
Slack is certainly not new and was already thriving before coronavirus hit. The chat platform is the preferred choice of startups and developers who work in a team, often preferring to communicate in this way, rather than traditional emails.
Slack is something that you download onto your desktop and you can create channels for one-on-one chats with your colleagues, have dedicated channels for your teams, as well as have company wide channels.
You can also drag and drop files and look at your history to go back on any previous messages or instructions, making it a fast, collaborative and scalable operation for your team.
There is a free slack version available and you can upgrade for small and medium businesses for £5.25 per month, larger businesses at £9.75 per month and a custom package for extra large businesses.
Asana
Asana is a task management tool which allows you to monitor tasks and responsibilities for you and all your staff. For any company that has multiple campaigns or tasks on the go, this is a perfect opportunity to check the progress and assign jobs to different people in the company, perfectly remotely. 
Asana can also help improve your remote collaborations and stay in sync about your progress.
There is a basic version available or the option to upgrade to Premium for £9.49 per month, Business for £20.99 or a custom package for large enterprises. Every upgrade gives additional features such as unlimited users, custom rules builder and advanced integrations with the likes of Salesforce and Adobe.
Zapier
With Zapier, you can create zaps - automated workflows that connect your apps and services. This platform is all about saving you time and money and improving your internal operations, but specifically for web apps, hence its popularity amongst startups and developers.
A zap is triggered when something specific happens and leads to one or more actions that you have decided. For instance, when you add a new row in a google sheet. Integrated with Slack, the zap opens for you to chat directly with the teammate you're working with on that google sheet. This kind of automation can help you become more efficient and help you remember your different tasks.
Charged by task, there is a free version and this ranges from £0 per month, all the way to £461 per month for large companies