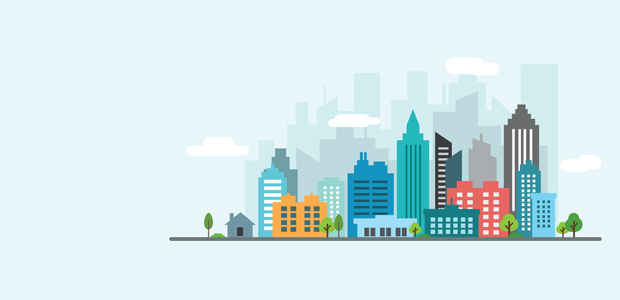 A third of businesses plan to downsize city centre offices
Over a third (37%) of business leaders are considering downsizing their primary office space - amid a long-term shift to remote working.
With 85% of employees expecting continued flexibility to work from home post-COVID-19, and a 130% increase in home-buyer searches in the country-side, and a 108% increase in prospective moves further out the City to Zone 6 (compared to the same period last year), many firms are considering downsizing or getting rid of city centre bases in place of smaller satellite offices closer to where employees are based.
The findings come from a new report from global recruiter, Robert Walters - The Future of Work in UK & Ireland - which highlights the potential for many businesses to establish a 'hub & spoke' business model which addresses both the flexible needs of the employee, and the commercial & financial needs of the company.
According to Robert Walters, the hub & spoke model refers to a more flexible workspace and working style allowing employees to work from either their city hub or a dedicated, strategic spoke location - including more regional workspaces.
The 'hub' or HQ remains in a city centre - albeit smaller - but continues to act as the 'face' of the brand where client and larger team meetings can be held. 'Spokes' are much smaller and versatile offices based closer to where employees live - and often designed in a co-working format to accommodate a variety of different teams.
Sam Walters, Director of Robert Walters London commented: "It's inevitable that COVID-19 has forced companies to rethink their space and logistical needs, and the hub & spoke model is evolving from what it was even a year ago - now concentrating on pairing employee preference for remote work with flexible physical workplaces that allow them to connect with their colleagues.
"With more and more companies becoming comfortable with their employees working from home, it will become the norm for a HQ to only have around 30% of employees working from there on a day-to-day basis.
"However our research highlights how important it is to maintain workplace culture in order to bring the best out of a workforce. Spokes or regional offices will work in that they aim to address all of the employees concerns around flexibility, commute time, cost of travel, and work-life balance, whilst still allowing companies to train, motivate & monitor employees productivity on-site."
Sam Walters highlights his top five reasons why employers should consider moving to a hub & spoke model:
1) Cost effective
According to a Robert Walters survey at the beginning of lockdown, 75% of firms took drastic measures to reduce costs - including headcount freezes or redundancies (50%), utilising government unemployment schemes (43%), terminating temporary contracts (22%), and introducing voluntary salary reductions (20%).
Not realising how long remote working restrictions would be in place, it wasn't until companies were surveyed almost five months later where 37% stated that they would consider downsizing office space to aid continuity.
Adopting the hub & spoke work model allows companies to downsize their city centre office - lowering overheads, rent, expenses, and business rates - all whilst maintaining brand image.
2) Business flexibility
Now, more than ever, (and especially with the effects of the pandemic in full swing), flexibility is vital for businesses.
Increasingly in the past two years there have been more co-work spaces on the market - offering everything from an entire floor for your business, to renting by the desk. 
These fully-serviced offices allow businesses to sign-up to short-term licence agreements, with fewer T&C's; allowing spoke offices to be opened rapidly and at much lower risk.
3) Meeting employee expectations
According to a Robert Walters survey, 35% of professionals claimed that their productivity increased when working from home - despite this 60% of employers have concerns over productivity if remote working is to continue long-term.
Spoke offices meet in the middle of a company and employee's needs. By producing a heatmap of where your employees live versus where they work currently, you can get an idea of the alternative areas that might work better for their operations. Your employees will also save money and time on their commute. In return, a better work-life balance for them could mean higher productivity and output for the business.
4) Increase company footprint
A larger geographical footprint equals a broader audience, and customer and client reach. Adopting the hub & spoke model means that, while your dispersed teams are going about their daily business, they are meeting local people and other companies, opening a range of doors and benefits including a broader reach for in-person services, new business partners and a more extensive network.
5) Hire from a much larger talent pool
The opportunity to hire new talent is one that comes with regional offices further afield. With a centralised office, businesses are confined to certain geographical compromises such as commute distance, time and cost. That means the majority of the country's talent is lost on your business, and these individuals who might be the key to your future success could be hired by your competitors instead.
Consider opening local offices in regional talent hotspots - such as The Midlands for finance professionals and the North West for tech talent. There are also considerable savings to be made when hiring outside of major cities.