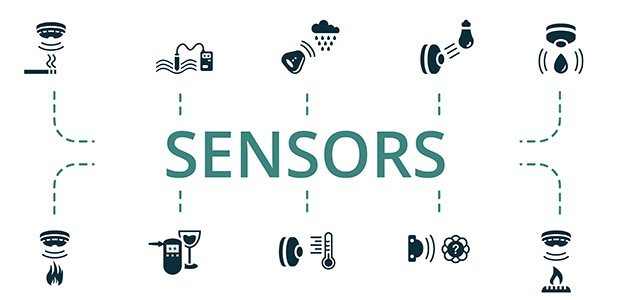 Technology briefing: sensors – the invisible heroes of the modern world
This is the first of a series of five technology briefings for Startups Magazine readers, in which we will be reviewing the fastest moving and most exciting fields to equip business leaders on how to identify trends that they can leverage in their own business and technology development plans. The series will cover AI, sustainability, security, and eHealth, but we start with the critical and frequently overlooked role of sensors.
This article originally appeared in the March/April issue of Startups Magazine. Click here to subscribe
From smart watches and smart meters to smart factories and smart cities, the electronic devices and systems that enable the way we live today are becoming more responsive, more informative, more pervasive – some may even say invasive.
There are multiple factors enabling this explosion in monitoring, control, and data analysis. One is the easy availability of computing power at relatively low cost, from tiny, embedded microcontrollers to server-class processors and AI accelerators in the Cloud.
Another is the rapid pace of technological development in sensors. Their work is often barely noticed and frequently taken for granted behind the security, comfort, convenience, safety, and data-driven productivity of modern life and business.
New sensors
Sensors are simultaneously becoming smaller and more energy efficient, as well as smarter with embedded processing. New motion sensors now entering the market have their own on-board machine learning core to perform AI inference directly in the sensor. This enables software developers to offload basic functions such as human activity detection from the main processor, which can save power – lower carbon, longer runtimes from smaller batteries – as well as enabling faster response to events.
On the other hand, new machine vision sensors are emerging that can help resolve the conflict between the desire to capture information and the importance of protecting privacy. Machines that can 'see' enable many smart applications such as room-occupancy detection, power-saving wake-on-approach operation for equipment such as laptops or ATM machines, and others such as people counting, expression detection, eye tracking. Using a camera sensor can raise privacy concerns and can also be relatively expensive to buy and develop.
How does it look?
Still, the information is needed in situations like smart retail, smart home security, drone guidance, and various others. For many years, the only alternatives have been unsophisticated proximity sensors and passive infrared (PIR) detectors. Advanced sensors from brands such as Panasonic, Omron, Mitsubishi, and STMicroelectronics, with whom Anglia has long-term distribution agreements, are now changing the face of presence detection and scene analysis. These include grid-type PIR sensors that can calculate the direction and speed of a moving object and time-of-flight sensors that monitor reflected coded infrared signals to measure distance to multiple objects in the field of view.
Using point-Cloud techniques, time-of-flight sensors can map scenes in detail to enable gesture control, people counting, head-position monitoring, and accurately differentiate between children and adults. All without capturing conventional photographic images, thereby removing the threat to privacy. This can be a great advantage for measuring the effectiveness of retail promotions or tailoring the content of digital advertising signage, as well as discreetly monitoring the security and safety of people in their homes, such as the elderly.
More sensors
Other exciting sensor technologies include MEMS (micro electromechanical systems), which enables extremely small, robust, and accurate chip-sized components such as accelerometers, gyroscopes, microphones, as well as pressure and humidity sensors that can monitor conditions inside small enclosures. Tiny MEMS humidity sensors are embedded in the lidar detectors of autonomous vehicle controls to trigger a heating element that prevents lens fogging.
There are also examples where opportunistic sensor deployment adds value to applications. At Anglia, we recently worked with a customer developing parking meters for city authorities. As town councils are under increasing pressure to publish air-quality data and clean up the environment, the developer contacted us to help design air-quality sensors into the meters. The meters are typically dispersed throughout an urban environment and so are ideal for capturing ambient data that can determine whether pollution controls are taking effect.
The IoT effect
It's important to understand the impact the Internet of Things is having on sensing and sensor deployment. While the ability to sense may not be new, the ability to connect large – or very large – numbers of sensors, across short or long distances, using wired or wireless connections, greatly expands and extends the information we can access. Together with the powerful computing available in the Cloud and embedded in Edge devices, this is both enabling the development of sophisticated applications and easing their deployment.
One example of the sophistication and scalability now within easy reach is air-quality monitoring in spaces such as classrooms or offices. High CO2 levels can impair learning and may reach unsafe levels. With IoT technologies, it's easy to distribute large numbers of CO2 sensors throughout the space, connect to a gateway, generate an alert to a dashboard – such as a mobile app – send remedial settings to the HVAC for that room, and collect all data into the Cloud for historical analysis to drive future improvement. Similarly, CO2 sensors, from suppliers such as Sensirion and Figaro, can be used in smart agriculture to detect the condition of grain stored in silos to help optimise storage, sales, and shipping.
Not so long ago, all of this would have required custom application development, typically involved just a handful of sensors, and allowed only limited scalability. In fact, widespread and scalable sensor deployments, combined with powerful cloud analytics, are enabling remote condition monitoring to spread throughout smart agriculture, smart factories, and smart cities.
Perhaps the ultimate expression of this trend is in digital twinning of complex equipment such as factory automation systems and assets such as aircraft engines. Intensive placement of sensors such as MEMS inertial sensors, temperature sensors, pressure sensors, airflow sensors, gas sensors, and others throughout the system can capture enough data to run an identical virtual model in the Cloud in real-time.