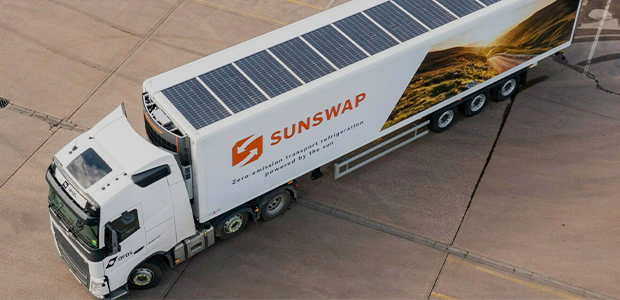 Sunswap: How one startup is cleaning up chilled delivery
In an industrial estate on the outskirts of London, a team of engineers is pioneering a green revolution in cold-goods delivery. An ambitious startup, Sunswap, has developed innovative technology to eliminate diesel emissions from refrigerated transport. Backed by Barclays and the Clean Growth Fund, their zero-emission vision is now being embraced by major industry players.
Sunswap's founders saw an opportunity to have an impact. After three years perfecting their technology, Sunswap is replacing diesel fridges with fully electric, solar-charged units. Major customers like grocery giant Muller have recently run a successful trial, while logistics firm DFDS (northern Europe's largest integrated shipping and logistics company), Samworth Brothers (the company behind household brands Soreen, Ginsters and Cornish Pastry Company) and many smaller operators are adopting Sunswap.
Sunswap's solar and battery powered electric refrigeration units have been able to run for weeks between charges. They match diesel performance without compromising on cooling capacity or reliability. This addresses a major pollution issue lurking behind grocery and pharmaceutical deliveries - the diesel refrigerated trucks bringing cold goods to stores and homes.
Over 50,000 of these refrigerated trucks drive across UK roads today. The diesel refrigeration motors that power these vehicles contribute to 40% of the CO2 emissions from the total vehicle. As well as an alarming 90% of the soot (particulate matter) and up to 40% of the nitrogen oxides.
Diesel has long been the fuel which powers the logistics industry worldwide. But as consumers and companies demand reduced emissions, the industry is exploring alternatives to diesel-powered refrigeration.
All the major UK supermarket have Net Zero targets but as McKinsey shows "most emissions are outside the direct control of grocers." The role of the supply chain in reducing transport emissions is therefore essential. Sunswap sees an opportunity to transform a massive source of emissions at the heart of our supply chains.
Tom Owens, Owner of Bannister Transport who recently committed to replace their current fleet with Sunswap commented "We're excited to work closely with Sunswap to help advance transport refrigeration in a more sustainable direction that meets our customers' growing demand for zero-emissions deliveries, vastly reducing our reliance on fossil fuels and shrinking our carbon footprint."
Sunswap's small team has already completed over 18 customer trials. Sunswap CEO, Michael Lowe said, "running successful pilots with industry partners, who will only adopt the best tech, proves we can match diesel performance today while pioneering for the future."
Based on real-world data, taking refrigerated transport zero-emission can save up to 4500 litres of diesel per year, and therefore remove 12 tonnes of CO2 and 115kg of NOx annually.
Transitioning to zero-emission remains a challenge for large-scale transport industries. But Sunswap is gaining early customer traction. An increasing number of operators, including DFDS, Gist, Samworth Brothers, Staples Vegetables, TIP, and Bannister Transport, are trialling or purchasing Sunswap's solar-powered refrigeration.
Though the road ahead is long, Sunswap's initial momentum shows the potential to electrify even the most carbon-intensive delivery fleets. Their progress points towards a future where the cold chain logistics underpinning our economy can operate free of diesel emissions.