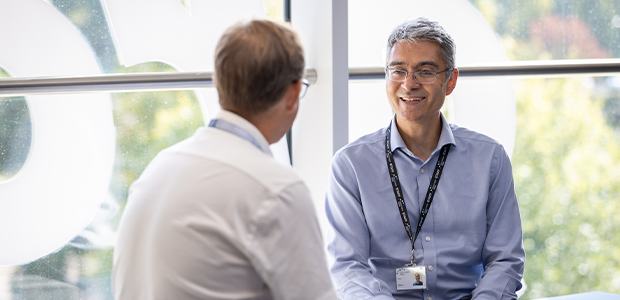 The stumbling blocks of science commercialisation and how to avoid them
Dr Renos Savva, Head of Innovation at Discovery Park, shares his experiences working with early-stage life science companies and what founders can do to give their innovation the best chance of successful commercialisation.
Savva is Head of Innovation at Discovery Park, joining the Business Development team in April 2023. Formerly a Research Team Leader at Birkbeck in London, Renos specialised in Structural Biology and Bioinformatics with an interest in protein engineering and synthetic biology.
For scientists and startup founders looking to commercialise their discovery, there are many areas to focus on, from making the science work, to securing funding and building the right team. What are the biggest priorities a founder should focus on in an early-stage company?
A founder needs to know their business. In the life sciences, founders are good at the science and technology and are often global leaders in their field, however, they may not have much experience of the business side. It's vital that they understand their business as a whole and where their strengths and weaknesses lie. That way, they can recognise how to complement their existing expertise to strengthen the company. This could be by bringing on additional team members or advisors, or locating somewhere that offers extra support that will bridge the gap while they learn the skills themself.
When we started Domainex, the company was formed from three founder institutes including The Institute of Cancer Research, who were able to support the business side while the founders focussed on what we knew – the science.
This is what motivated us to set up Discovery Spark, our new startup programme at Discovery Park. We've designed it as a self-audit to help founders understand where the gaps are in their business and build strong foundations to work from, with support from the experienced Discovery Park team and our network of industry experts that are supporting the programme, as well as the other participating companies.
What are the easiest traps to fall into when starting a scientific company and how can you avoid them?
There are many potential pitfalls that a startup can make, many of which you can learn from and move on, but some can prove fatal. Two of the biggest errors that I see companies making are around IP and financing.
IP – Not taking care of your IP properly can bring about the end of a scientific startup. File too early and the patent will lapse too soon for you to reap the commercial benefits but wait too long and you might be scooped by someone else. This is where advice from experts is invaluable and could be the difference between success and failure.
Financing – Often startups are working on a shoestring and any finance offer can feel like a life raft. But you have to be sure that you're accepting funding on terms that work for your business. You don't want your business to fall outside of your control sooner than it should be.
As well as these two key considerations, location is often overlooked in its importance, with founders choosing the closest or easiest option at the time. This is not always the best solution for the future of the business as you not only need to be somewhere with the best resources to establish the company, but also the capacity and support to grow.
From your experience co-founding Domainex, are there any lessons you've learned that you can share with other founders?
In the last twenty years, the startup funding landscape has developed significantly, so some of the things we experienced are no longer valid. But some key elements still apply, the most important of which is to know the market and who you need to talk to. Every deal could take a long time to reach completion, with some lost along the way. With startup budgets always tight, you don't want to waste valuable time and money on the wrong deals.
Another important consideration in growing the company is knowing when to hand it over. This can be a hard one to grasp as your company often feels like a part of you, but just because you're the founder, doesn't mean you have to stay there the whole time. Recognising the right point to hand over that is sensible for the business can be one of the hardest but most important decisions in a business's success.
How do you best demonstrate the strengths of your business to investors?
While this is a bit of a cliché, it doesn't make it any less true: the team is what people will invest in. As much as a good idea or technology is important, if anything should happen in its development to invalidate it, a successful company will need to pivot and the right team is vital for this. Investors won't lose their money it will just be redirected.
Beyond that, it's all about demonstrating potential return and how you are going to achieve that. This requires a realistic grasp of the market and providing evidence that you're investible. Non-dilutive funding, especially matched funding, offers investors a level of confidence. Demonstrating commercial buy in from external parties as well as turnover data all demonstrate that the business has capacity to succeed. There's no magic bullet, the right team and commercial viability are two key areas to focus on.
I've heard recently that venture capital (VC) funds have implemented more significant barriers to investment, with a lot more due diligence in place. In the wider context of our economy, this is no surprise and further emphasises the importance of demonstrating a clear and credible business model with data to support it, before you go for investment.
Once again, one error could be trying to do too much yourself resulting in overlooking important areas, or a perceived gap in your expertise.  Participating in accelerator programmes or locating within a supportive scientific cluster will help you to recognise and avoid mistakes, allowing you to do what you're good at and find people to help with other areas.
What should a startup look for in potential investors or partners?
Before looking for external investment, it is useful to know yourself, as founders and a business. VCs have personalities and ways of working that must be a cultural match for you and your team. Some are light touch, some are much more involved. What suits you? Often there is an element of desperation with startup funding but try to avoid just taking the first money that comes along and focus on finding a good fit.
Startups can be a rollercoaster; do you have any advice for a startup that might be going through a difficult phase?
Be resilient under the right circumstances. Many scientific founders have already completed a PhD which comes with some level of self-sacrifice, in many cases creating a ready-made entrepreneur. However, this badge of resilience could also be a bad thing as you also need to know when to fold and start over. Reconsidering your position is an impressive thing to do but very important for this area.
Scientific discoveries can show promise in multiple areas, but a startup is often short on resources. How do you choose how to focus your company so as not to be spread too thin?
Understanding your market well and using this to create a strong strategy is key for this. Each application will have its own market and you need to decide where makes the most sense to focus. You don't forget the other markets you just prioritise the most viable option. Demonstrating this focus while also noting other opportunities and how you might target them in the future will impress investors.
Tell us a bit about Discovery Spark – what will the programme offer business leaders and what are you most looking forward to?
I'm really looking forward to spending time with the 13 companies participating. The programme was three times oversubscribed and it was hard to choose the final selection. We've created a blend of very early stage, hesitant companies, with some more confident companies with experienced founders. Through the programme we're not aiming to act as teachers but instead as facilitators to make people think for themselves and teach each other. It's all about the magic in the room that we'll be creating with the help of our generous prize partners and facilitators.
I'm a strong proponent of the importance of networking and creating the feeling that something has changed because of who you've met. Much like getting a fantastic book recommendation from a friend, all you want to do is reciprocate – we want to create that effect with our network.
The programme will culminate at Giant Health in December. We've partnered to assemble an investor day conference where finalists will pitch to investors, and the final prize winner will be announced. Attendees will also have the opportunity to vote for a wildcard winner, so don't miss it!
Discovery Spark is a product of the experienced team at Discovery Park thinking strategically about what the park is. We're not just a science park but a startup ecosystem, and this programme offers a tasting menu of what that looks like. Business support, networking and advice, all in our fantastic facilities – Bon Appetit!