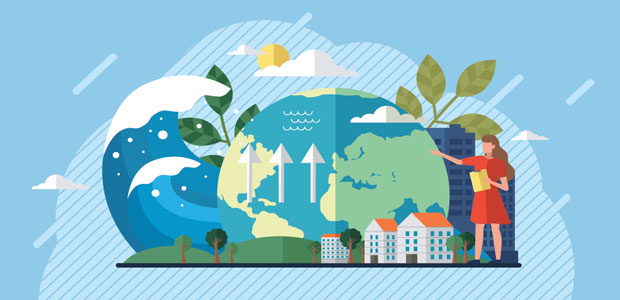 Strength in numbers: how small businesses can help fight climate change
While individual multinational corporations may have a disproportionately negative impact on the environment, the cumulative effect of small and medium-sized enterprises (SMEs) also presents both a huge problem and an excellent opportunity for climate action. According to a recent study by the British Business Bank, SMEs are responsible for nearly 50% of all business-driven greenhouse gas emissions in the UK largely, in part, due to the use of inefficient internal and supply chain processes. Despite this, 76% of SMEs are yet to implement a decarbonisation strategy and according to another recent study by O2 and the British Chamber of Commerce (BCC), only one in ten are even measuring their carbon emissions.
However, unlike big businesses, SMEs are far less likely to possess the necessary resources or know-how to address the problem. For those respondents to the O2 and BBC survey that do not measure their climate impact, cost was the most commonly cited barrier. The second most common challenge was a lack of in-house understanding or expertise; 22% of respondents said there is no one in-house that fully understands the meaning of 'net-zero'. How then, can SMEs start to take effective climate action? And if their carbon contributions are relatively small when compared to big business, why should they?
Why SMEs should start taking climate action
The simple answer is that through collective action - action taken together by a group of individuals or businesses to achieve a common goal - SMEs can have a real, tangible impact in combating climate change. Considering that SMEs have the power to generate 50% of all business-driven emissions, it's perfectly feasible to think the same influence can be applied to offsetting and going beyond this figure. For instance, Ecologi's community includes roughly 11,000 businesses, the majority of which are SMEs seeking to devolve some of the responsibility of offsetting their carbon emissions. These SMEs have contributed significantly to the 36.3 million trees Ecologi has planted and the 1.5 million tonnes of carbon that have been reduced through the platform. Equally, the burgeoning Million Tree Pledge (MTP) community, which is comprised solely of (35) SMEs, has pledged to plant 35 million trees since it was founded in April last year. On top of this number, by December last year the MTP had also planted five million trees, which was more than the UK government in the same timeframe.
However, that isn't to say a single SME or small alliance of businesses can't spark action in their industry or the wider business world. Numerous climate campaigns and broader movements started with the coming together of like-minded individuals, such as peers within certain industries, who took a stand and motivated others to do the same. One notable example of this kind of effective collective action is climate emergencies, which are being declared across a growing range of industries, including the likes of agriculture, tourism, music, fashion, pharmaceuticals, among others. Tourism Declares a Climate Emergency for instance, is a global community of hundreds of tourism organisations, companies and professionals, committed to delivering a Climate Action Plan with the aim of halving emissions within the industry by 2030. This kind of initiative, which has been mirrored by other industries, highlights the extent to which a small group can have an impact by raising awareness and advocating for climate action through its networks.
How SMEs can take effective climate action
The road to net zero for most SMEs is likely to involve a combination of mid-to-long term strategies, with varying levels of complexity. For instance, SMEs can look to make product lines more sustainable through the use of recycled materials and green their supply chains by working with local and ethical suppliers. SME owners can also do things like use renewable energy to power their premises, adopt green web-hosting and sustainable search engines, and green company finances by using ethical and eco-conscious banks. To implement these practices successfully, it's important that the aim to reduce carbon emissions is built into any business planning and by setting ambitious yet attainable goals.
There are also more straightforward steps businesses can implement in tandem with these longer term strategies that enable them to have a more immediate  positive impact. Many of the businesses using Ecologi have engaged their own communities in climate action by planting trees for every product sold, or for  every customer that completes a survey or signs up for a newsletter. SMEs can also ensure their staff are taken on this journey by buying them climate positive Christmas and birthday gifts, such as their own forests on the Ecologi platform. By adding their sustainability goals to their Ecologi profiles, SMEs can also showcase the impact they are having and signpost to the next steps on their sustainability journey.
SME owners can further involve their employees in this journey and empower them to  contribute to climate action by providing opportunities for education and action. Involvement can take many different forms; a busy business owner might devolve some of the responsibility by designating one of their more eco-conscious employees to be their sustainability 'champion' who can help to drive and uphold green initiatives within the company. For those less informed or less eco-conscious employees, educating them on sustainability and company goals, why these steps are being taken and how they can be achieved, is vital in aligning and engaging them with the broader mission. Once they're onboard with the approach, providing realistic actionable outlets to participate in the mission, such as sharing open letters and statements to sign or involving them in local community initiatives, ensures they buy in fully.
Beyond that, it's also important that SMEs rally fellow owners within their immediate industry and organisational networks to take action so that real structural change can happen. By pledging to the MTP, for instance, SMEs commit to finding two other pledgers to sign up to the initiative so that it continues to grow and build momentum. In less than a year, this model and the willingness of participants to uphold their environmental commitments, has resulted in 35 million trees being pledged.
This kind of collective action is at the very heart of what both Ecologi and the MTP are trying to achieve. By working together, rather than independently and without sufficient resources, the seemingly insurmountable task of combatting climate change is made more manageable and actionable for each SME willing to effect real change