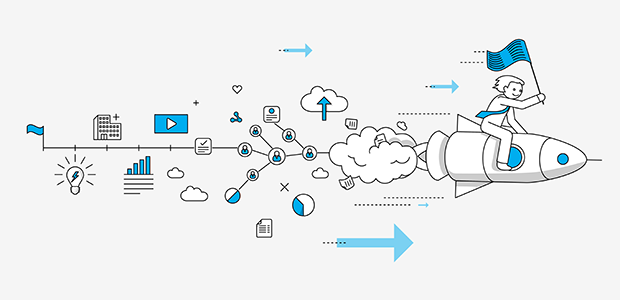 Startups are being pressured to mature faster now than ever before
With the European proptech market now accounting for around 20% of global proptech investment (Property Week, 10 March), it's high time we looked at the pressures real estate technology startups are facing to stand out, get in front of the right people and mature faster. Three industry experts share their views on how startups can scale in a truly sustainable way:
Bea Warner, Marketing Director at Edozo said: "Most startups begin with an idea on a piece of paper, and once they've raised VC funds, are expected to 'burn and build' as quickly as possible. This can lead to hasty and ill-thought-out decisions, and ultimately, more reliance on external capital. Running at this pace, the majority either win or lose fast.
"Inevitably, the pressure on startups to sprint and not pace has encouraged a culture of 'brave faces', coupled with some quite typical 'ego driven' decisions. It's almost common knowledge that most founders bluff their way through each hurdle hiding behind the smoke screen, but in light of the fast-paced VC world, this is even more exaggerated.
"Edozo, by contrast to most, was founded and grown by mature and experienced professionals from within the industry space. Our lifecycle has been longer and more profitable as we have raised less, slower, and grown organically. The overall sense of pace is more calm, less full of hot air and has the added benefit of some level minds steering the ship!
"For the most part, it seems that startups often lack a full and mature management team in the early days, which only serves to slow progression and act as an inhibitor to knocking on the doors of large national or international clients early on."
William Young, Head of UK at NavigatorCRE said: "The real estate sector is a traditional, legacy industry, which puts immediate pressure on any startup entering the market, especially one that deals with critical data, as we do.
"Whereas traditional commercial real estate organisations have structured approaches to investing and operations, startups have less process and product history from which to draw upon. At the same time, startups must match their clients' level of professionalism in order to be considered a 'good partner' - a step which requires a thoughtful approach to organisational maturity and delivery. The days when startups could scramble to pull together products at the 11th hour, whilst over-promising and under-delivering, are long gone, especially at the enterprise level.
"As an enterprise technology company, our clients are trusting us with their data, which is arguably their most valuable asset and is absolutely vital to decision making. There is an obvious pressure to handle such a responsibility with the highest level of sophistication. From a security perspective, all information has to be safe and secure, while also adhering to ever-changing data security standards. We also have to ensure that the insights we provide are actionable - and supported by clean, organised, and reliable data - in order to allow these multi-billion pound enterprises to make informed strategic decisions.
"Ultimately, to be a startup that successfully caters to one of the oldest yet most expansive global markets requires a significant level of maturity within an organisation. Every player needs to know their role and responsibilities, and every player needs to understand the level of service their clients are looking for and commit to delivering it."
Corinna Lyritzi, Vice President, Resolute Asset Management LLP said: "There are both positive and negative impacts for startups born out of established companies, such as Resolute Asset Management (RAM). Recognyte was created to solve problems for RAM, and it became a stand-alone business when it was realised that there was a marketable product when other companies enquired about using the technology. 
"Recognyte had an immediate advantage. Unlike many startups, Recognyte already had a strong network in place from its parent company's existing client base and access to deep expertise. Knowing who your ideal customer is and where to find them is a common struggle, but for Recognyte there was already a thorough understanding of the market given the intimacy RAM had with its clients. 
"There was a practical change too. RAM is an established operator with over a decade of experience, servicing many high-profile customers. Recognyte on the other hand, is not only at the beginning of its journey but has an entirely different product offering to that of its ancestor. As we continue to grow, high service levels will be the priority as we make our mark in the AI sector.
"Recognyte changed its approach to how it operates. As a data technology company, it must assure clients and investors that security is paramount as well as an equal component of the service they are providing. At less than two years old, Recognyte decided to subject itself to a SOC2 audit, a decision the auditors called 'incredibly brave and a little insane' but which the management team felt would ensure the company was adhering to robust standards. 
"As a startup with a parent company, Recognyte wants to combat the pressures from the inside out. Although it may often be compared to its counterpart, using this to its advantage enables them to work autonomously with an agile approach as they continue to transform the real estate industry."