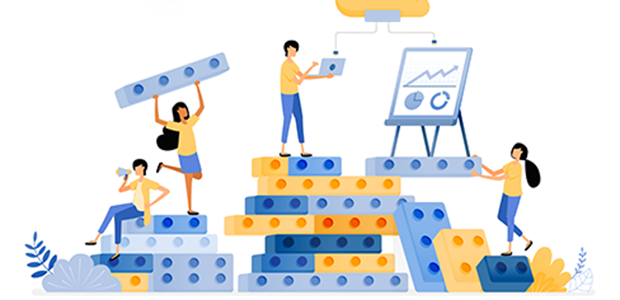 The startup toolkit: how to build the tech stack of your dreams
As a new startup business you have a number of things to consider in order to build and ensure success. One particularly crucial factor is selecting your tech stack. While on the surface it might seem like an easy decision, it can prove detrimental to a businesses' success if not given careful consideration.
Business needs drive the tech stack selection process
The business needs of a startup drives the tech stack decision process. Making sure that your core business needs are served by the technology you choose can make all the difference further down the road as your business grows. Once your core needs are met, then it is easier to shortlist tech choices by other important factors like cost, time, functionality and future-proofing.
If your business is one that requires flexibility in working from home as well as allows for different hours, cloud-based technology works best. Similarly, if your startup is growing fast and requires the right HR to keep up to date, selecting a stack with the right HR tech will greatly benefit the business.
By establishing what your startup really needs from its tech stack to flourish, you can then narrow down the important factors to see growth.
Cost, time, functionality and futureproofing
Cloud-based solutions are often more cost-effective than installing office-based hardware and require less time to set-up. But again, it comes down to what works best for you. High-quality, office hardware may be a good investment if the reliability of wired connections is more important than the flexibility and mobility of remote tech.
It is good practice when building a tech stack that it is easily adaptable. Within a startup ecosystem, where change is the norm and growth can come very quickly, tech stacks should be able to adjust and adapt alongside your business.
Integrating tech with other systems in your business can prove useful in helping the tech stack become more fluid and accessible for you and your employees too. Not all systems and platforms are built to play well with others, so choosing tech that integrates with others, and can share information, will greatly improve the functionality of your tech stack and its usefulness to your business.
Another key factor is whether the technology you are implementing is future proof? Just like cost and profit analysis for the future are crucial in making key business decisions, making sure the tech stack is relevant and able to support the business 5 years from now or even 10 years from now is an important step. Is it able to provide longevity and continue to serve its purpose?
Constantly changing tech stacks can prove costly and be inefficient. A well implemented tech stack will act as a core pillar on which your startup builds and grows. With that in mind, there are a few technologies that I would recommend as essential to your startup tool kit.
1. Communications
Owing to the increased pace of digitalisation and the long list of benefits that it has to offer, cloud-based technology has become the future of business and helps facilitate communication, in a digitally accelerated world. Having the right communication tools and phone systems is very important. While traditional phone systems have their merits, this new technology is able to provide flexibility, cost optimization, increased productivity, speed, performance, and security.
If you are looking to upgrade or if this is the first time you are considering your business communications, then a cloud-based VoIP (voice over internet protocol) system should be a top consideration, particularly with the rise of 5G connections making this technology perform even better.
2. Finance
One of the most important factors in the success of a business is its finances. Fintech, with its array of tools and technologies, is helping startup businesses run their operations more efficiently and have better oversight of all finances. There is an abundance of fintech out there and startups can use it for a number of different tasks.
You can find all-in-one finance solutions that give you complete oversight of your expenses and even help with automated invoicing and receipts, mileage tracking if your work involves a lot of driving, and they can help you manage multiple company cards. You will not regret this kind of support as a startup founder. Investing in such tech that can make a function easier or m0re efficient is highly recommended at the early stages of a startup when there's so many functions to master.
3. Data Storage
Imagine having to transfer all your business files and documents into another system because you've outgrown your storage system! Sounds like a nightmare. During the initial stages of a startup you might just choose to save files on your laptop or PC just to have it someplace easy to find. 
 However this is not a long-term solution. As the business grows , you will need a solution that is both cost-effective as well as adaptable. Make sure you choose a solution that is easy to access whenever you need and one that integrates well with your email provider, Slack or Teams so that information finding and sharing is quick and efficient, while you're busy juggling 50 other things!
Every startup has a different approach to achieve their goals. However having a strong tech stack from the beginning can help SMEs significantly enhance their day-to-day and make their internal processes more efficient. With the emergence of cloud and mobile technologies, tech stacks can be personalised and updated to suit business needs while saving time, optimising costs and resources for the foreseeable future.