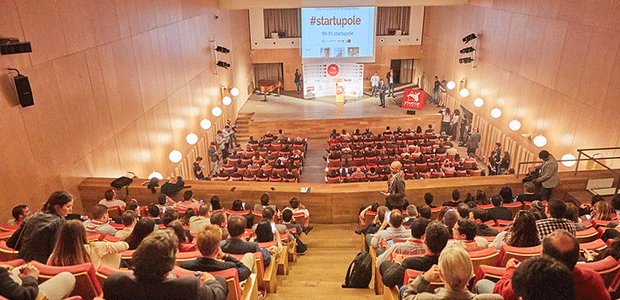 Startup OLÉ launches its seventh edition
Startup OLÉ, a technological event for entrepreneurs, returns with 400 international speakers from 36 different nationalities. The way this edition will be available will be mixed, with the 6th and 7th of September being presented in digital format and the 8th to the 10th in person in Salamanca, Spain. To facilitate access to all the content, Startup OLÉ'21 will be streamed in its entirety, completely free of charge and on their YouTube channel.
The capacity will be limited and therefore for professionals, allowing all the programmed activities to be carried out in order to guarantee the smooth running of the event. As a result, Startup OLÉ '21 will be attended by 400 international speakers from 36 different nationalities, who will participate in more than 60 round tables and seminars.
More than 180 startup projects and 30 ideas from university students will be showcased, bring the total number of nationalities to 44. The activities include a pitch competition, matchmaking activities with more than 160 one-to-one meetings, reverse pitch and outdoor networking activities taking advantage of the facilities of the San Francisco park and the famous cloister of the Colegio Arzobispo Fonseca.
Startup OLÉ has become an international platform that brings together all types of representatives of the entrepreneurial ecosystem who, especially in recent years, collaborate and co-create with the aim of providing solutions to the new challenges that arise, supporting the construction of a society with a greater degree of digitalisation, decarbonisation, sustainability and justice.
In its seventh edition, this event will have the great honour of being attended by Mariya Gabriel, Commissioner for Research, Innovation, Education, Culture and Youth of the European Commission, who will open the event in person. In addition, Startup OLÉ will host actors of the national and international ecosystem such as Dubravka Šuica, Vice-President of the European Commission for Democracy and Demography, Victor Negrescu, Vice-President of the Committee on Culture and Education of the European Parliament, Carme Artigas, Secretary of State for Digitalisation and AI, Tony Jin, Chief Representative to European Institutions of Huawei, José Carlos García de Quevedo, President of the Instituto de Crédito Oficial (ICO), José Bayón, CEO of ENISA,Marcelino Oreja, CEO of Enagás, Juan de Antonio, CEO and Founder of Cabify, Vincent Rosso, Founder of BlaBlaCar and CEO of Consentio Platform, Francisco Polo, High Commissioner Spain Entrepreneur Nation of the Presidency of the Government, Carlos Manuel García de Carabayo, Mayor of Salamanca, and Javier Iglesias, President of the Salamanca Provincial Council, Felipe Matos, President of the Brazilian Association of Startups (ABSTARTUPS), Rubén Delgado, President of Softex,Liliana Reyes, General Director of AMEXCAP, Maha Alharbi, Communication and Business Development Specialist at Riyadh Valley Company, Pedro Cerdeira, of Investors Portugal, Bill Reichert, Investor at Pegasus Tech Ventures, Brian Marrinan, Partner at Team ABC, Christian Lopez-Baillo, EIF Representative in Spain and Portugal - Mandate Management and Viktorija Vanage, Founder of Profitus.
Startup OLÉ continues to grow in support from major corporate and institutional partners, including private and public corporations such as ENAGÁS Emprende, Iberdrola, HUAWEI Europe, INCIBE, Acciona, Red Eléctrica (Elewit and Hispasat), BFA (Business Factory Auto), Accenture, RTVE - Impulsa Visión, Caixa Capital Risc, Capital Energy, Oracle for Startups, MONDRAGON, Renfe, Iberia, Guardia Civil, Red Cross, ONCE Foundation, Bolsas y Mercados Españoles (BME), Riyadh Valley Company, ICO-AXIS, ENISA, CDTI (Centro para el Desarrollo Tecnológico Industrial), ICEX - Invest in Spain, INECO, EUSPA (European Union Space Programme Agency), the Escuela de Organización Industrial (EOI), the ICE (Instituto para la Competitividad Empresarial) of Castilla y León, etc. Funds and investment groups such as Pegasus Tech Ventures, Axon Partners Group, Encomenda Smart Capital, Nexxus Iberia Private Equity, Swanlaab, René de Jong Inversiones SL, InnMind, Blackshiip, Polígono Capital, Redwood Ventures, Cometa, Dux Capital, Ricari, Keiretsu Forum, Kamay Ventures and venture capital associations such as ASCRI, AMEXCAP, ARCAP, ACVC, ColCapital, InvestorsPortugal and ABVCAP will also participate.
The main Latin American startup associations will also be present, such as ASEA, Start-up Chile, the Portuguese Startup Portugal, ABSTARTUPS and the Spanish AES. The Argentinean, Colombian, Chilean, Portuguese, Brazilian and Mexican governments, among others, will also be taking part.
Institutions and entities such as the RTVE-USAL Chair, the National Institute of Intrapreneurship, ELCAMPUS360, the Entrepreneur's MBA: 360MBA, the Spanish Association of Business Schools, AgroTech Spain, the Provincial Council of Huelva, the Carlos III University of Madrid (UC3M), the University of Jaén and the University of Cádiz, UAM Emprende, the FUAM (Foundation of the Autonomous University of Madrid), the Association of Entrepreneurs of Henares (AEDHE) and business schools such as SMAT Business School will also participate.
On a local, regional and institutional level, Startup OLÉ has the broad support of the City Council, the Provincial Council and the University of Salamanca, ensuring that the name Startup OLÉ continues to be associated with this city synonymous of talent, history and innovation for another year.
At the same time, it is supported by the media, which are essential partners in disseminating the startups and amplifying the message of Startup OLÉ. Among them are RTVE, OK Diario, Business Insider, Emprende TVE, Startups Magazine, Irish Tech News, Club GLOBALS, Club del Emprendimiento, MuyPymes, Byzness, INFINITY GROUP, PRO Network, Business Insider México, Negocios.tv, Negocios de Carne y Hueso, Capital Radio, Dirigentesdigital.com, Mundoemprende, La Crónica de Salamanca, Visto de Otro Lado, Wildcom, ECOmedios, El Observatorio del Trabajo, Salamanca de Cerca, etc. Startup OLÉ are also pleased to have the support of INFINITY GROUP as a new media partner.
On the 6th and 7th of September, an online programme will be offered with round tables such as 'Future Trends in Acceleration Programmes' or 'The Emerging Challenges of Rural Innovation', among others. In addition, on the 7th September, the largest Ibero-American Forum held to date will take place, consisting of several international round tables with speakers of the highest level, with representatives of the different venture capital associations from seven countries, such as AMEXCAP, ARCAP, ASCRI, ACVC, ColCapital, InvestorsPortugal and ABVCAP, as well as associations of entrepreneurs and startups such as ASEA, Start-up Chile, Start-up Portugal, ABSTARTUPS and the Spanish AES.
From the 8th to 10th of September, there will be on-site sessions such as the Investor/Open Innovation Forum, Reverse Pitch, Accelerator Assembly, Public Administrations and Media, University Pavilion or REInA, focused on providing solutions and answers to the concerns generated by an interconnected, technological and social world.
The Guardia Civil will also perform an outdoors exhibition simulating a rescue in rural areas to demonstrate the impact of technology on the development of these areas. It is worth mentioning that among the round tables that will take place, there will be one dedicated to success stories that have emerged in the Startup OLÉ community, such as Trovant Technology and Enagás, Caixa Capital Risc with CDTI and Tebrio (formerly MealFood Europe) or the collaborations of corporations such as Acciona in Latin America. On the 9th of September, the European Commissioner Mariya Gabriel, together with the Secretary of State Carme Artigas and other authorities, will be visiting the fair and seeing different startup stands with the aim of finding out about current technological solutions and the vision of entrepreneurs.
This year's leaders supporting the different verticals and technologies include Hispasat for Telecommunications Satellites, Red Cross for socio-humanitarian impact, Impulsa Visión RTVE for Media, Acciona for Infrastructures, Go2Space - hubs for Space, the Diputación de Salamanca together with the Guardia Civil for Rural Innovation, BFAuto for Auto-tech, SEK Lab Edtech Accelerator for Edtech, Circular Labs for Circular Economy, Iberdrola for Energy, Enagás for Sustainable Mobility and INCIBE for Cybersecurity. In addition, in this edition, HUAWEI Europe, together with Startup OLÉ and the REInA platform, will present the project 'Development of European Rural Innovation and Startup Villages' with the aim of promoting innovation in rural areas, boosting the activity and the generation of synergies in coworking spaces, attracting startups and digital nomads.
The prizes that Startup OLÉ offers in this edition to the best startups are: a direct pass to the semi-final of the '"Startup World Cup' organised by Pegasus Tech Ventures that will take place in San Francisco, which will give them the opportunity to win $1m in investment. It also offers the ElCAMPUS360 prize, which awards €20,000 in scholarships through its Master's programme 'The Entrepreneur's MBA: 360MBA' to the winners of each vertical, as well as to the overall winner.
To conclude this edition, the Startup OLÉ 2021 Awards will be announced, including the Best Corporate, Best Hub, Best Media, Reverse Pitch Winner, Best Rural Innovation Institution, among others.