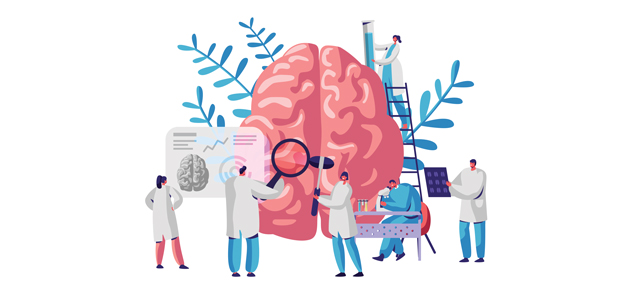 The Standard Brain: Embracing neurodiversity in the workplace
Ten percent of the population are believed to be dyslexic, but it is still often poorly understood. With the right support, the strengths and talents of dyslexic people can shine. So how come workplaces have yet to wake up?
Neurodiversity refers to the infinite variation in cognitive functioning that can lead to differences in thinking, attention and memory. It truly is a spectrum, which includes dyslexia, ADHD, dyscalculia, the autism spectrum and others. It is not a blanket term and it is important to remember those who are neurodiverse are all different. 
The links between creativity, innovation, entrepreneurship and neurodiversity speaks for itself. You don't have to look too hard to find long lists of successful innovators who think differently. From the likes of Richard Branson, Andy Warhol, Steve Jobs, to Greta Thunberg. All have (or are reported to have had) autism, Asperger's, dyslexia or ADHD. 
But the question remains, how can we ensure workplaces meet the needs of those who are neurodiverse? How do we ensure companies are accountable for their HR processes? How do we hold organisations to account of the support mechanisms they have (or don't)?
The life of a neurodivergent 
As someone who is neurodiverse by three (ADHD, dyslexia and anxiety) I've often struggled in the workplace. I only very recently began to share more of my experiences, how I work and how I can add value. I deem my neurodiversity as a superpower, it allows me to see the world differently from most people.
As a term, it recognises that everyone with a neurological difference is an individual. Compared to being part of a labelled group, who will all behave, act or learn in the same way. Neurodiversity focuses on celebrating what people with additional needs can do, rather than what they can't do. This is a core part of the debate around the term that I resonate a lot with, as we should seek to celebrate successes, rather than failures.
In all honesty, I wish this word had existed when I was a lot younger. I struggled a lot through my schooling, thinking I was just simply 'different' without an explanation. I was never put in the 'learning difficulties' class, my dyslexia was never picked up until I was in my late 20s. I am currently undergoing my ADHD diagnosis, I am 30.
Neurodiversity in the workplace has been termed the 'final frontier' of the diversity debate. There is a lot of discussion around how neurodiversity comes into the equation of diversity, inclusion and belonging. Nevertheless, I've witnessed and experienced first hand how challenging it can be to seek support in an organisation which doesn't see the merit of such activities. 
I hit a breaking point some years ago. The organisation I was with, didn't embody diversity. It didn't foster inclusion. And it sadly didn't ensure belonging for those deemed to be different. I'm an extrovert, and my three neuro disorders combine with my personality to an extreme. I was labelled to be a disruptor when that was one of my strengths, of bringing people together and fostering collaboration. I got limited support from senior leadership and it was implied that I should just be quiet about my learning difficulties. Until I got 'evidence' of my disability, I wasn't able to get the support I needed. My line manager at the time stated, if they couldn't see it, then it doesn't exist. I ended up moving on to another part of the organisation and was hit with the same problem. 
I then came to the realisation, it wasn't ok. It was the organisation's company culture issue, a place where diversity and inclusion are not seen as a priority. I do not want to work somewhere that doesn't allow me to be myself, and that tries to make me apologise for being different. It was due to this experience that I decided to speak up about being neurodivergent, as I wouldn't want anyone else to feel like this was ok. 
Celebrating strengths, not weaknesses
For me, neurodiversity equates to the diversity of humanity. It means different, not flawed – and everyone is different. It seeks to ensure that this difference should be celebrated and adds value. In this sense, workplaces should seek to embody and ensure this value is upheld and those who are neurodivergent feel like they belong.
My thoughts are disordered, not overtly logical and not at all linear. I relish in this hustle and bustle, as it takes me to incredibly interesting places. I can't focus in silent places, I need to be in a dynamic environment. My working style is one of fluidity and it can be confusing for people. 
As someone with ADHD, I can be at times inattentive, restless, impulsive, erratic, unpredictable and at times inappropriate. To give you some further context, my challenge stems through interrupting and being overly communicative. At times, I've faced a challenge with people thinking it was intentional, but I can assure you, it isn't.
Some people find problems with words like 'neurodivergent'. As a collective term for various traits, with an indefinite amount of variation, it can feel like a blanket term. For some, it can be using terms like 'neurodivergent', 'neurotypical' and similar, emphasising difference. Besides, the language around neurodiversity has also some inbuilt negativity. Take, for example, ADHD, it hosts two negative words, deficit and disorder. The name has stuck, yet it is so crucial to ensure we challenge conventional norms. 
Thomas Armstrong PhD quoted: "There is no standard brain".  
A term I want to highlight here is intersectionality. As a term, it means having more than one neurodiverse trait. Ironically, it is very common and can make specific diagnoses difficult (as in my case). I faced extreme difficulty trying to get a diagnosis of dyslexia, ADHD and anxiety. 
Why it matters for the workplace + workplace culture
In any organisation, there remains a problem around processes built around certain labels. It doesn't have to be an issue at all if you take a holistic approach to inclusivity where labels no longer matter. Nevertheless, this is often not the case and can have significant impacts across.
The Chartered Institute of Personnel and Development (CIPD) found that if hiring processes are not inclusive (and designed for those who aren't neurodiverse), it can unintentionally exclude neurodiverse talent. Overall a lack of awareness and understanding has led organisations to have hiring processes, management practices and workspaces being designed for the people it was designed by. Ultimately, unless companies actively recruit from more diverse pools, by making processes more inclusive, I believe they cannot legitimately be able to say that they are truly open to everybody. 
The BIMA Tech Inclusion and Diversity Report found that the value we place on neurodiversity must be backed by inclusion, understanding and support. This sums up the steps we need to make as a collective, to foster better working cultures. It is imperative that we all feel heard, and that we ultimately belong. bHaving open conversations around how diversity, inclusion and belonging is embedded in an organisation is the first step. Diversity should not be seen as a one-off tick-box exercise.
Several companies have reformed their internal HR processes to ensure they can support and access neurodiverse talent. In the UK, only 16% of adults on the autism spectrum had full-time employment in 2016. Increasingly, organisations – from SAP to Universal Music to the Israeli Army – have begun to focus on recruiting and retaining neurodiverse talent. 
"Having people who think differently and see the world differently is really going to support innovation," said James Cusack, CEO of charity Autistica.
By pivoting such processes they are seeing several positive changes, including productivity gains, quality improvement to boosts in innovative capabilities, and increased employee engagement as a result. 
The work is not easy, and for some managers, it will be more difficult. Yet, the payoff speaks for itself: greater access to their employees' talents and fostering a culture of innovation through embracing diverse perspectives.
Wouldn't it be wonderful if people could be honest at work about how they move through the world? About how they see things differently, and how that is an asset? The crux of it is, is wherever you work, and in all aspects of life, the key to happiness and success is the environment they operate in. In a workplace that is inclusive, and fosters people to be their true selves is the true meaning of belonging.
Today, it is clear to me that neurodiversity in the workplace is about the cultural evolution of that very workplace. The impact is beyond altruism and performance. Culture is at the core.