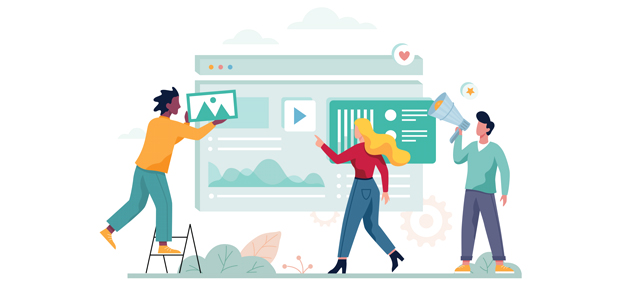 Small Business Advice Week - seven tips for small business success
Perhaps the pandemic made you reassess your working life, or maybe you've always planned to start your own business and are ready and raring to go. Either way, if you've decided to go it alone, you'll need to be prepared for the multiple challenges – and rewards – being a business owner will bring.
This Small Business Advice Week, we've asked seven experienced entrepreneurs to share their advice, guidance and words of wisdom to help you on your way to small business success.
Maintain respect, honesty and transparency 
"Being respectful, honest and transparent in your dealings will always work out better in the long run" advises Aidan Dunphy, founder and principal consultant at digital consultancy Samepage. "You never know where the next referral will come from, or whether you'll need support from someone in the future. This cuts both ways: if your supplier is letting you down or a customer doesn't respect you, then politely move on, remembering that your feedback may be useful to them."
Make sure you keep on top of your financial records

 
"It can seem daunting if you've never had to keep financial records before, but there are plenty of accounting software options that will help make the process simpler," says Oumesh Sauba, Founder of MyT Accountancy software. 
"Apps like MyT streamline the bookkeeping process, allowing you to keep track of your outgoings, invoices, profits and taxes. Finding software that works for you will free up your time to focus on what really matters - creating great products for your customers!"
Stay resilient in the face of uncertainty
"Resilience is such an important skill to have when you have your own business." adds Chris Schutrups, Founder of The Mortgage Hut. Chris founded the mortgage brokerage in 2011 and now has interests in financial services, digital marketing, and hospitality. 
"There will be plenty of times when your plans don't go the way you think they will but being able to bounce back when faced with disappointments will make you a stronger business owner. Nurturing your adaptability and flexibility skills will help you take on the challenges of running your own business and help you to approach problem solving creatively too."
Make sure you keep an eye on your customers and competitors

 
Janthana Kaenprakhamory, CEO of award-winning gig economy insurance provider Tapoly explains, "You don't need to spend every day analysing their every move, but staying on top of what they're up to and any new product launches could help spark a new idea for you or ways to improve your own service. Also speak to your customers often to find out how well your product is meeting their needs and be open to taking their feedback on board. It's not criticism or time to give up, it's just ideas to make your business better."
Stay connected to yours and your businesses strengths
"It's important to stay connected to what makes your business unique, and what you're really good at," adds Andy Woodfield, PwC Global Client Partner and author of 'This is Your Moment'. 
"To remain distinctive in your market, you need to stand for something, be sure of your purpose and radically simplify your practices in order to remove anything that adds unnecessary friction in achieving that. A business's purpose can be difficult to define, but one of the best ways to pursue it meaningfully is to find alignment between your business's stated purpose and what your customers or clients say makes your company unique at its best. Parallels there signify a clear and achievable purpose."
Keep laser-focused on the problem you are solving 
"There are two aspects to this; I've seen some founders fall into the trap of building the solution they want to build rather than studying what the market needs. The more you work with your customers to deeply understand their pain points, the better your chances of sustainable success," says Kajal Sanghrajka, an expert in inclusive entrepreneurship and Director of Growth Hub Global. 
"Secondly, part of keeping focused on that problem is falling in love with it. There is no denying that the entrepreneurial journey is a tough one, so check in with yourself and whether you really care about solving this problem enough to dedicate your time and energy over several years into solving it. Entrepreneurship is an incredibly rewarding path, and keeping laser-focused on the problem you are solving from all angles will serve you well on the path to success."  
Resourcefulness amongst your workforce is key 
"Your employees are your greatest asset. Therefore building resourcefulness amongst your workforce is a key element to keeping your business going through unpredictable situations," advises David Toulson-Burke, Director of The Farmhouse at Fincham and Hospitality Consultant.  
"Maintaining a positive culture no matter what difficulties you might be facing will reinforce the same 'can do' attitude within your staff. Keep them up-to-date and motivated so they will be willing to step up and help out. With your workforce on-board and willing, you will be sure to navigate your way through any unforeseeable situations."