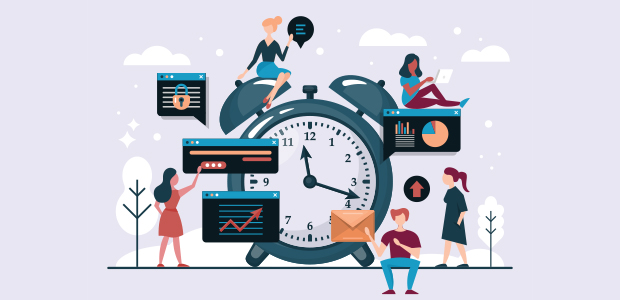 Six Time Management Hacks for Growing Startup Owners
Being a startup owner has its challenges. From updating the books to implementing the perfect marketing strategy, it can feel like time is running against you. Nevertheless, there are several ways in which you can manage your time more effectively.
Here is a list of time management hacks you can use to help you get started.
1. Establish Goals
Many startup owners tend to create a solid foundation by setting goals. You can accomplish more tasks by turning them into SMART goals (specific, measurable, attainable, relevant, and timely). Establishing SMART goals will allow you to stay on track and guide you throughout your business.
In a startup, productivity and time management is of the utmost importance. Break down larger goals into smaller short-term goals. For example, you can break down a monthly plan into weekly goals and weekly goals into daily goals.
As you take action, your goals will help set forth a timeline moving forward and enable you to measure your success.
2. Prioritise and Plan
When running a startup, you're getting work done quickly to get your business's feet off the ground. With that in mind, timing is everything.
Effective time management starts with prioritising your tasks and planning them out. An excellent place to start is by considering what will create the most significant impact. Once you're able to list items you consider a high priority, start planning your days ahead.
You can use your SMART goals as guidance for planning your time wisely. One thing to keep in mind is preventing yourself from feeling overwhelmed. You might feel tempted to get everything done as much as possible, which can quickly lead to burnout.
However, you can prevent this from happening by listing three to five tasks for the day. The importance of this strategy is to keep your focus and manage your days more realistically.
3. Learn When to Say No
Accepting more work on top of what you already have can often make you feel more drained and panicked about deadlines. When you have many items on your to-do list, learning when to say no to other opportunities can implement further time efficiency.
Instead of taking on additional projects, say "no" to yourself and then delegate when necessary. Successful startups lead to further growth when everybody contributes to their workday.
When you're prioritising and planning out tasks, develop a system for things you can do yourself. Once you set up your to-do list, use the rest of the tasks that are urgent to delegate to your team.
One thing to consider when delegating tasks is your employees' strengths and skills. You can be sure everyone on the team will be up to the challenge and produce quality work this way.
4. Outsource
When your time is limited, outsourcing can create a significant impact for you and your team. You might feel obligated to have you and your team handle everything.
Yet, if you're looking to increase productivity, sometimes the key to this is outsourcing. Hiring help can ensure you get projects done quickly and efficiently meet deadlines.
For instance, 75% of customers believe it takes too much time to reach a live person over the phone. Consider investing in additional customer support with an AI (artificially intelligent) virtual agent. AI virtual agents can lower customer service costs and address more customer requests.
With cloud service technology, more than 93% of businesses are already considering this form of outsourcing to finish more tasks. By adopting cloud service technology, businesses become more responsive and expansive in their offerings.
5. Automate
Effectively manage time by automating your daily operations. Automating social media or payroll is just a couple of ways businesses save time and simplify repetitive tasks. With the availability of apps, online services, and programs, utilising these opportunities enables your company to adapt and streamline everything.
Take your social media into account, for instance. Using tools like Buffer or Hootsuite allows you to schedule out content. When scheduling social media content, this becomes one less thing to worry about in business.
Consider automating email responses. Business owners tend to waste time by writing and sending emails to each individual. With the help of an email marketing tool, business owners can operate more efficiently by sending out all emails at once.
6. Track Time
As a business owner, you have a list of tasks to complete for the day. Still, how can you be the most productive in finishing your assignments on time?
One way is to schedule out how long your tasks will take to complete. You can use a Pomodoro timer to help you focus on finishing the jobs at hand. While you're in focus, a Pomodoro timer will also enable you to keep track of time for each project.
Keeping track of time is an excellent way to manage time. When business owners use time tracking tools, this helps them visualise how they spend their days. In addition, you can gain some valuable insights as to where your strengths and weaknesses are in the time spent.