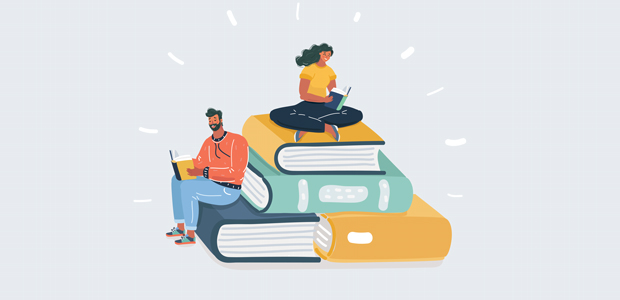 The six most inspirational startup business books for 2020
The shortlist for the Business Book Awards 2020 has just been announced and we've cherry picked the titles that should be on every entrepreneur's bookshelf. Here are the top six picks…
How to have a happy hustle: the complete guide to making your ideas happen
How to Have a Happy Hustle shares the secrets of innovation experts and startup founders to help you make your ideas happen. 
If you're looking for fulfilment outside the day job, have an idea but don't know where to start, or are held back by a lack of confidence, experience, time or money, Bec Evans will help you get off the starting blocks with this complete guide to making your ideas happen. 
There's no getting away from it – hustling is hard work – but with practical tools, inspiring stories, science-backed research and guidance every step of the way, you'll find what makes you happy as you build your side hustle.
Let's Get Visible: get brand clarity, stand out in your industry and supercharge your business growth
You have only got seven seconds to make an impression before people decide if they want to work with your business, yet we are drowning in an information tsunami. If you're not standing out and being noticed by your ideal customers, you may as well be invisible. So, how do you get more visible?

In Let's Get Visible! brand consultant and designer Sapna Pieroux explains why branding is vital to growing your business.   This book will help you to:

• Gain brand clarity, visibility, recognition and cut-through in your industry
• Feel more confident, look more professional, credible and successful
• Attract your ideal clients and inspire their confidence in your promise
• Save you and your team time and money
• Charge your worth and increase the value of your business
Make your Mark: how I built a fortune from £1.50 and you can too
There are not many successful entrepreneurs who will enthusiastically break off in the middle of a multi-million pound deal to have a huge snowball fight in the car park with their finance director. But then Mark Mills is not just any successful entrepreneur. Whether organising one of his infamous Summer Christmas parties, flying to New York to find a new business idea or staying up all night to celebrate a successful deal, Mark Mills has always believed in the absolute importance of having fun in business.
And not just for him, but for his employees, customers and suppliers too. His brilliantly unique approach has more than paid off. Mark's infectious enthusiasm, relentless energy, can-do approach and spirit of adventure have powered him to the very pinnacle of entrepreneurial success, both in his own businesses and by helping others to do the same in theirs. Over the years he has won countless Entrepreneur of the Year Awards and been asked to give speeches at prestigious events around the world about his achievements.
Making Your Mark tells the fascinating and entertaining story of Mark's extraordinary success in business, from selling broken biscuits at the age of 8, through his early years selling everything from payphones to post boxes, to his outstanding success creating Cardpoint, the cash machine business he founded at the age of 29 which at its peak was valued at £170 million. But just as importantly, it also tells the story of Mark's disasters along the way, about the times when things went badly wrong and when failure was more often the outcome than success. Along the way Mark shares his unique Golden Rules on how to achieve your own success in business, from learning how to think like an entrepreneur to creating a good business model, from understanding how to build a strong team to learning how to communicate effectively.
Startups

, pivots and pop ups: how to succeed by creating your own business
This a must read for anyone with a business idea and the desire to be successful. It gives the reader the skills and knowledge to survive in today's innovation and entrepreneurial-focused world. This book is about starting a business. It's about putting your toe in the entrepreneurial water - perhaps through doing a short-term business gig or a pop-up business- and then seeing what happens. It shows you how to listen to the customer and work out why failures may happen, and when they do, you'll learn how to deal with them and create a new business that is robust and ready to grow.
StartUps, Pivots and Pop-Ups shows you the best ways of starting, testing and growing a business. It shares the stories, experience and insights of those who've done it, and explains how to innovate, trial, refine and succeed. Even if your business idea struggles, you'll find out how to learn so much that you'll pivot your business, try again and then win big time. You'll learn from a range of organisations including abnormal beauty company Deciem, Leon fast-food, Triumph lingerie, New York fashion tech Nineteenth Amendment, Brew Dog beer, Cambridge Satchels, Allbirds, and the Cornish Seaweed Company.
The Formula for Success: how to win at life using your own personal algorithm
Unleash your full potential. Take control of your financial future. At twenty years of age, Samuel Leach was studying at university. He appeared to be a typical student, but there was something different about him. Whilst his classmates were engrossed in their studies, as well as their burgeoning social lives, Samuel was adding another facet to his education. He was teaching himself the science and art of trading. With nothing more than a boxer's heart and drive, Samuel turned £2k into £178k in his first year, and a few short years later, he rose to global renown by building his new enterprise to become a multi-million-pound trading business.
From delivering an acclaimed TedTalk to running webinars, events, conferences, and training to over 2,000 people from over 90 countries, Samuel's list of achievements continues to grow. The obvious question is how did he accomplish so much in such a short period of time?
Samuel Leach's secret to success is understanding the patterns and algorithms of the financial system. The Formula for Success will show you how. This insightful book will show you how analysing patterns, mapping behaviours and seeing the potential in your unique talents can lead to success. Learning practical lessons drawn from Samuel's first-hand experiences, you will discover how to apply his formula to your life.
True Profit Business: how to play your bigger game without burning out
The world of work is changing fast. The dream of starting up a business, becoming an entrepreneur, having the freedom to work whenever you want and from anywhere in the world, has never been more accessible.
But thousands of new business owners are heading towards entrepreneurial burnout, trying to keep up with the latest digital marketing trends, seeing busy as a sign of success, and misled by social media feeds portraying a false image of what entrepreneurial life should look like..
True Profit Business reveals a new, simpler and more connected path to business success.
Karen Skidmore, a successful entrepreneur, podcaster and author, has mapped out the four stages of growth, with a simple but transformative approach to managing your energy and focus throughout your working month.  True Profit Business helps you diagnose what's going wrong, get focused on your bigger game, and shows you how to put in place the processes and people to turn your expertise and talents into a profitable, purposeful and scalable business that allows you to thrive in the process.
Karen Skidmore's mission is to give every small business owner a plan and a process to grow their business, without burning out along the way.
The winners of the Business Book Awards 2020 will be announced on 23th March at 8 Northumberland Avenue, London. You can find out more here.