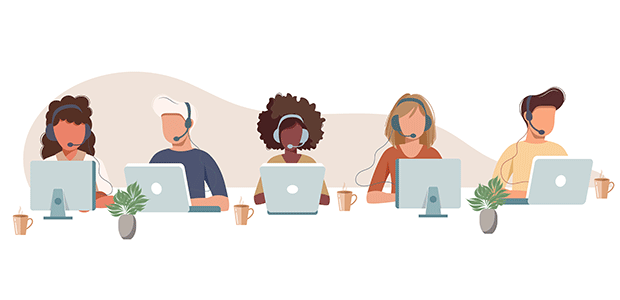 Seven essential customer service tips for early-stage startups
Your startup has entered the market, and you are wondering what to focus on first. When starting any business you must go through certain stages, so startups focus first on product development, then on building a customer base and establishing a positive cash flow.
But in today's competitive world, satisfying customers' demands is more crucial than ever in becoming a successful business. Customer service has been an integral part of every business, no matter large or small.
Early-stage startup - the importance of customer support
Is customer service truly that important? According to stats, over 95% of consumers claim that customer service and customer support are primary determinants of business loyalty. Plus, over 70% are more likely to stick with one brand only because they had a great experience with its customer service team.
Your early adopters are the most significant advantage that you as the company can have.
Best ways to use business email for customer service
Email is still an excellent customer service channel for many businesses despite the increased use of social media.  
Having a business email is vital for the success of your startup. Generally speaking, a dedicated email for your company will allow you to better brand your efforts, create a dedicated channel to interact with your customers, and secure your business communications.
A few tips on perfect email customer service:
Use short sentences when replying

Make your email personal as much as possible

Always reply immediately (within one hour) to an email from a customer
An automated messaging service is the best way to do this. This service should acknowledge receipt of the email and explain how long customers can expect to wait for a reply (usually no longer than 24 hours, unless it is a weekend).
Think ahead and turn off notifications that might distract you. You can mute Slack, and more often than not, business email programs will have a snooze feature to help you quiet your inbox.
Facebook customer service
Good Facebook customer service practices mean that you are curating content for your followers, moderating comments and other users' posts, and managing your brand's community. 
Your job is also to answer any questions or concerns your audience has (either under a post, your ad, or in Messenger), make sure everyone follows the community's guidelines, and engage in group discussions.
The best Facebook customer service practices consist of several different responsibilities, and it does not only include simply removing inappropriate comments. Successful customer service on social media means that your audience feels secure in open communicating with your brand.
As a result, your brand will build a community of loyal fans that will be willing to keep coming back to your business.
The benefits of customer service videos
Sales professionals and marketers have long known how significant video is for explaining things. It's time for customer support to accept it, too.
Create a video that explains vast quantities of information in a short time. The process could take hundreds of words to explain, and the written descriptions of each step may not be apparent to the reader. 
Video marketing will bring humanity to your brand and provide the human touch necessary to nurture trust.
Remember these two crucial video marketing statistics:
Over 95% of people have watched an explainer video to get more info about a service or a product 

Around 85% of people would love to see more videos from brands in 2021
FAQ - be prepared
For a variety of situations, it is important to have responses ready. This might include informative answers about any possible issues, such as issues regarding safety and health. If there are FAQ - frequently asked questions, you need to prepare answers for those as well. 
The same goes for dissatisfied customers and positive feedbacks. 
Customer experience management software
Customer experience management software is technology helping you manage your interactions with customers, current and potential. The system is acting as a record of interactions across all customer-facing touchpoints: automating, organising, and synchronising them so you can service all your customers and respond quickly to issues.
A good customer experience management software stores all information about your customer in one place, bringing real-time updates that you can easily share with different teams.
You should be able to check out a history of interactions with your customers. From their behaviour (such as making a purchase or contact) to how it made them feel (customer's feedback), the history of interactions reveals where you had customer service right and where you maybe got it wrong.
You can try some of the most popular customer experience management software like Oracle CX, Adobe Experience Manager, and Acoustic.
The latest innovation in the customer service industry – chatbots
AI chatbots use existing information and your resources, like knowledge base articles or FAQs, to answer and resolve your customers' doubts and questions. There are numerous benefits of chatbots for your customer service.
The intelligent chatbot doesn't have issues with the number of requests as it can answer a big portion of customer inquiries. Chatbots are available 24/7, cut down costs, and create a personalised experience. Some enhanced AI chatbots can even detect sales opportunities.
Chatbots are genuinely performing the task for a client without any human assistance.
The future of customer service
How will the evolution of technology affect the future of customer services?
Technological innovations have transformed the way customer experience works. Particularly when it comes to providing services more efficiently and faster, the new generation of customers is looking for.
A recent survey revealed that 64% of customers are expecting real-time assistance despite having access to customer service channels.
You can make use of social media networks or emails and chatbots and messengers for this.

Live chat services will benefit your startup in two ways. First, in providing uninterrupted 24/7 real-time customer support, and second, there is no need for hiring an extra workforce for this task.

You can opt for WhatsApp chat, Facebook Messenger, Slack, and similar messengers for quick responsiveness and messaging.
With the help of technology, you will offer your customers numerous channels synced together and provide a seamless customer service experience.