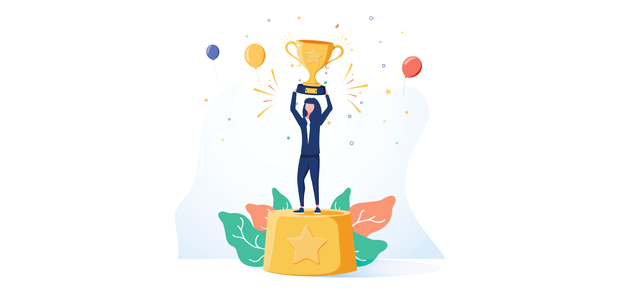 The secret sauce to winning an award: what the judges don't always tell you
It's awards season and businesses of all shapes and sizes are launching themselves into the spotlight to bring home the trophies! As a consultant helping SME businesses with sales and marketing, I'm proud to have written entries for 10 winning finalists so far this year.
There is definitely a formula to optimise award winning chances. Here I share the impact of an award and what I think is the secret sauce to a winning strategy.
Recently, the awards landscape has transformed itself. No longer the private preserve of big corporates with mega budgets and huge expense accounts, awards are open to businesses of all sizes. In fact, thanks to awards like Startups Magazine Hustle Awards, there are loads more opportunities to showcase Founders, Startups and SMEs.
But let's be honest. Entering awards does take time. For a busy founder or small team, it's got to work as an ROI. So why should you invest the time or money? Isn't the search for awards and accolades just a vanity project? Well, I hope that some of these reasons I share should convince you - it's definitely worth the effort!
According to research shared by Business.com, winning an award is proven to  increase sales growth.
In fact, on average an award delivers 37% more business growth potential.
What's more, receiving an award will reinforce positive customer opinions about your company, help maintain your current custom and grow new prospects. 
Awards and quality marks can boost your organization's reputation, setting you apart from your competitors.  They can also give a boost to team morale by highlighting their  achievements, generating a sense of pride and loyalty.
Winning awards for your business culture and how well you support your team's wellness and wellbeing are highly relevant for job-seekers at the moment. Achieving these types of awards can enhance the quality of new recruits and secure the commitment of current team members.
And finally, new awards come with new connections and networking opportunities and helps set your business apart from competitors, differentiating the quality of your achievements and services.
If this sounds compelling enough, you now need to know how to win one!
Here's my top 5 tips:
Think like a judge
Take time to read through the judge's tips - these are often shared in blogs or videos. Judges repeatedly appeal to award entrants to make their judging life as easy as possible! In essence, clearly written entries that are interesting to read and flow from objectives to results with relevant supporting documents, come high on their list of recommendations.
Use a content structure that's simple for a judge to digest and easy to follow. Paragraphs and bullet points, italics and bold/light contrasts are really useful to help break up large amounts of text.
Most award entries are usually a variation of the same formula: a brief background (what the business does), objectives, strategy, tactics and results, linking back to objectives at the end by way of an executive summary. I find it's useful to put content into messy, unstructured paragraphs to start with. Just pour in all the information you need. Then you can tidy up the format, flow and structure in your final edit at the end.
Also don't forget to follow the structure provided by the official award entry form. Often each box is allocated a fixed set of points, so it's important to value those boxes!
What's Your Story?
Read your entry back - out loud! How does it sound? Do you think it makes an interesting read? Share with a colleague for that honest feedback. Does each section flow seamlessly to the next section? Yes, it all sounds a bit like going back to school…. and learning how to write essays again. But once you get the vital ingredients right - you've got a recipe for success.
Data and insights are really valuable in award submissions. Ask yourself - what research insights helped inform your strategy - and what data helped you evaluate success? As much as possible look at success criteria in terms of growth figures and financial achievements or at least, share data that shows transformation and impact. And always align results with the objectives!
Easy on the Eye
Although some judges recommend not to spend time making attractive supporting presentation materials,  I would say it is worth spending time making attractive supporting presentation materials! These can be made visually enticing powerpoints without employing any expensive graphic design support.
Value of Video
If you can use video and it's relevant for supporting your submission - then definitely add this as supporting material. I recently submitted a Company culture award for a client's team wellbeing support. The business won the category and it certainly helped having a video that shared the team's voices, independently endorsing the submission.
Build Campaigns To Win
Even if you don't win this time, attend the ceremony, find out who won and learn what makes a winning award case study. That way you can prepare and compile all the necessary ingredients for a winning entry next time.
Whether you are entering for a new tech product development, marketing campaign or business culture award - hopefully you now know what the judges will value and can plan ahead. Good luck!