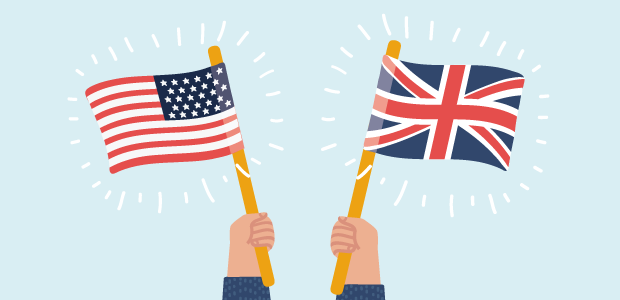 Same, but different: Scaling your PR from the UK to US
America. In some ways, it can be and has historically been a tough nut for UK technology companies to crack, while in many other ways, the PR strategies and campaigns that work in Britain will work equally as well Stateside. 
There have been plenty of UK software success stories that have made their way to the US: Sage, Sophos, Micro Focus, Misys and Fidessa, to name a well-known few. However, there are also many vendors who have not succeeded in their attempt to replicate their UK-found success across the pond, failing upon entrance to resonate, make an impact and compete in the American market. While we're seeing many innovative UK tech startups expanding into the US, it is, in reality, only a select few who manage to penetrate this market and steal market share away from existing providers.
So what do companies need to do differently when planning US PR programmes, and what homegrown UK PR strategies are sure to be well received by a US audience?
The differences:
More expensive




The reality is that employing a full-time PR agency in the US will require more budget than it does in the UK. For tech startups, cost is a real consideration and ROI is king. An entry level US PR retainer is likely to set you back $10k or more per month, so before you dive in, do some due diligence to ensure your agency is well positioned to deliver the results you're looking for. Many startups opt for the same PR agency in both countries, a move that more often than not, will deliver economies of scale (key for startups looking to test the waters) as well as improved consistency of messaging.


 

More corporate




Corporate messaging is a fundamental part of US PR. In contrast, UK journalists - at least in the main - prefer to focus on the industry issues at hand. It's a difference that presents new and unique opportunities for UK headquartered startups as they look to build brand awareness in the US. And, with US journalists having fewer issues with publishing corporate news on market development, funding, senior hires and new office openings, it's a good idea to make sure your company spokespeople are aware of this nuance. Especially if they're used to doing things the British way. 


 

More likely to talk about product




Much like other corporate messaging, product reviews and releases are now very rarely of interest to UK journalists, especially without a customer endorsement. In the US though, companies may find their product-related updates are more well received, or even requested - the latter being the case if the product in question is particularly disruptive in nature (a sure sign your stateside PR efforts are working!)


 

Research has to be bigger




The USA has over 323 million people compared with the UK's 66 million.

Consider the Fortune 500 company breakdown by country:

the US is home to 121 Fortune 500 companies, while the UK is home to a much smaller 17. There are more companies overall to consider, and a larger pool of C-Suite executives. This increased competition means that any research you create will need to be highly credible. Large sample sizes - along with the universally required killer headline - are a must for US journalists. 
The similarities:
Good stories work




Just like the UK, America loves a challenger story, particularly when it comes to newer brands entering the market with credibility. It's the land of opportunity after all. So whether it's the who, what and why behind your startup (there has to be a good story to tell), or how your organisation has driven game-changing results for its customers, be sure to shout about these feel-good factors. Now is not the time for stereotypical British modesty, especially if your American competitors are prepared to leverage their stories in return for valuable media profile.


 

Relationships matter




America may be a big place, but when events like

Dreamforce

hit, a big landscape can be quickly condensed into a Las Vegas casino smaller than the ExCEL in London. Networking and using social media to make and build connections is just as important - and equally possible - in the US as it is in the UK. 
While analyst relations ought to form an important part of a company's comms strategy, irrespective of geography, the fact that the majority of the world's tech analysts are US-based presents considerable opportunity. In our experience, industry analysts really like to hear from disruptive startups. So when scaling your PR into the US, be sure to think about all of your target influencers, analysts included. 
Customers


Customer stories work and they should form the 'bread and butter' of your PR efforts - both in the UK and the US. Customer stories published in vertical sector press titles can be especially compelling if they speak to the prospective customer's challenge by outlining the way in which technology has solved a business problem. Of the various different tactical PR activities, it's perhaps the one that is most likely to generate leads, too. Build customer PR into your US comms strategy from day one. It will provide great PR profile for you and your customer. Win-win.
 

Calendar events


PR hijacking is a long-time practice in the communications industry and if done intelligently, can be a great way to position a company spokesperson as a thought leader in their field of expertise. Better still, it works just as well in the US as it does in the UK, especially when it comes to the event calendar.

While Americans may not have Boxing Day sales, the likes of Black Friday and Cyber Monday are both big events on the US calendar and garner plenty of cyber security related media coverage (enter Joe Bloggs from disruptive cyber security company, xxx). Draw up a calendar of significant local market events that are relevant to your customers, and use these to give your company a platform.  
If you're looking to scale your PR efforts into the US, be mindful that in many ways, stateside PR isn't too different to what you are used to doing in your home market if you're aware of the important nuances that need to be adhered to. Manage these differences well and you can build rapid profile to support those local sales teams fighting for traction in a new marketplace.