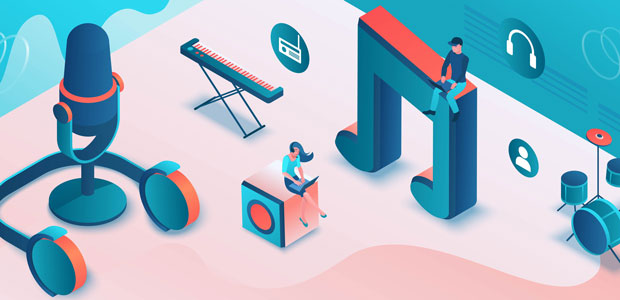 The roadmap of music tech innovations since the start of the pandemic
Musicians reportedly lost out on two thirds of their income in 2020 with the doors to live music venues closed and festivals cancelled across the board. With live music taking a backseat, innovations in the sector came to the fore, with collaboration and creation taking on a truly digital-first approach.
For an industry so heavily reliant on ticketing and live performances, music tech innovation became more important than ever, as artists sought new ways to connect with their fans and keep their creative juices flowing.
Music and music tech: then and now
At the beginning of lockdown in March last year, artists from all genres quickly took to virtual live-streaming to keep their fans engaged. One of the first out the blocks was Coldplay's Chris Martin with the #TogetherAtHome campaign, which involved many other high-profile artists such as John Legend, Pink, and Keith Urban. It wasn't long before many other artists followed suit, offering fans a much needed boost and a way to feel connected to the outside world through music.
Technologies such as AR and VR had already been disrupting the sector for years. We all remember when Tupac made an appearance at Coachella in 2012, despite being dead since 1996, and Michael Jackson continues to make 'new music' through the use of voice manipulative AI. In recent years, while AR and VR have become more commonplace (and less scary), lots of other, more accessible digital platforms for collaboration and live-streaming have also been becoming popular.
Many of these platforms were already around before COVID-19, but lockdown life effectively amplified these emerging forms of music creation and consumption. Years and years of technological developments have essentially been concertinaed into one year. Streaming platforms experienced a fast surge in users - the viewers on the music and performance category on Twitch, for example, rose by 524%.
When the pandemic hit, technology was there to soften the crash for musicians and music fans alike, enabling collaboration and creation to continue and the shows to go on, albeit via a live stream rather than in real life. Artists are always looking for new ways to continue creating and sharing their art and connecting with their audiences, so, despite the challenges, many were well placed to ramp up their digital presence and maintain momentum.
How COVID-19 has revolutionised attitudes and techniques with collaborative music-making
Music has always been about performance and social interactions. The ways in which the recording industry has developed means that the onus is particularly on the 'final product', and not the journey that the music goes on to get there. This means that the spontaneity of music making has been lost along the way - we don't often appreciate the process anymore, at least not as much as consuming the final product.
The reality, though, is that taking a spontaneous and improvisational approach to music creation is like lightning in a bottle; you feel liberated from the perfectionism of modern, polished music creation, which can so often act as a hindrance on the entire thing. One thing that COVID-19 has enabled is a greater emphasis on this type of collaboration; of course, you had an element of that with live music, but even then, artists tend to perform songs that have been made and produced, rather than improvising and jamming.
Collaborative music platforms foster the magic that strikes with the rawness of unconstrained music creation. And, with more artists or aspiring artists approaching live-streaming to connect with their audiences and make music, this type of attitude toward music creation has flourished. Collaboration has always been at the heart of making music, and if there's one thing that the pandemic has highlighted its that, audiences are often happy to forgo some of the polish of a final recording or epic stadium tour, in favour of a more intimate, 'work in progress' performance  in turn helping musicians to see the value of showing this creative flow for all to see, and as such, potentially enjoy it more.
The future of music tech post-pandemic
Once the world returns to normal, or, as close to normal as we can get, it is hoped at least that traditional performances - such as live concerts and touring - will resume, but it's likely that things will be more of a hybrid than it was before, with fans continuing to connect and engage with their favourite artists on newer platforms too.
These platforms have proven that everything that makes music creation enjoyable and special is much more complicated than the end products. It's about the things that happen when you're exploring and experimenting, and it was always there, but these platforms have enabled it to come back to the fore. We will continue to see the rise of NFTs enabling superfans to get their hands on truly exclusive content from their favourite artists as another way of supporting them. We've already seen many do this already, and this trend is set to continue.
After a year of no live music, people are hungrier than ever for that first gig or festival. But lessons will be learnt from the digital-first approach seen across this past year, and the new world of music will be more aware of than ever before of the power of music tech innovation... Here's hoping the beauty of in-the-moment collaboration won't be lost again.