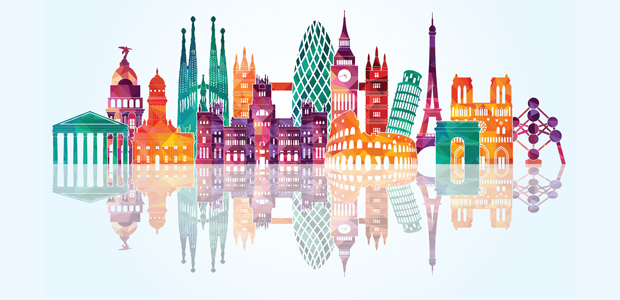 The rise of Europe's startup cities
Ask anyone which location they'd associate with startups, and my money would be on "Silicon Valley" being their answer. But in the past few years, global investors have been shifting their collective gaze to Europe. Forbes reports that the first half of 2019 broke the record for tech investment in Europe: £17.2bn was invested in the continent's tech startups. Similarly, Europe was pretty much on par with the United States when it came to the existence of startups backed by venture capitalists. 
At the same time, a number of American startups used to hogging the spotlight have found themselves on the receiving end of negative publicity. In 2018, The Wing, a co-working startup aimed at women, was valued at $365mn - and counted Hillary Clinton, Alexandria Ocasio Cortez and Meryl Streep as guests and fans. But after allegations of racism and the closing of their London hub just 10 months after opening, the company's once-glittering reputation lies in tatters. The Wing has seen a sharp fall in favour and in valuation: it's now worth under $200m. Similarly, UBER and Lyft, apps which allow users to get from A to B cheaply and easily, risk being shut down in California after allegations of treating workers unfairly. These faux-pas by American startups are paving the way for their European counterparts to take centre stage - it's time for Europe to have her moment. 
A number of cities across Europe claim to be the continent's startup capital. Berlin, Amsterdam, Vilnius, Lisbon and London (albeit not in the European Union for long) are just some of the cities who stake claim to this coveted title - but what actually makes a city a breeding ground for unicorn hopefuls?
Transport and connectivity   
Part of what makes Europe perfect for startups is the ease of travel. In pre-COVID times, you could hop on the Eurostar at London St Pancras first thing, arrive in Paris at breakfast time, and travel through Brussels, Antwerp and Amsterdam before lunch. From there, it's a 1.5 hour flight to Copenhagen, Berlin or Zurich. For the eco-friendly among us, a slightly longer train journey could take you to Cologne or Luxembourg.
For startups, strong international travel connections mean you can attend conferences hassle-free - think Web Summit in Lisbon, and The Next Web in Amsterdam - and meet potential investors, business partners and clients easily. The wider business landscape plays a part, too. A startup may want to set up in Munich thanks to the quality of life, but it makes no sense if all of their clients - banks or financial services providers, for example - are based in Frankfurt.
Access to investment
If you're looking to scale your startup, it's possible that you'll be looking for investment at some stage. A key ingredient in a city that welcomes startups is a strong network of potential investors, whether that's angel networks or established venture capitalists. The presence of investors doesn't necessarily go hand in hand with major cities. Cambridge is a perfect example of this. The small city is home to one of the UK's leading networks of angel investors, Cambridge Angels, which comprises 60 high net worth individuals looking to invest in startups in the fields of technology, healthcare and digital. The success of the region's startups is so great that it's even given rise to a new term, the Cambridge Phenomenon, showing that when it comes to cities and their suitability for startups, big doesn't necessarily equal better.  
Access to support
They say that it takes a village to raise a child, and building a successful startup is no different. Beyond investors, startups often pass through incubators, accelerator programs, and business support schemes on their way to the top. The presence of this support, along with high-quality co-working spaces from which budding entrepreneurs can build their dreams, is vital if your city wants to become the go-to startup hub. One look at Google for Startups' hub locations shows that it's not necessarily the most obvious cities who come out on top. The internet giant's European presence consists of London, Madrid and Warsaw, while outside Europe, you can find hubs in Sao Paolo, Tel Aviv and Seoul.
Supportive policies 
The link might not be immediately obvious, but government policy, whether at national, regional or local level, can have a major impact on startups. Taking urban mobility in Europe, for example. The global pandemic has led a number of European cities to take radically different approaches to encourage cleaner and more active forms of transport - and which limit person-to-person contact. Think e-bikes, e-scooters, and electric mopeds. Before the pandemic, companies in these fields faced opposition and stringent regulation. Now, however, tests are taking place to trial these forms of transport, and governments are considering subsidies to help the cause. Additionally, policies such as tax cuts for entrepreneurs, low-interests loans and government funding all encourage startups to set up shop in a particular city.
Access to talent
Once a startup has successfully started growing, sights are set on hiring new talent. The presence of high quality research universities helps ensure a constant stream of interns and hungry grads ready to help startups grow. If a startup operates in a particular high-tech industry, research universities can also provide experts and consultants to help drive innovation. 
Startup hubs of the future
It's yet to be seen how the Coronavirus pandemic will impact startup life. Companies that primarily operate online, or in the eCommerce space, will emerge relatively unscathed, but recessions in economies around the world are likely to have a knock-on effect for many. 90% of startups fail at the best of times, so the odds aren't particularly in startup founders' favour. One thing's for sure: this world is full of highly innovative visionaries with a knack for building their own version of the future. Supportive policies and cities primed to encourage entrepreneurship will help ensure that the unicorns of the future don't suffer too much from - and maybe even find opportunity in - the events of 2020.