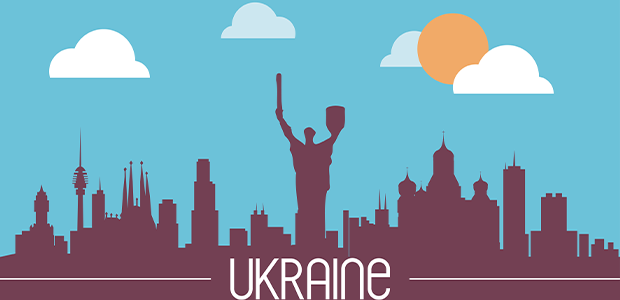 The resilience of Ukraine and its startup ecosystem
Famous for its historical cathedrals, stunning beaches, and captivating capital city, Ukraine is a country of rich culture. Home to some incredible unicorns, including GitLab and Grammarly, Ukraine is the leading startup hub in Eastern Europe and ranked 49th globally. Well-known in several verticals including fintech, artificial intelligence and Blockchain, Ukraine has become a global defence tech hub offering game-changing products and solutions.
This article originally appeared in the July/August issue of Startups Magazine. Click here to subscribe
The Russian aggression that began in 2014 and escalated into a full-scale invasion in 2021 had a profound impact on the lives of Ukrainians and the country's business landscape. Anyone and everyone in Ukraine is affected, including startups and the tech sphere in general.
Despite this, Ukrainian startups have demonstrated resilience, with the vast majority continuing their operations in the country.
Amongst them is CheckEye, a Cloud-based solution detecting diabetic retinopathy using photographic images of eye fundus through an artificial intelligence/machine learning algorithm. CheckEye was founded a few months prior to the invasion and underwent a significant shift in priorities during the first half of 2022. Instead of focusing primarily on product development, the team redirected its efforts towards coordinating international humanitarian aid for individuals in Ukraine with diabetes.
CheckEye has taken advantage of every single opportunity that has come its way. "We were accepted to several accelerator programmes such as Challenger AI, Impact Business and the Estonia-based Health Founders," said Kirill Goncharuk, CEO CheckEye.
"We participated in WHO's first-ever Health Hackathon for digital healthcare solutions in Ukraine; presented our technology at the IDF Congress in Lisbon with our partner Ukrainian Diabetes Federation and at the World Economic Forum in Davos, and consecutively joined Global Business for Ukraine," he added.
Ukrainian Startup Fund is a state institution helping innovative projects and tech startups to attract funds at the early stages, and to launch their products. The Ukrainian Startup Fund is committed to championing Ukrainian talent and showcasing it on the global stage.
Pavlo Kartashov, CEO of the Ukrainian Startup Fund, states: "The lessons we learned during the full-scale invasion: we could and should stay strong, fight in all frontiers, keep moving in all conditions, invent, donate, learn, and prevail. We are ready to do all we can to make it happen."
Support for startups
Prior to the war, the government (as well as other international organisations) took notice of the Ukrainian startup economy potential, and despite resources being scarce, some initiatives were taken to support growth. In 2019, Ukraine's Startup Fund was established and a Strategic Vision for 2025 was developed. The strategy focused on supporting early-stage startups through funding, promoting access to support services and solidify globally competitive incubation and acceleration programmes.
The international business community has come together to show support for Ukrainian startups, including Google's Ukraine Support Fund, the EU including target support for Ukraine in its Research & Innovation programme – Horizon Europe and Network VC established a Special Venture Fund and a Support Ukrainian Startups programme.
Amid the wartime challenges, during the first half of 2023 several Ukrainian startups attracted significant investments.
"Undoubtedly, the successful advancement of our ecosystem owes a tremendous debt of gratitude to the rapid responses, the seamless synergy of activities, and unwavering support from all the esteemed stakeholders and invaluable partners within the industry," explains Kartashov.
In light of its unwavering acknowledgement of these exceptional challenges, The Ukrainian Startup Fund has come to the realisation that its pathway demands the advent of pioneering solutions. So, it has established the Dual-Use Grant Programme, an initiative explicitly designed to bolster projects that accelerate a path to victory. "By this time, we have successfully allocated nearly $950,000 in funding to various promising startups," says Kartashov.
The Ukrainian Startup Fund has also connected more tightly with universities, believing that many of the upcoming new ideas may be born from the scientists and researchers. It has therefore become the go-to platform for over 20 universities to find much-needed information or help to implement their ideas.
There is also a significant number of international and Ukraine-based mentorship and accelerator programmes available to help early-stage startups grow in the right direction.
Despite this, Goncharuk explains that currently there is minimal funding available for startups in Ukraine: "Most programmes offer microgrants ranging from $5,000 to $20,000, which is clearly not sufficient to cover R&D, especially in fields like healthtech.
The changing ecosystem
Since the beginning of the invasion, Ukrainian tech startups have demonstrated unprecedented resilience.
Some startups have chosen to relocate to Europe, but others, including CheckEye, decided to remain in Ukraine and make efforts to support society. Before the war, the team was based in three cities: Kyiv, Vinnytsia, and Odessa. When the war started, women were able to relocate either abroad or to Western Ukraine. Doctors from CheckEye's partner, The Filatov Institute of Eye Diseases and Tissue Therapy, remained in Odessa, and the team of developers, being mostly male, remain in Ukraine.
"The first months after the start of the war were spent in great uncertainty and all our processes were disrupted. At the same time, we kept ourselves busy. Our team got involved in helping our partners with the delivery of medical supplies and we had to rebuild our business processes," explains Goncharuk.
According to a new study prepared by the Polish-Ukrainian Startup Bridge team in cooperation with the Warsaw Stock Exchange and the Ukrainian Startup Fund, 12% of surveyed companies closed their operations after the Russian invasion, 35% laid off employees and 33% tried to raise funds, but without success.
Nine out of 19 startups confirm they require financial support to continue operations and/or expand.
"Ukraine is a country of freedom. We were born with brave DNA. Thanks to our courageous army, which defends the values of democracy in the global world, we live, create, produce, and impress," says Kartashov.
"In spite of everything, the most attractive to founders and entrepreneurs is our spirit, Cossacks roots, ancient millennium history and culture with the fascinating mix of advanced and cutting-edge innovations, digital solutions, art, philosophy of creativity, and open- mindedness. Here is the place where you could move forward, inspire others, and change the world," continues Kartashov.
The future of Ukraine
As Ukraine continues to stoically face ongoing war, it's difficult to comment what the backlash on the startup scene will be and how fast Ukraine will rebuild its physical and economic infrastructure.
What makes Ukraine attractive to founders and entrepreneurs is the prevailing belief among the majority that Ukraine is destined for victory, which will generate an unprecedented surge in momentum for its reconstruction. Goncharuk describes this as the 'fertile ground' for Ukrainian business to flourish, facilitating the growth of both local and global enterprises.