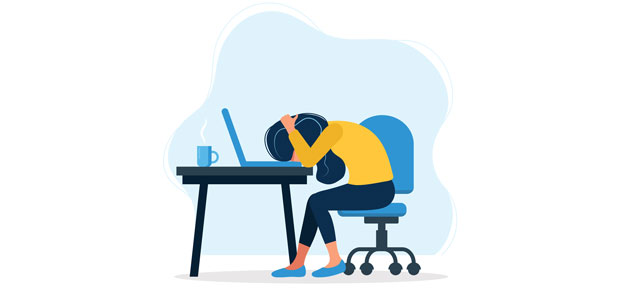 Presenteeism: An epidemic
The pandemic has changed the world of work for good. As the country starts on the path towards recovery, we can clearly see how the crisis of the past year has re-shaped teams' needs, wants and expectations.
According to our latest Staff Welfare research, conducted in February 2021, 69% of employees would now prefer a hybrid working model, with many wanting to work mostly from home.
After more than a year of enforced remote working, large numbers of employees cite the benefits, such as a better work/life balance, the reduction of carbon emissions and improved flexibility, and would like to see this way of working continue.
But should we take the positives of working from home as gospel?
Our research also found that 37% of employees have been working longer hours. This suggests that remote working may be creating a new crisis: presenteeism.
What is presenteeism?
Presenteeism is the practice of being at work for more hours than stipulated in a worker's contract, usually as a consequence of job insecurity.
Throughout the pandemic, job losses, redundancies and company insolvencies have been rife. Budgets have been slashed and businesses have had to put survival at the forefront of their minds.
A steep increase in job insecurity has meant employees have felt the need to 'prove' their worth by working extreme hours of overtime. While not a new problem, presenteeism has undoubtedly been exacerbated by the COVID-19 pandemic.
The true cost of presenteeism
Not only has the pandemic increased the number of hours worked by many but working from home has meant the boundaries of work and home life have become blurred.
These factors have unquestionably led to a spike in mental and physical health issues such as depression, anxiety and fatigue. The complications of presenteeism not only damage staff welfare, but they may also reduce the efficiency and productivity of teams in the long run, directly impacting the success of your business.
According to Nottingham Business School, presenteeism can cost an employer £4,000 per employee per year. The Centre for Mental Health places the cost of presenteeism on the UK economy to be around £15bn per year, nearly double the cost of absenteeism.
How can business leaders help manage online presenteeism?
While it's impossible to force team members to log-off, there are certain things you as an employer can do to help encourage the implementation of boundaries and healthy attitudes towards work.
Communicate openly
Many feelings of job insecurity come from a lack of knowledge about the state of affairs the business is in. Ensure you keep staff updated with any on-goings they should be aware of and, where possible, reassure them that their job is safe. If there are any chances of job losses, this should be communicated considerately and in advance.
Lead by example
There's no point preaching to your team if you aren't ready to follow your own advice. Ensure you are taking time off, switching off and logging on at appropriate times and giving yourself time to rest and recuperate.
Listen to individual concerns
Regularly check in with staff on a 1:1 basis. Not only should this time be used to communicate clearly the boundaries set around working hours, but you can also take this time to check-in on their mental and physical wellbeing, individually addressing any concerns or anxieties they may have.  
Working from home will certainly be here to stay post-pandemic. The benefits are clear and from research undertaken, the demand for it to continue is high. However, it is also apparent that working from home, if not monitored closely, may also create unnecessary challenges for employees and employers alike.
It is crucial that both parties communicate with utmost transparency and work together to find the perfect balance needed to thrive in this 'new normal'.