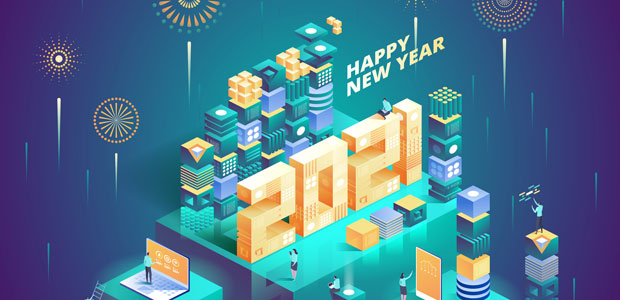 Predicting the biggest digital innovation trends of 2021
The COVID-19 pandemic has accelerated many already-present trends in almost every aspect of our lives. For businesses, this has meant an accelerated reliance on technology. Of course, companies of all kinds have had to rely on technology for decades. But 2020 has forced organisations to entirely shift processes from the physical world to the digital one.
Whether with great excitement or dread, businesses have had to adopt digital strategies and begin operating with the mindset that technological transformation will remain a priority for the foreseeable future. Thankfully, we can already see firms of all shapes, sectors and sizes utilising this opportunity and positively encouraging innovation.
Over the past few months, I've identified some key trends that I believe will come to dominate the corporate innovation landscape as we enter into 2021. Here are my predictions for the coming twelve months…
AI for real
Much has been written about the recent strides in the world of Artificial Intelligence (AI), and with good reason. We are becoming ever closer to a ubiquitous "off-the-shelf" AI-powered software solutions market, representing a true game changer in the world of corporate digital innovation.
Being able to incorporate already-existing AI's into one's business operations, instead of having to hire numerous coders, developers and digital infrastructure experts to build bespoke programmes, means that the number of firms able to adopt AI solutions can increase exponentially.
The advantages AI can provide, including automating time-consuming and resource-intensive processes, can be crucial for businesses across all industries. A large number of firms evidently already agree with this view, with a recent Gartner survey demonstrating that 79% of organisations are now piloting, or exploring the viability of, AI projects.
The key factors driving this AI adoption, according to said survey, are cost optimisation, revenue growth, and improving the customer experience. Of these three, I believe the latter is where the true potential of AI lies.
COVID-19 has forced us all to engage with companies virtually, and this is where AI can really enhance the user experience. Replicating the in-store experience online requires a customers' every digital interaction with a business to be entirely personalised. AI-powered algorithms, armed with enough data and insights, can accomplish that just that.
But, regardless of specific applications, I look forward to witnessing further adoption of AI solutions in 2021. Data-driven decision making, powered by automation and data analytics, will hopefully help improve the experiences of consumers, customers, and the working-from-home-force as we increasingly rely on websites, apps and software to stay connected.
The next generation of coding
One arguably under-reported trend of the last half-decade has been the emergence of low-code development kits. Corporate decision makers and first-time founders alike who have little technological expertise can now access tools which allow them to plan, develop, and create their own applications and websites.
With 2020 seeing a record number of new businesses being founded (according to Companies House, 397,135 startups were launched between April and September – an increase of 57,000 on the same timeframe during 2019), these tools will only become more popular. They can help founders easily create internal business-critical software, allowing more attention to be spent on optimising and refining the user and customer digital experience.
This, in turn, will ideally inspire more people to become business leaders or develop their own applications. A recent study commissioned by Studio Graphene actually demonstrated that a third (35%) of British adults who wish to create a tech product are deterred by their perceived lack of technical skills. Once low-code development tools become more ubiquitous, such deterrents will lessen; hopefully ushering a new generation of tech entrepreneurs.
Innovation ahoy
To take a slightly broader perspective, 2020 has seen the adoption of a more innovative mindset across companies world-wide, particularly within big companies that have traditionally been reluctant to depart from the status quo. Indeed, large corporates often settle for a cautious approach, with the risk/ reward ratio always stacked against innovation – and more money generally being spent on the maintenance of legacy systems, rather than on new technologies.
Just one year ago, a Studio Graphene study found that a whopping 87% of large UK businesses felt there was too much bureaucracy preventing them from putting ideas into action, with some 37% having tried and failed to implement a new technology in the past year.
In the twelve months since, typical obstacles to digital innovation – including excessive red tape, time constraints, and risk-averse corporate cultures – have been broken down by COVID-19. Suddenly, the demand for social distancing meant that digital solutions was all that firms had to reach their clients or customers, forcing the hand of decision makers in pursuing risks unthinkable before the pandemic, but now seemingly necessary for survival.
This mentality shift will undoubtedly continue into 2021, with companies desperate to define themselves in the world of the 'new normal'. Personally, I'm excited to witness the results of this increasing technological innovation, and what ambitious digital projects are announced in the months ahead.