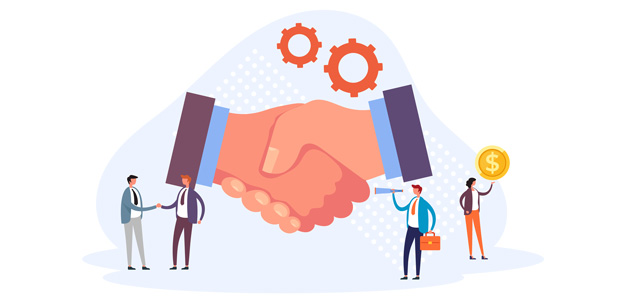 The power of partnership
As a startup, it's easy to find yourself admiring a colossal corporation and begin mentally listing all the ways entering into a partnership with it could help you get where you want to be. There's no doubt that the economies of scale, the vast customer reach, and the global brand reputation of a blue-chip player can help elevate a startup company to another level.
Before you can even consider suggesting a partnership, it's essential to get into the eyes of that large company and see what they see when they look at you. And be harsh on yourself. Really questioning if your business model is robust enough and if your offer adds sufficient value to their own ambitions, whether for their customers or their employees, or both, is the only way to ensure you have something to bring to the table.
While the big company is where you want to be in ten or twenty years, rest assured, that company, if it is a smart one, is not taking it for granted that it will still be around by then. It is looking for ways to grow, and at the very least, new ways to stay relevant in our blink-of-an-eye changing world. If a giant corporation doesn't stay relevant, today's success stands for nothing - no one wants to go the way of Blockbuster or Nokia.
Today, giant corporations are looking to form partnerships with startups offering the right digital technology to help them stay relevant and run their business more efficiently.
Consider, for example, Sphero, a manufacturer of robotic toys. Sphero identified that its technology, with impressive performance specs, would make for a valuable addition to Disney's line of products. It turned to Disney not only for a lucrative path to market but also to infuse its products with more character.
As a result of extensive mentorship from Disney CEO Bob Iger, the team was able to manufacture a product that resonated strongly with customers. Sphero ultimately secured a lucrative partnership with Disney that involved commercialising the newest Star Wars droid, BB-8. The importance of collaboration among businesses cannot be overstated and allows for support of startups, but also innovation at larger, more established corporations. As Poe Dameron himself once said, "we go together".
Startups that fail to solve a strategic objective are wasting their efforts in attempting to collaborate with large corporations. Startups must determine what they bring to the table and why it's worth a large company taking time to discuss a collaboration.
Choosing a partner that reflects the other's values is critical for both players. It's the only way to ensure growth, spread the word and secure positive customer reviews both verbally from peer to peer and online. So, if you've sweated blood and tears, and, to paraphrase Kipling, held on when there was nothing left within you except the will to hold on, to get your company off the ground, then don't sell out on your dreams and values just because you see dollar signs and what a big company can do for you. But equally, don't expect a multinational to be wowed by your technological offering, no matter how Generation Z-appealing it is if they don't like the style or the tone of your culture.
Alignment is key. Sure, there has to be a little bedding in as each partner becomes familiar with the other's processes and methodologies. Still, once that's achieved, the benefits can be excellent, not just for both parties but their customers too. That's certainly what we found at Fixter when we harnessed our industry-unique digital collection and delivery vehicle service, maintenance and repair model with Co-op Insurance, Perkbox and Q-Park. The synergies of convenience, time-saving and trusted service are evident to all our customers. Q-Park and Co-op Insurance give us access to new business. We do the same for them and enable them to offer their customers the opportunity of more convenient, COVID-safe, contact-free collection, married to the ability to keep their cars in the best possible condition.
The agreement with Q-Park was put in place at executive-level, albeit digitally, on a Zoom call. That's a pretty agile way of working, but what really excites me is that everyone in each company is on board with the accord. To make a partnership a success, you need to get it beyond the boardroom as soon as possible. It needs to cascade down to the people who will implement it on the ground - that's when the real benefits for both parties, and their customers, are delivered.