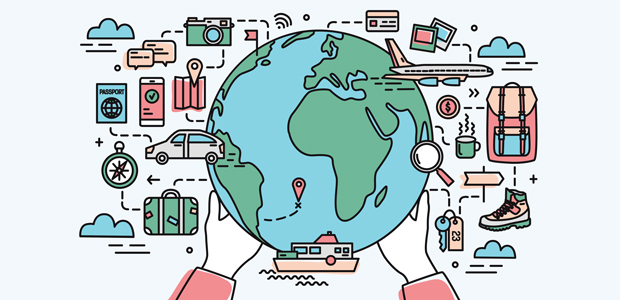 Pivoting for a pandemic
Launching a new business is not for the faint hearted even when market conditions are 'perfect'. Doing that in the midst of the worst global pandemic in over a century is, by any standards, rather bold.
2020 has been rough for many industries, and undoubtedly travel has been particularly hard hit, but with flights across much of the globe grounded and overseas holiday destinations being abandoned in favour of the staycation, two British entrepreneurs decided to turn what could have been disastrous for their new business, into a major opportunity.
When Marius Nigold went travelling to South America before heading off to University, he quickly realised there was a huge gap in the market for deep, informative, self-guided tourist information. The options for discovering the history and culture of Machu Piccu were either expensive guided tours or a few lines from a tourist guidebook. He searched, and struggled, to find the depth of information he wanted to satisfy his hunger for exploring but simply couldn't afford to shell out for tour after tour at every place he visited. With the idea for Vidi Guides clear in his mind, Marius joined forces with childhood friend Alex Jones and their start-up was born.
Vidi Guides is a podcast experience that delivers amazing stories and insights from top experts to travellers looking to explore new destinations in an independent, flexible and engaging way. Their podcast walks last about 45 minutes, and are a far cry from the stuffy, academic audio-guides you tend to find in museums.
Having secured investment at the back end of 2019, the plan was to originally launch in April 2020 with tours from a selection of overseas destinations. Then COVID-19 hit and with lockdown in full force across the UK, and travel overseas off the cards for all but essential trips, Marius and Alex needed to pivot their strategy to avoid a disaster.
After extensive evaluation, the Vidi Guides team anticipated that when lockdown did lift, domestic travel was going to balloon and if they moved quickly, they could get content ready for numerous UK destinations to offer travel starved consumers the opportunity to rediscover their own cities. Alex commented: "We held off launching until June once lockdown restrictions started to be relaxed and had to move fast not to miss the domestic opportunity we couldn't really have planned for. UK destinations were always part of our longer-term plan, we just had to make that happen much sooner than we ever thought possible. It's been a great period to really test out our product, grow the brand and get the first customers onboard."
As part of their nimble approach, Marius and Alex have taken a very vigorous path to forming partnerships and collaborations with major brands and bodies in the travel space; from Visit Cambridge, to Culture Trip, Tripadvisor and Lonely Planet, they've used the time of turmoil for the travel space to cultivate some relationships with serious players who know a good travel product when they see one. Marius said: "It was a risk to launch the business during a pandemic, when small enterprises the world over are struggling, but we balanced the risk with the opportunity and knew if we could move fast, we could make it work. It was key for us to attract the interest of major travel brands because it gave us an additional level of credibility in the travel space at a time that is incredibly challenging.
"Neither of us have a background in the travel industry so it was very much trial and error in the early stages of establishing ourselves; getting to understand the industry and how it all works has taken some time but we have made such headway and been able to navigate this new travel world at the same time as the rest of the industry so we haven't been on the back foot at all. Strategic partnerships also really help to bring our acquisition costs down which in the current situation is particularly valuable."
Launching initially with tours across London, Oxford and Cambridge in the UK, Vidi Guides is quickly expanding their content pool to include socially distanced tours in Stratford Upon Avon, Bath, Stonehenge, Edinburgh and many other cities. Through the last month, Vidi Guides has seen a 5000% increase in their weekly userbase which exceeded forecasts by more than treble.
It hasn't all been plain sailing though, the pandemic delayed several partnerships Vidi Guides had lined up which meant they had to cut back on budgets and hold off elements of their marketing programme. Alex commented on the frustration that comes with adapting their approach: "It is incredibly irritating to have to change plans up relatively last minute but with a brand-new entity, it is never all going to be straightforward. Adaptation is part of the way start-ups both survive and thrive, and we were never under any illusion it would be any different for us."
Marius and Alex have big ambitions for Vidi Guides and the balance they strike between opportunity and risk stand them in great ground for achieving those. After a flying start, like many start-ups weathering 2020, surviving the year ahead is their next major battleground.
"Cash is king at this point. We've been very careful with our expenditure to ensure we can survive whatever the next year throws at us. Having money in the bank and being conservative on spending is very important. Probably more so for start-ups this year than at any time in recent history." said Marius.
"Assuming the pandemic settles down and we get back to some degree of normality in the next year, we're going to be in a great position to take advantage of a fundamental shift in the travel industry. Previously, travel was slowly moving toward independent sightseeing solutions, but the pandemic has brought everything forward by a year or two. We're seeing tourism boards, brands and cultural sites all coming to us asking to collaborate and we're hoping to be at the forefront of this change once the travel industry picks up again."
Alex added: "Longer term, we want to be the global leaders in the podcast tour space. Users love our product and there is a seismic shift in demand in our favour. It's all about visibility, growing the brand and then rapidly expanding globally!"