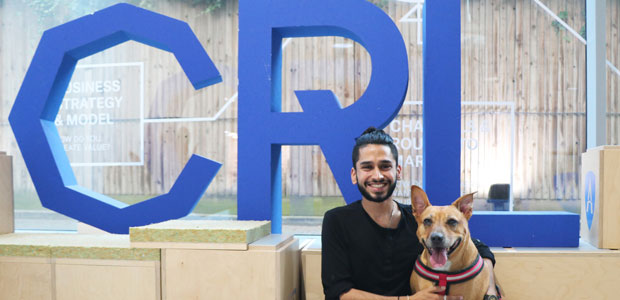 Pet Instincts: the future is looking a lot less stressful for you and your pets
After moving abroad to study at university, Anil Puri, Founder of Pet Instincts, had no idea that his beloved dog, Nicki, would suffer from separation anxiety. One of the most common complaints of pet parents is that their dogs are disruptive when left at home alone. Their dogs might urinate, defecate, bark, howl, chew, dig or try to escape.
Although these problems can sometimes indicate that a dog needs to undergo some training, they often are symptoms of distress. Did you know that in the UK alone, almost 6 million dogs are left home alone for five or more hours on a typical weekday? So much boredom, isolation and under stimulation can have a dramatic impact on a dog's wellbeing, with eight out of ten dogs in the UK experiencing some form of separation anxiety.
Behavioural problems like separation anxiety have troubled pet owners for years, but in this modern age, with all the technology, gadgets and medicines, there still isn't one effective solution to this problem. Puri embarked on a mission close to his heart, to make the pet-owner relationship less stressful for both sides. He told me: "At Pet Instincts, we believe that a pet's mental health is just as important to care for as their physical health, that's why we're building technology-based solutions that improve the health and livelihood of all pets."
Desperately wanting to help his dog after finding out she wasn't eating properly for days, being very inactive and just looking depressed when he wasn't around, Puri tried lots of products on the market but was disappointed with how generalised they were and noticed they only provided very short term relief.
With a background in product design engineering, he challenged himself to see if he could make something to help with his daily life. Puri started to understand the scope of this problem, and just how many other dog owners were also having to deal with it daily.
After conducting research and speaking to experts, Puri found that eight out of ten dogs experience separation anxiety, but only about 30% of owners know that this is the case. This problem is one that's become a lot more prominent in the last few years because of the pace of life nowadays, but there is still very little understanding around the subject. 
Pet Instincts is developing a new technology-based product that enables dog owners to maintain the wellbeing of their pet while they're away from home. 
Other existing pet tech tends to focus on a dog's physical health, almost entirely neglecting their mental health, whereas this is Pet Instincts focus, as well as responding to individual dog's needs. There are existing solutions designed for dog wellness, however, Puri believes they can be rather invasive and only provide short-term relief which in time loses its effectiveness if it's continually used.  
"In 2018, I got the chance to exhibit our product concept at the New Designers exhibition for emerging design and although it was still very new, it meant I got to speak to hundreds of people about my idea and I was able to learn more about the problems they were facing with their pets. Soon after I considered turning the idea into a business, so I entered the Mayor of London's entrepreneur competition. Although still at an early concept stage I got to the semi-finals which gave me the confidence to take it further and see where the business could go." said Puri.
Within weeks of registering with Companies House, Puri was accepted onto the Central Research Laboratory's (CRL) six-month accelerator programme which focuses on product development, market validation, commercial strategy and investor readiness for startups building innovative hardware businesses He explained: "Everything just boosted from this moment on! We restarted our approach to test the viability and efficacy of the product to see if it would be successful on the market. I wanted to bring it back to the focus on making a product that would really help dogs and their owners."
Pet Instincts is still a small team with several advisors and three part time staff, but the startup is now reaching the stage where it wants to expand the core team and our now scouting to bring on more software and firmware engineering expertise. It can be a lonely time, building a business without a co-founder, however, it was great to hear about everything Puri has achieved on his own.
Although he would like a co-founder to join the growing team, he's not going out of his way to search for one, he is letting life happen. Many startups built by strong teams have failed because of co-founder disagreements and misalignment of interests, so I loved to hear how Puri is owning his role and not letting the pressure of finding a co-founder, for the sake of it, get to him. 
He talked about his personal experience: "It has been very difficult at times, but I also take great pride in everything I have achieved so far without a co-founder. I think the biggest challenge I have personally struggled with is keeping up a consistent pace of work. Motivation plays a big factor in this as the workload can often be daunting at times, especially if it's mostly being done by one person. But my advice to any other early stage startups would be, you have to remember why you're doing this, and find something that drives you to get to the next day or the next milestone.
"Sometimes it's just the little things too, I found what helped me was being able to go to my support system, whether that be my team of mentors and advisors, my team of part timers or even going to seminars that the accelerator ran. Surrounding yourself with a wealth of knowledge really does help you to make the best choices to move forward. As well as this I'd say it's best to explore what avenues of support may already available to you before outreaching, as early stage startup support is hard to find, especially if you need to go outside of your network to find it. In my situation, I've been fortunate enough to have had the Co-Innovate and Innovation Hub departments at Brunel University, as well as the Santander Universities scheme provide me with some funding and mentorship."
Having worked at the CRL co-working space since joining the accelerator, Puri shared his thoughts on co-working spaces: "They are great in terms of networking and connecting with people, everyone there is in a similar boat to you, they understand the startup world struggles but also have so much guidance and insights to share. Co-working spaces have a completely different, inspiring environment compared to spaces I've worked in the past, for example, libraries or innovation hubs at universities. The only dangerous side to a co-working space is how distracted you can get but you just have to keep your focus." 
The future is certainly looking a lot less stressful for you and your pets. But it's also looking bright for this early stage startup, as it recently won a venture competition run by Brunel University Entrepreneur Hub and Santander Bank in which they were awarded £5,000, and Puri told me this money will be put towards product development.
Keep your eyes peeled over the coming months as we will be revisiting Pet Instincts in the future to delve deeper into their technology and see how the startup has developed.