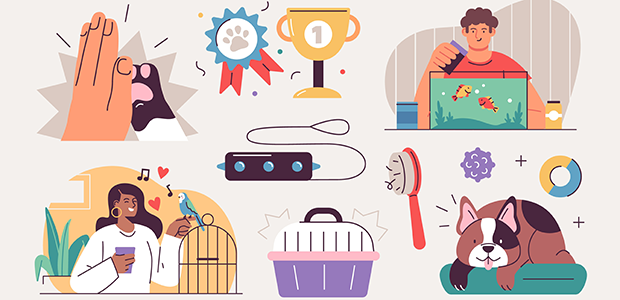 Pet care accelerator is hunting for the best in innovative startups
Europe's most creative new pet care businesses have been invited to partner with Purina for the latest edition of its landmark innovation accelerator. Powered by the Purina Accelerator Lab, Unleashed is now inviting applications for its third consecutive year.
Unleashed identifies disruptive pet care startups that focus on innovative products and services, helping them to grow. This year, judges will focus their search on startups using technology to help address global challenges in sustainability.
In particular, the accelerator will look to support entrepreneurs and small business who deploy regenerative agriculture, zero waste systems and sustainable pet food innovations such as alternative proteins, and upcycled ingredients.
Each startup selected to participate in Unleashed will be supported by a carefully chosen team of Purina experts to accelerate their growth through a structured, funded project over 24 weeks.
The scheme has previously backed entrepreneurs including the team of BorrowMyDoggy, the fast-growing UK dog sharing scheme, which helps pet owners find a supportive community of dog lovers in their local neighbourhoods. Since being accelerated by Unleashed, BorrowMyDoggy has gone from strength to strength, with the recent launch of BorrowMyDoggy for Work, an employer scheme which allows workers to find trusted borrowers in their local area to help with their dog during the working day.
This new programme is now in operation at over 18 companies including some large corporates and employee platforms, plus seven universities across the UK.
Rikke Rosenlund, BorrowMyDoggy Founder said: "Prior joining the Unleashed programme, we had only tested out the potential for a B2B launch on a very small scale and with only a handful of companies. But building a close relationship with the Purina team, and benefiting from their knowledge and resources meant we were able to enhance our work and prepare to formally launch BorrowMyDoggy for Work.  
"Without the Unleashed programme, the idea of offering BorrowMyDoggy membership as an employee benefit would still be in its early infancy. It's an incredibly exciting time, and we hope to support many more dog owners out there when they return to work."
In its third year, Unleashed is hunting for committed and passionate startup entrepreneurs with a creative spirit, who have proven a concept in the field of sustainability in nutrition, service or technology, and who want to develop it further in the pet industry.
Startups will be evaluated on the relevance of their idea, and the scalability and sustainability of their business model. The selected startups will have the opportunity to leverage Purina's expertise to help them understand consumer centricity, product-market fit and the actions needed to prove their business traction.
Up to six startups will be selected to benefit from the support of a multi-disciplinary Purina team with the expertise required for their development. During the programme, the entrepreneurs and Purina employees will work together on a value exchange project, with funding of up to CHF50,000 (£40,000) available to support the acceleration objectives.
Kim Bill, Head of the Purina Accelerator lab said: "2021 will be the third year of the Unleashed programme and it has demonstrated just how both the startups and the Purina teams have truly benefited through the unique design of our accelerator, which calls for a sincere goal of partnership to test and learn.
"Our mantra is win-win-win, for our startups, for Purina and ultimately for our consumers, and this is the basis of our success. I look forward tremendously to our third cohort and encourage all disruptive sustainability and pet startups to apply."
Important dates:
2nd November: Applications open
31st December: Applications close
April 2022: Winner's Day
April - October 2022: Class of 2022 Unleashes acceleration programme
Unleashed has accelerated 12 start-ups over the last 2 years.
Winners have included BorrowMyDoggy (UK), Cat in a Flat (UK), Natu (Spain), Petable (Portugal), BlueNalu Innovations (US) and OneMind Dogs (Finland) in the Class of 2020.
The Class of 2021 included Animoscope (France), BioKind (UK), Pawesomer (Finland), PuppyFat (UK), Pawpots (UAE) and Scorpet (France).
From alternative proteins, cell-based seafood to connecting dog owners with local dog borrowers and gaming, thanks to the expertise provided by Unleashed and Purina to support these startups, the startup founders have seen a real business impact and many new opportunities:
"Startups joining Unleashed can expect a well-resourced and transparent co-development process - this is quite unique when starting a relationship with a large corporate," said Max Swinscow-Hall, CEO and Co-Founder of Biokind, a UK startup working on sustainable alternative protein derived from agricultural waste.
"As a startup, the support that's been provided by Unleashed has been incredible. I love the framework of the six-month project, with clear goals for a 'proof-of-concept'. I also love that there's opportunities to take the collaboration further. What's impressed me the most is how well-suited the team is to the project.
"Not only are the team members full of expertise and experience, but they also have the most amazing attitude and enthusiasm for the project," said Michael White, CEO and Founder of PuppyFat, a UK startup working on productivity tools for breeders.
"As a growing startup, being surrounded and getting support from experts in the field is a must. And that's what Unleashed is all about. A very well structured and organised team who is there for one purpose, to help you succeed during the programme, and giving you the opportunity to collaborate further. But what distinguishes them the most is their ability to create instant rapport!
"Friendly and professional, our experience with Unleashed team has been nothing but wonderful!" said Jimmy El-Hajj, Co-Founder of Pawpots, a startup working on direct-to-consumer dog fresh food subscriptions.