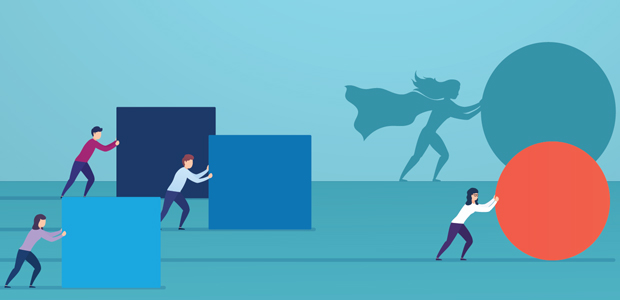 Perfecting business strategy enables a vision for success
Founder of the multinational coaching company Shamila M, Shamila Mhearban specalises in creating and implementing bespoke strategies and solutions to help clients realise their vision of success. Launching the business back in 2017, Shamila has built up an expertise, and here she shares tips on how businesses can rebound after the economic uncertainty of the global pandemic.
Tell me a little bit about your business and what you do? 
I work with organisations and leadership teams to offer remote coaching strategies and Strategic HR Initiatives. This focuses on mapping out what a great human resource strategy looks like when it is in line with the business's goals and objectives.
It is important for businesses to create space for reflection, to ask themselves 'What do I want my business to stand for?', 'How do those values play out in everyday behaviors amongst my staff?', and 'How can this develop the kind of culture beneficial to the growth and the success of my organisation?'
How hard has the past year been for businesses?
Some industry sectors that have been brought to their knees – there's no two ways about that. In those instances, when you are not able to invite customers through your door, of course it's a huge issue. Certain business sectors, however, have been required to work very differently, and when this was done well, it brought huge dividends.
Employees and employers are used to having a certain type of relationship that has worked in one particular way for decades, but this has not always been reflective what employees need. A more flexible approach to working has been needed for a long time. Employees grapple with creating a work-life balance that is in step with their lived reality. Employers are also losing out on talent by not allowing employees to work flexibly.
From many businesses there has been some short-term action, but with the underlying mantra: 'Lets's just get through this and we can all go back to normal!' There is a lack of long-term strategic thinking about how a new way of working could benefit the business and its people.
The last year has shown businesses and their people that it is possible to pivot quickly when they need to – when survival is key – and that has given rise to some very challenging conversations.
Employees are thinking: 'Remember when last year X, Y, and Z happened, and I couldn't work from home because you told me that this is how the business is run? And now you've switched things up within a week because your livelihood was at stake and actually everybody is working from home and it really was possible? I'm going to expect a different dialogue from you now.'
What are the biggest mistakes you have seen businesses make over this strange period?
One of the saddest repercussions will be the lack of development of 21- to 26-year-olds. This age range isn't being exposed to the development opportunities they normally would get in a workplace. We are going to struggle finding great talent in that demographic, and that's something that needs to be addressed. As businesses have put remote working at the forefront, they have had to prioritise people who already know how to do the job, so anyone less experienced has suddenly become surplus to requirements.
We are not seeing the organic conversations that would happen, where more junior employees learn by observing what you do and get asked to sit in on meetings that might be educational for them. I'm not saying every line manager diligently does this, but there have traditionally been more of these kinds of opportunities when we met physically.
What have been the best ways for businesses to survive the pandemic and lockdown? 
First of all, pivoting. Businesses that are doing well are the ones that are recognizing the areas they can work in, and addressing the emerging consumer needs. Look at restaurants that are now offering takeaway boxes. You need to ask yourself: 'How can my business still operate within the current guidelines?'
Investing in marketing channels has really taken a hit in the pandemic, but now is the time to be consistent, investing in areas that your competitors are neglecting. See this as an opportunity and ask your employees to focus on areas that your competitors are really cutting down on.
Listening to your team. They are on the ground and have a unique perspective on the challenges that the business faces. Ask them: 'What do you need from me in order to get this job done well?' and 'What do you need from me in order to achieve X, Y, and Z?' Be prepared to listen to the answers and act on them even, when sometimes the answers seem a bit difficult or scary!
It is about leadership recognising they don't have all the answers. Traditional management works on a triangle where the leaders have ideas that are trickled down to employees. Here is an opportunity to flip that and ask: 'What are you guys seeing that we're not seeing?', 'What are you hearing that we're not hearing?', 'How can we work as a unified organization rather than a hierarchical one that thinks it has all the answers?'
What trends have you seen within small businesses during COVID? 
I have seen that recognition of how technology can add value to your business pays dividends. Small businesses tend to be owner-managed and run by a demographic that typically isn't at the forefront of this area.
We've seen a pendulum swing where people have viewed technology in an unhealthy way, and now there's a massive shift to believing in technology to help you get the job done. Software companies are going to see a real increase in sales over the next year.
What changes do you think we may see in the future as a result of COVID? 
We're going to see a lot of entrepreneurs springing up over the next 24 months. People are looking for a different work-life balance, saying: 'I want to work in a different way.' There will be a younger generation of entrepreneurs who think 'l've got nothing to lose', versus an older generation that feels 'I built this up and carried my business through hell or high water - I daren't take risks now.'
Female entrepreneurship is an interesting space to watch, but there is a possibility that forays in to the self-employed world for women will focus heavily on short term returns. Women will be thinking: 'How can I monetize my skills quickly and effectively to generate revenue, rather than coming up with a product or idea that requires long term commitment, reaching out to potential investors and everything that entails, because I don't have the time or financial capability to see that through right now.' Women are going to become more focused on monetising their skills, because they don't have time and energy to invest in something that isn't paying the bills right now. That is going to bring an interesting new dynamic to the marketplace.
We are on the cusp of exciting and uncharted territories. Now is the time to pause, to reflect, and to reengage.