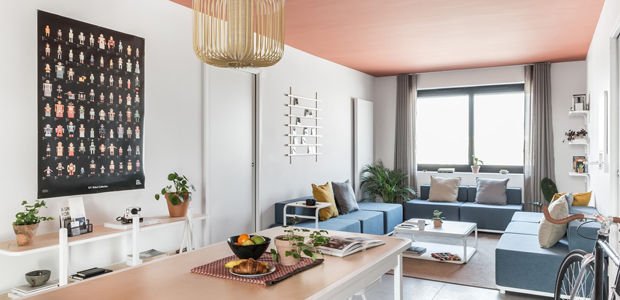 Parisian coliving space captures joie de vivre
A new coliving space for Paris' entrepreneurs, freelancers and startups has recently opened near to the famous STATION F coworking campus in the centre of the city. The Flatmates space will consist of three coliving towers and can house 600 residents.
Featuring 100 shared apartments, café, private lounge bar and space for events, the space was designed by Cutwork, a company that specialises in designing coworking, coliving spaces in order to build better communities.
As part of the project Cutwork were tasked with designing the new space to support the emergence of more untraditional lifestyles and communities, and to be flexible so that the function of the coliving space can easily be adapted over the course of a day to suit the needs of the residents. The design is all built around the culture of Japan where space is not only defined by the relationships between objects and walls, but also by the interactions and relationships between people.
This signature technology was the basis for the furniture designed for STATION F and again for Flatmates. "We oversaw the entire interior concept, designing 15 custom furniture products for 100 apartments. We delivered over 5,000 pieces of furniture created using our signature 'bend' technology," said Cutwork co-Founder and CEO, Kelsea Crawford. "The products are minimal, multi-functional, and built tough for heavy everyday use, which is vital for coworking and coliving spaces."
The blurring of the work/life balance
The world around us is changing radically, whether that be through the advances being made by technology, our continued awareness of ecology and the environment around us, or the changing ethos in the way we live and work. Coworking spaces have redefined our daily work lives in a relatively short space of time. And, with ubiquitous internet access now the norm, where we live and where we work are starting to collide. Expectations of work/life balance are changing, and travelling around the world while staying in coliving communities is becoming increasingly popular, giving way to a new generation of 'roamies'.
With just as much potential to change the way we build the smart cities of the future, coliving is set to be a real disrupter in the real estate world – entirely new formulations of space built on the principles of community, mobility, sharing, flexibility, and innovative thinking. Where residents of smaller communities share common spaces such as offices or business centres, offering a place of work close to home which will save money on a daily commute and on work place rent.
Not only that but coliving aims to inspire and empower its residents to be active creators and participants in the world around them. The aim of these types of environments is to cultivate collaboration amongst residents and the extended community, and to enable sustainable lifestyles through sharing and efficient use of resources and space.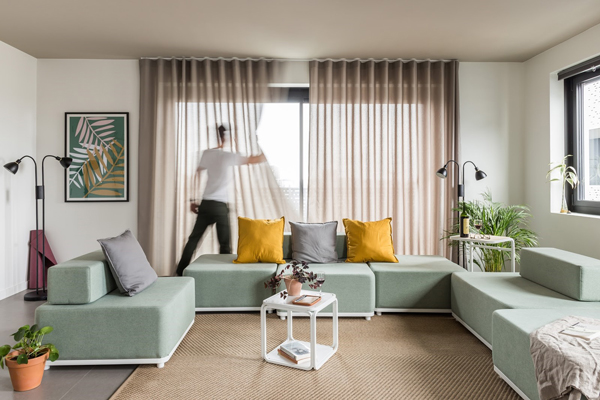 The right conditions for growth
The rise in house prices combined with the more flexible, mobile outlook of the millennial generation has meant that coliving has started to really emerge as a growing trend. For example, Hong Kong is a city with a vibrant startup landscape, teeming with entrepreneurs and innovative thinkers. However, house prices in the city have almost doubled in the last ten years, meaning that coliving spaces are an attractive alternative for startups and fledgling businesses.
Coliving is a concept that has been around for quite some time. However, it is only in the last few years that it has really received some investment related impetus. There has been a marked increase in the level of flexibility in the workplace in recent years, and in the popularity of solo travel. In addition, people are generally settling down to get married and start families far later in life which is all helping to boost coliving travel opportunities – so the market is there and growing.
We've mentioned Hong Kong, but coliving is also seeing significant growth in places like Dubai, China, Singapore, Thailand and the Philippines, and WeWork now has 'WeLive' locations in the US (New York and Washington). Airbnb is also getting in on the act. Via its design studio, Samara, it is planning to create community centres to host travellers, with the aim of revitalising small towns. Another prominent coliving and coworking community that is pushing the boundaries between work, travel and lifestyle is Roam.
A new generation of 'Roamies'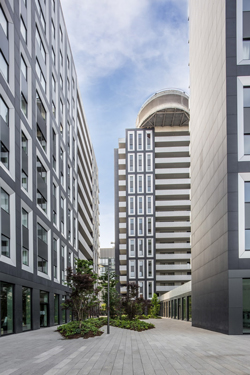 With coliving spaces in San Francisco, London, Bali, Miami and Tokyo (starting at $500 per week), Roam spaces offer an opportunity for events, meetings and classes for its members and neighbours. Members are granted unlimited internet access in all communal areas and each location has a coworking space that is open 24/7. The rooms operate on a pay-as-you-go basis (with a minimum rental period of one week) and there is no deposit or set up fee. The spaces also host regular events and weekly communal dinners.
A query often levelled at coliving spaces is why does it differ from a hotel or Airbnb? Well, for one thing coliving spaces tend to be cheaper and perhaps offer a more personalised environment than a hotel, incorporating the comforts of home and a real sense of community.
In addition, Roam has revealed that its members who work remotely for a period of time have reported an increased sense of job-satisfaction, morale and are generally three times more creative when approaching projects.
At the other end of the scale from millennials, coliving also makes a lot of sense and is experiencing a surge in popularity amongst the elderly. As people retire they can lose that sense of community they had in the workplace. They can also become less mobile. This can often lead to an increased sense of isolation. Therefore, coliving spaces offer an outlet for social interaction with like-minded individuals, but it really does take all types, as the Co-founder of Roam, Bruno Haid highlighted: "The Roam coliving community is a diverse mix. From your typical late-20s millennials, through to sabbaticals in their late-30s, possibly couples, with kids, through to baby boomers."