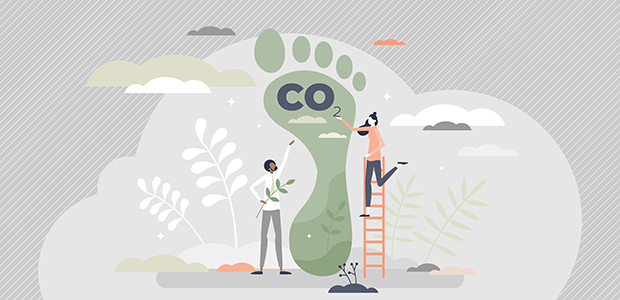 Is net-zero enough to stop climate change?
Climate scientists have argued that ambitions for reaching net-zero emissions by 2050 will no longer be enough to avoid the worst impacts of global warming, because change is happening more rapidly than predicted.
Media and climate crisis groups are now turning towards phrases such as 'net-negative', 'carbon-negative' or even 'energy-positive' to get us on the right path to lowering emissions.
But what's the difference between these and which one should businesses be focusing on? Startups Magazine explores further.
Before we think about whether net-zero is enough, we need to first consider what is meant by net-zero.
Understanding the jargon
Three in five people cannot clearly define the term 'net-zero'. This figure doubles when looking at 16-25-year-olds.
According to the Office for National Statistics, "Net-zero means that the UK's total greenhouse gas (GHG) emissions would be equal to or less than the emissions the UK removed from the environment".
Put simply, net-zero is a balancing act between what goes into the atmosphere and what comes out.
According to the IEA, net-negative, also referred to as carbon-negative and even energy-positive, "Requires a company, sector or country to remove more CO2 from the atmosphere than it emits".   
In other words, we need to ensure that more CO2 is being taken out of the atmosphere than added.
Let's consider the atmosphere as a bath – the CO2 is the water, and the concentration of CO2 is the water level. If the rate of water flowing in is greater than the water level flowing out, we have net-positive. If the water rate flowing in equals the water rate flowing out and the water level remains constant, we have net-zero. If the rate of water flowing in is less than the rate flowing out, the level drops and we have net-negative.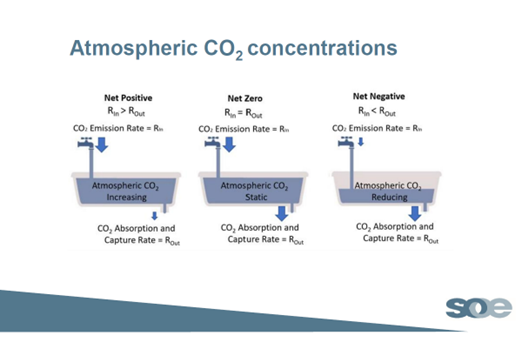 Net-zero vs net-negative
In order to reach the government's target for reduction of greenhouse gas emissions in the UK by 2050 we need to focus on, not only achieving emission reduction, but emission removal.
This is also the opinion of Ian Jackson from the Society of Operations Engineers. He said, "The problem with achieving net-zero is you have only stabilised the level of water in the bath at a particular level. Is that level too high or just right?
"Well as you say, climate scientists have argued that ambitions for reaching net-zero emissions by 2050 will no longer be enough to avoid the worst impacts of global warming, because change is happening more rapidly than predicted and this suggests, that by 2050, the stable water level will be at too high a level in the bath. So, we need to get the level down, which means achieving net-negative."
The IEA states that, "while cutting emissions is an urgent priority, the development and deployment of carbon removal technologies … could play an important and complementary role in shifting the energy sector towards carbon neutrality and – for some key sectors – a carbon negative pathway."
In the Intergovernmental Panel on Climate Change (IPCC) Special Report on Global Warming of 1.5°C, published in late 2018, almost all the pathways analysed by the authors relied to some extent on carbon removal approaches to achieve net-negative emissions after 2050.
So, it seems that, while reaching net-zero is imperative, it alone is not the answer.
Let's take buildings as an example. Today, buildings consume more than a third of the EU's carbon emissions.
Kas Mohammed, VP Digital Energy at Schneider Electric UK&I, said: "The imperative to reach net-zero is clear, with the construction industry having a pivotal role in securing a future for our planet. That's why we must set our buildings' targets high – going beyond net-zero isn't just possible, it's necessary if we are to achieve net-zero by 2050.
"Retrofitting existing buildings to achieve net-zero and enhance user experience represents a better option than simply leaving them to eke out an unsustainable existence until they are obsolete. But if achieving net-zero is possible in those built decades ago, we should aim higher for our new buildings.
"It's not a choice between net-zero and energy-positive (otherwise called net-negative). For our older buildings, we must retrofit with today's technologies as a priority to meet net-zero as quickly as possible. For new buildings, we need to aim even higher. Reset efficiency goals from net-zero to energy-positive [net-negative]."
It's not a choice
It's good to know that, despite feeling overwhelmed about how to tackle climate action, research from Ecologi, a climate action platform, has shown that eight in ten business owners want to be greener, they just don't know where to start.
Microsoft said: "While the world has to hit net-zero, those of us who can afford to move faster and go further should definitely do so." That is why, in 2020, it announced some pretty big ambitions. By 2030 it plans to become carbon-negative and, by 2050, it plans to have removed all the carbon from the atmosphere that it has emitted since it was founded in 1975.
"Start by focusing on achieving lower concentrations of carbon dioxide in the atmosphere," Jackson advises. "We need first to get from net-positive to net-zero and then start to actually lower concentrations of carbon dioxide in the atmosphere by moving into net-negative."