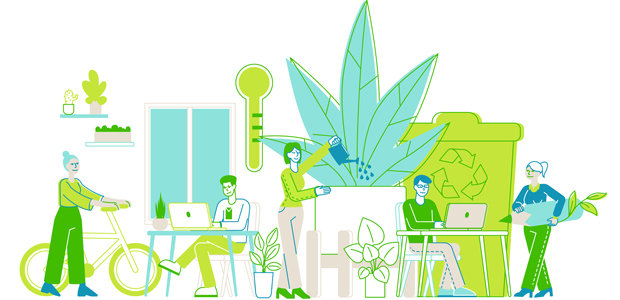 3 green tips from 'world's most sustainable company'
Schneider Electric's seminar at Sustainability LIVE invited the audience to join its journey to net zero. Ranked as the 'world's most sustainable company' in 2021 by Corporate Knights Global with an overall score of 83.2%, its Energy & Sustainability Director, Barry Hurst, offered advice on how to make your business greener.
Climate pledges around the world account for approximately 30% of global domestic product – this equates to around €23tn covered. Hurst was optimistic about the efforts of companies, a rate which he said is "growing at about 65% per annum."
However, this still isn't enough. To reach goals by 2030 he warned that emissions need to be reduced by three to five times their current amount.
Of course, naysayers will question their role in the climate crisis. Why does it matter? It's not my job to care…
If for no other reason, you should at least care for the sake of your business. "When done right, sustainability pays. It is not a threat. It is an opportunity."
Hurst recounted stats from a report published by World Economic Forum at the start of February that demonstrated companies in the top quartile concerning sustainability are able to generate more revenue. It showed an increase between four and 25% for green products. In terms of investing, more they were also able to achieve capital at lower rates or finance their operations up to 100 basis points lower than non-sustainable companies thus rendering them more profitable.
Halving your emissions
To begin his discussion, Hurst explained in three ways how you can change your corporate ethos. Schneider Electric managed to half its own carbon footprint in three years.
Firstly, Schneider transitioned from two percent renewable energy to 80%, drastically reducing their footprint.
Secondly, it increased efficiency across their manufacturing facilities, worldwide, amassing to almost 200 sites. Since 2009, it's improved its efficiency by 10% every three years – now over 40%.
Finally, Schneider is trying to decouple its revenue from energy consumption. It made a pledge that be 2030 it will have doubled the amount of revenue it can generate for every megawatt hour it consumes. That began at just under €12,500 of revenue for every megawatt – it is now at nearly €25,000.
A huge factor that also helps save energy is digitisation: "Having the software in place to gather the data, give you quick insights t how the facility is performing, and then drilling down across the facility to individual products to get a real view of how it's performing."
You may ask yourself, how can it be optimised and how can we squeeze the most we can out of it?
Supporting your suppliers
How does a company ask its supply base to reduce their emissions?
Last year, Schneider announced its 'Zero Carbon Project'. It then asked its suppliers to publicly commit to the project, something that Hurst stresses is important. "If you commit publicly to something you can't let those timescales slide – it has to be delivered."
Schneider provided technical training to help suppliers understand different scopes of the project. It also offered them tools to deliver results. With monthly check-ins and peer-to-peer networks it was able to properly support its suppliers in mapping their sustainability journey.
Helping your customers
"The first thing," said Hurst, "is that all the strategies and actions we share with our clients are based on our experience. We're offering consultancy based on what we've done, including all the times we've done It wrong. And now we've got it right, we can share it."
Leading by example through pledges and stringent targets is essential to inspiring your customers. It also uses the following framework to implement bold plans:
Strategise - By offering agnostic consulting, Schneider helps clients understand their baseline (where they start in comparison to other competitors) and their targets. Then, it creates a roadmap for the decarbonisation process, structures a programme of governance, and communicates it internally and externally.
Digitise – Any software you use should help to understand your energy usage and emissions, with minimum input from yourself. This allows you to identify opportunities for efficiency and "really squeeze that disconnection between revenues and consumption."
Decarbonise – First And foremost, electrify everything. "It's probably one of the biggest challenges." Said Hurst, offering the example of electrifying and decarbonising thermal operations. Reduce and replace with renewables, both on- and offsite. Finally, engage your value chain.
Are you ready to put aside some time and money for green initiatives that will undoubtedly reap the benefits later down the line? As Hurst reminded the audience: "It's a long term plan that you must deliver consistently if you're going to make a significant impact?