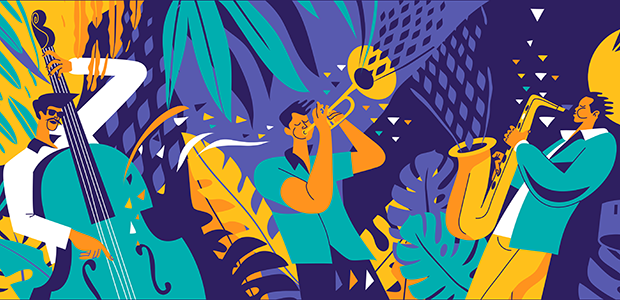 Music tech and XR company Volta closes initial funding round
Volta, the novel music tech and XR (extended reality) company, has closed its initial round of funding, bringing in support from major players in the music and tech industries. 
Volta is a free, self-service XR creation platform that allows creators to construct and broadcast metaverse-reaching immersive experiences to an audience. Volta allows live streaming artists to use any audio source (desktop audio output, midi controllers, metadata, DAWS like Ableton Live or Logic Pro, etc.) to automate various visual effects of the world, in sync with their music in real time.
On the vision behind Volta, CEO Alex Kane said: "We at Volta don't think anyone has gotten extended reality entertainment right yet. The only way this will happen is when enough artists have access to the tools. If a paintbrush cost $500,000, then an artist would optimise their art to be about the money instead of the artistic expression - we aim to democratise these new tools so extended reality as an entertainment medium has true artistic merit."
Key figures in the technology and music sectors have taken notice of the company's progression in these fields, as well as its potential to develop and promote current and future generations of musicians and performers. Among the group of investors from this primary round of funding are Pixelynx, Christopher Leacock, Techstars Music, Boost Capital, 7percent Ventures, Dave Wu, Fores VC, Acequia Capital, Robb McDaniels, Dave Edwards, Supernode Global, Austin Rosen's Electric Feel Ventures and Courtney Stewart.
Andrew J Scott, the Founding Partner of 7percent Ventures, said: "Mixed reality, the collision of VR, AR and the real world, opens up a whole new realm for artists, DJs and other creatives. Volta's platform allows anyone to create powerful eXtended Reality performances and everyone to experience them, whether in the metaverse, in person, or on your mobile phone. XR is the future and Alex and his team are leading the way."
The innovative company got its legs through the industry-shaping Techstars Music programme based in Los Angeles. The company has already garnered early support and partnerships with major industry players. 
In December, Volta was named in TIME Magazine's esteemed 100 Best Inventions of 2021 list. Last autumn they teamed up with online music marketplace Beatport and live music session broadcaster Boiler Room for official live streamed performances. The company also worked closely with British singer/producer Imogen Heap to shoot, record, render and stream her new music video live in real time. Each take of the shoot was streamed live, and between each take, fans were able to give input on what effects they wanted to see more or less of. The final video that resulted was a collaborative effort between Volta, the artist, and the fans. 
"We're excited about what Volta is building and the unprecedented access it opens to artists and creators across the board. Major artists can afford the production costs that come with building a virtual performance space, but it's cost-prohibitive to anyone without heavy financial support. The introduction of a tool that cuts hundreds of thousands of dollars for every use is a game changer for us. As an early adopter of new tech, I am all in on Volta and am looking forward to integrating this tool into my arsenal", said Joel Zimmerman aka Deadmau5, Co-Founder Pixelynx.
Volta continues to demonstrate its dedication to democratising extended reality experiences. Their goal is to create viable revenue streams for artists who are otherwise prohibited from engaging in new platforms due to a lack of resources or experience. The introduction of world building functionality greatly expands creators capacity to generate a custom world and artistic experience built around the performer from scratch, with little to no experience required.
Creators can choose from a variety of Lego-like 3D assets, wrap any 2D media on them, as well as other modification options, and drop them into their space to create a performance setting.