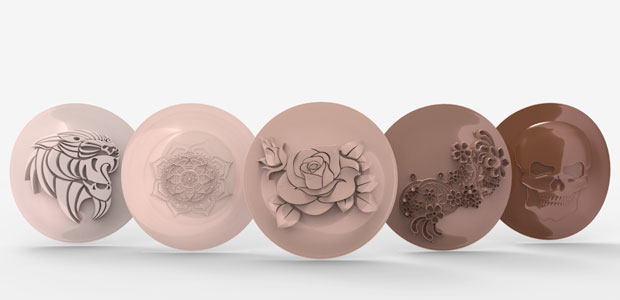 Meet the startup re-thinking ostomy product design
Did you know that the first Saturday in October is traditionally Ostomy Day? You probably wouldn't unless you or someone you love has an ostomy. According to an NHS report, it is estimated that over 13,500 people in the UK have stoma surgery each year. The most common conditions resulting in stoma surgery are colorectal cancer, bladder cancer, ulcerative colitis, Crohn's disease and accidental injury.
Life-long friends, Stephanie Monty, CEO and Founder of Ostique and Toni Schneider, COO of Ostique, are on a mission to offer patients an unprecedented step change in ostomy and wound care management that improves product functionality and tackles the associated mental health issues not currently addressed.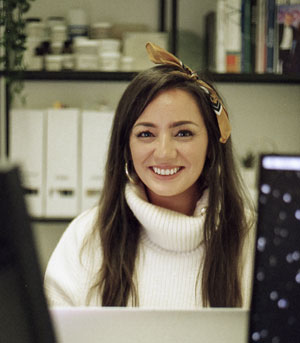 This medical design startup comes from extremely personal origins. Both Stephanie's brothers and father suffer from Crohn's Disease, an incurable bowel disease which can sometimes lead to needing stoma surgery. Inspired by their struggle, their bravery, strength, and humour throughout it all, Ostique was born.
Stephanie began working on Ostique in 2017 whilst working part time and self-funding the company herself. She then went on to win several small awards for the company, however, things didn't properly get going until Ostique won an Innovate UK grant in 2018 which enabled her to go full-time. Shortly after, Toni joined the team and the dynamic duo have never looked back.
Stoma surgery can be required for a number of reasons; diseases such as ulcerative colitis, and also various cancers like bladder cancer, rectum cancer and colon cancer. The operation diverts one end of the colon through an opening in the stomach, which is called a stoma. A pouch will then be placed over the stoma to collect stool or urine. The pouch is quite literally a plastic bag with a grey or beige fabric covering that sticks around the stoma.
"When my brother was facing his second surgery, we began looking into what living with a stoma would mean for him, and I quickly realised that although there was a huge variety of products on the market, they seemed stigmatising - just literally a plastic bag with a fabric cover. I saw first-hand what an impact (even just the thought of the stoma bag) had on him and how much it affected his mental health. So, coming from a design background, I realised there was a huge opportunity to do something different in this market," explained Stephanie.
If you're living with a stoma or you know someone that is, you'll know that it's not easy. Many say they are thankful for their stoma because it's stopped their chronic pain, and most are able to go on to lead a full life after surgery. However, what is not often talked about is the struggle that comes with adjusting to life with the stoma bag. There are many bag cover manufacturers out there, but many people still suffer from daily leakages, soreness and social anxiety.
Ostique is developing a product that not only improves upon certain functional features, such as odour control, skin adhesion and skin health in general, but they are also combining that with unique, customisable and attractive aesthetics. Ostique also offers a range of designs, inspired by tattoos and lingerie, as well as offering skin tone colour matching which Stephanie explained is extremely important for users, as the only products on the market are grey or beige, and nobody is grey or beige. Although there are some big players in the market, Stephanie and Toni's huge focus on the patient and their mental health, sets them apart with their unique perspective.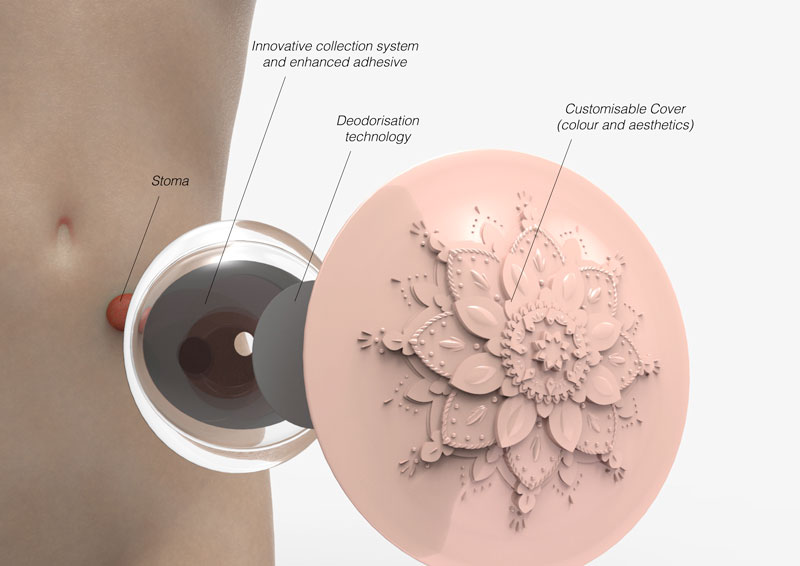 Ostique's technology lies in the material they use. One aspect of focus is on the adhesive which is fundamental for stoma appliances to work well. One of the biggest problems for ostomates is leakages which can cause skin issues (e.g. faecal contact dermatitis) which in turn can cause significant social anxiety. Ostique utilise a novel adhesive design to improve skin adhesion thus reducing propensity for leakages and skin irritation to overall ensure healthy peristomal skin.
A lack of diversity in tech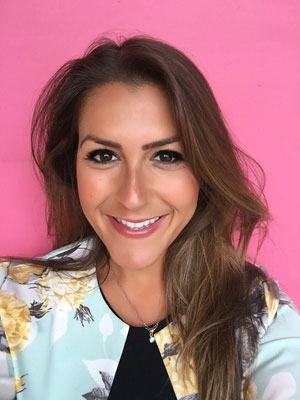 In line with our recent issue theme, I couldn't help but dive into the ongoing topic of diversity and inclusion in the tech industry, Toni shared her thoughts: "We never really felt like we had faced any prejudice due to our gender until we listened to an amazing TED Talk by Dana Kanze called 'The real reason female entrepreneurs get less funding', which really highlighted the way investors ask limiting questions such as 'How are you going to maintain your current customers?' instead of 'How are you going to grow your customer base?' to female entrepreneurs. After watching the talk, we reflected on a lot of business conversations we've had over the years and it became apparent to us that we were actually having to deal with questions that were trying to limit us.
"We've even walked into meetings in the past where investors were really shocked to hear that it's just us two running the company and questioned that we actually have the skills to run a business without a male co-founder."
Stephanie also shared her thoughts: "If someone's going to underestimate us then that gives us another reason to push through challenges that arise and prove them wrong. We want to break these barriers and go beyond people's expectations. If they have low expectations, in some ways that's okay because we will far exceed that."
Competitions and cash
The real funding came in December 2018 with the Innovate UK grant previously mentioned, and off the back of that, Ostique raised private equity from several angels which has got the company through the last few years. However, they are just starting to look at financial options again.
Ostique recently won the Elevating Founders competition, the flagship startup event of London Tech week, which enables high potential Seed and Series A tech startups exclusive access to curated investors and the enterprise marketplace at TechXLR8.
Stephanie said: "The whole Elevating Founders experience was fantastic for us. We had some amazing feedback, and really felt that the judges had recognised what Ostique is trying to achieve, which was tremendously rewarding.
"Participating in a virtual competition was certainly a new and different experience for us, but on the plus side it minimised our travel time! Whilst we definitely missed the buzz of going up against other competitors in person, in front of the judges and investors, it was still a great platform and we managed to network and connect with everyone involved."
The dreaded C-word
Like all businesses, Ostique have certainly been affected by COVID-19, particularly because they are in the healthtech industry which has seen the virus take priority over other illnesses and diseases.
Although Ostique have been fortunate enough to continue working remotely throughout the pandemic, the team were forced to delay their usability trials due to COVID-19, therefore, impacting their product development. However, Stephanie and Toni used that time to their advantage and focused on tasks that might usually get pushed to the back of the pile. The duo also emphasised how tools such as Zoom have been so important for them during this time, for example they have still been able to hold their focus groups online.
Other than COVID-19, like most startups, the financial side of things has been a struggle for Ostique. Toni explained: "It's been a huge learning curve but as much as it has been a struggle, it's also been incredibly enjoyable as Stephanie and I both thrive off learning new things.
"That being said, neither of us have run a company before and at times it's been very stressful and quite difficult because there's so many unknowns. However, we're not afraid to ask for help or advice. It's challenging - but that's life."
Ostique are currently still in the initial stages of design development and prototyping. Stephanie and Toni are working hard to bring their products to market next year. Keep your eyes peeled!