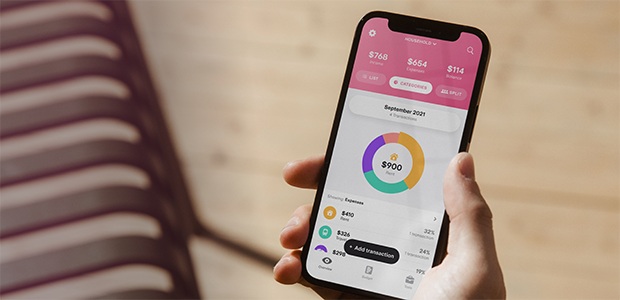 Meet Buddy, your financial companion
Today's generation are living in a totally transformed financial scenario. With the likes of Apple Pay, digital banking, credit cards, buy-now-pay-later and credit, it's never been so easy to spend money.
With a background as an IOS engineer, Olle Lind was looking to begin his entrepreneurial career, when he found the perfect problem to solve: managing finances.
He was taking the big step of moving in with his partner when he realised managing finances with another party isn't as straightforward as it might seem. He checked with his peers, and received the same feedback. Many people got on with that fact, accepting that finances wouldn't be agreed or sorted fairly. Others had their own tedious methods, including saving all receipts or tracking expenses in Microsoft Excel.
It became apparent that this was a problem shared by many, and there was a clear gap in the market for a budgeting tool. "There's the requirement for tools to plan and manage your spending, that weren't a big deal previously," explained Olle Lind, Founder of Buddy.
So, Olle set about building a solution, and Buddy was born.
Buddy is the joyful budgeting app. Your financial companion.
It lets you plan ahead for your purchases and regular spending with its budgets and expense tracking, giving you an idea of what you'll have left to spend or save at the end of the month. Upgrading to the premium version unlocks extra paid features, including allowing you to invite your partner, roommate or anyone else to your budget and sync transactions between each other. Priced at a reasonable $50 per year, or $10 a month.
The idea is to eliminate the fear that comes with checking your bank account.
Two years after lunching, Apple featured Buddy as 'App of the Day' in Europe, which Olle explained kickstarted everything. The app received more downloads in this week than in the first two years of release. It was crazy.
"Today more than ever you need to plan for your money due to the tough economic state worldwide," explained Olle.
Pretty cool partnerships
Buddy partnered with Klarna Kosma, an open banking platform for Europe, allowing users to connect to their bank automatically, and seamlessly track expenses for improved budgeting accuracy and efficiency.
Customers can access these services by connecting their bank account to the Buddy app. This is enabled by Klarna Kosma, which provides apps like Buddy with simple, secure access to 15,000 banks in 27 countries worldwide.
Olle said: "It's amazing how easy and accessible bank connections have become thanks to dedicated providers such as Klarna Kosma. A few years ago, this just wasn't possible for a startup to implement. I'm so happy that I can finally provide bank data access to Buddys' users that makes expense tracking seamless."
Self-funded
Buddy has been completely funded by Olle, and after two—three years, he was making enough to take a salary.
"I'm really happy that I haven't taken any investment because it's allowed me to build what's most important. That's often what you see with small companies, they take on investment and their agenda shifts," Olle explained.
Taking this approach has allowed Buddy to focus on the customer, instead of pleasing investment. This has meant that most features of the app have been added or amended due to requests from app users.
Peaks and troughs in the journey
Features have come and gone from Buddy over the years. The budgeting feature is on its seventh iteration explained Olle. But that's because there are always better ways to do things, and better designs.
Olle said the team constantly work on updating the foundation, the tracking expenses, budgeting and accounts features.
Olle said: "It's impossible to build a perfect thing from the start. That's been the most difficult thing, to know what the right thing to build is."
Buddy has grown to be the top budgeting app in the US and Canada, an achievement Olle is extremely proud of. "It would have been easy to say that featuring in Europe was the highlight, but I think that was almost handed to us by Apple. However, now the app is ranking number one and number two in Canada and the US, both markets that I haven't received help from," exclaimed Olle.
Growth, growth, growth
Until the last few months, Buddy hadn't done any marketing, so with new members on the team it's at a great stage to kickstart this and pursue new markets in a strategic way.
Olle is ready to supercharge Buddy's growth with marketing spend: "I'm feeling really confident about the app because it has 4.8 stars on the App Store, so I know it's a great product, and people are willing to pay for it.
"Focusing on marketing going forward will be a huge thing, and also breaking into new markets. So far, the app has only grown organically."
Olle's advice to any startup founders is to focus on the product and the user. He explained many examples where promising startups could have excelled if they focused more on the product at heart: "That's how Buddy became the number one budgeting app with just me as the developer. You don't need funding and a 15 man team. You might lose sight of who you are that way," concluded Olle.
This article originally appeared in the March/April issue of Startups Magazine. Click here to subscribe