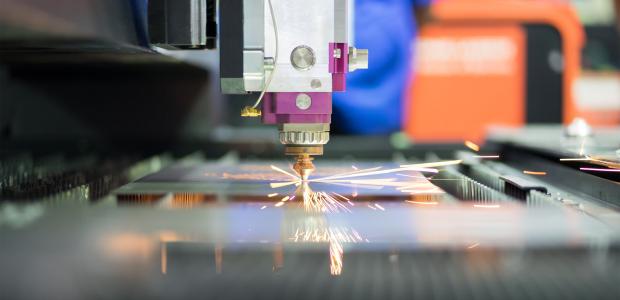 Manufacturing startup packs hi-tech laser processing power
Another finalist of the Subcon launchpad awards, ES Precision is a provider of laser processing services for marking, engraving and surface/thin material processing. This is the first year the launchpad awards will take place at the Subcon show and six engineering and manufacturing startups have made the final to try and impress and win a lump sum of money plus a stand at Subcon 2020.
ES Precision also offers machining services using mechanical machine tools and using its in-house machining capability to support the hi-tech laser processing. 
ES Precision uses it experience and a wide range of laser technology (eight laser workstations comprising five different laser types) to develop the best solution to any surface processing task it is presented with. Some plastics require short wavelengths such as offered by a UV laser; deep metal engraving is often best addressed by fiber laser.
ES Precision highlighted the work it did for one customer, Blatchford Group; where it developed a CO2 laser perforating process which contributes to a better, more comfortable experience for amputees when wearing artificial limbs.
Q&A
When were you launched? 
Back in 2017.
Why is it unique? 
We are the only UK laser service provider to offer such a wide range of lasers for surface modification. We have eight laser systems comprising five different laser types with outputs from UV to far infrared.
What problem does it solve? 
Lasers in general of course produce very fine, repeatable marks or holes with minimal surface damage or heat affected zone. Our range specifically can usually produce the best marking or engraving in almost any material presented: metals, organics, ceramics, coated materials…
Do you have any clients using the product? 
Our clients are generally confidential, but products marked, cut or engraved by us can be found on Formula 1 cars, in medical devices and implants, biotechnological equipment and machines / mechanical assemblies across most industries.
What do they like about it? 
Lasers produce results that are often unachievable with other technologies: tiny readable ID Matrix codes; unique numerical serial numbers on every part; intricate logos; permanent labels that withstand weathering and are tamper-evident…
What are your growth plans? 
We aim to grow steadily; serving our current customers to the very best of our ability is of paramount importance to us. Finding new customers is exciting but keeping the loyal ones satisfied comes first in our priorities. We hope to continue to offer the latest laser technology and also to supplement the lasers with more CNC machining services too.
How have they funded the innovations behind their development? 
We are entirely self-funded and have no debts. We plan to keep it that way and feed any net profits back into the business.
What is the investment climate like for startups? 
We don't know – we've never sought outside investment and started without any bank loans, HP or mortgages!
What government / quango agencies have they used? 
We've not really used any government agencies. Past experience has shown that time chasing grants or 'free' training for example would have better been spent simply focusing on the business – using lasers to process components for our customers.
What was most appealing about being part of the Launchpad? 
We have a negligible marketing budget but would like to publicise what is unique about what we are doing. This just might be an effective way of getting our name out there and also a good opportunity to network with like-minded people.
What would it mean to you to win? 
The marketing support would come in handy and even though Subcon is the perfect show for us, attending in 2019 and 2020 is sooner than we could afford on current budgets. The win would bring forward opportunities by a couple of years – that's a big deal for a company that is less than 2 years old!
Who would be the dream advisor? 
Engineering directors from each of our key customer industries: medical device manufacturing, motor sport and biotechnology.
Collaboration seems critical for them - how do they find partners or is it all just via customer requirements? The usual routes – being found by web searches, via PR online and in magazines, etc. But the most important is 'word of mouth' – one satisfied customer can often lead to more opportunities.