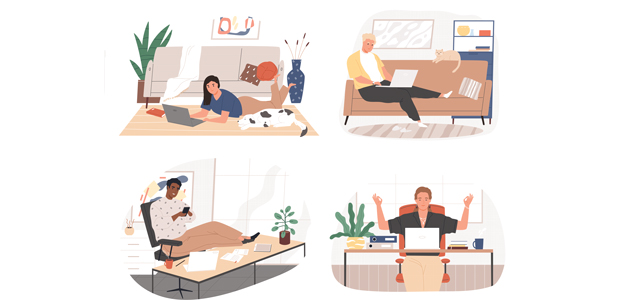 As lockdown lifts will working from home be the new normal?
A new survey from HJS Solicitors has found that more than two thirds of employees want to carry on working from home. As the Government continues to lift lockdown restrictions a poll of nearly 2,000 workers shows 68% would like to continue with life in a 'remote' office. 
Just 44% said: "We wanted to return to their workplace," with 70% saying they felt "more productive" working the way they are. 
The findings have emerged in a major new study by Skillcast/YouGov which is featured here in the first of a series of new monthly special reports by Harper James Solicitors on issues facing the business community. 
In the report today it examines what factors working from home can throw up for small and medium-sized businesses. 
And it examines the new rules which must be in place by employers to ensure safe working environments for their staff.
The expert solicitors also provide advice on how firms should approach the upcoming weeks, which will be critical for many businesses. 
And it reports on the experiences of startups who are grappling with the unprecedented changes the COVID-19 pandemic has presented. 
Toby Harper, CEO of Harper James Solicitors, said: "It is clear from this report that although many workers will be ready and willing to return to work as lockdown restrictions are lifted,  the majority would like to continue getting the benefits remote working can bring. 
"Where companies are asking employees to come back it is vital that all businesses follow guidance from the Government. 
"The challenge which lies ahead for small and medium firms is enormous and many will be desperate to get going again. 
"But the challenges of the last three months, where many companies have been locked down, has also thrown up opportunities to work in new ways - which could be hugely beneficial in the future."
The report indicates firms who are planning to carry on with home-working may be leaving themselves open to danger. 
With around 37% of home workers saying they left their PCs unlocked during breaks while 26% admitted they were "unable" to prevent others from seeing or hearing work related conversations. 
Working from home may also throw up potential health and safety issues for businesses. 
According to the Skillcast poll only 50% of workers have a keyboard that is separate from their display screen, as required by HSE guidelines. And just 36% per work on a chair with a back-support. 
Nearly half of home workers don't take regular breaks. And 45% said their employer wasn't providing all of the resources they needed to do work effectively. 
As a consequence this left 33% forced to use their own equipment - a move which also throws up data protection issues. The age of an employee also dramatically impacts the challenges working from home appears to present.
There was 59% of under-35's said they found it hard to stay motivated compared to 38% of those over 35 years old. 
Younger-workers also felt more 'lonely', were more 'easily distracted' and found it harder to 'switch off' when working remotely. 
The survey indicated the pandemic has led to a massive rise in the use of new technology with 91% of those polled saying they now 'regularly' used video conferencing to make calls. 
Fran Davie, commercial director at Harper James, which encourages its solicitors to work remotely, says the pandemic has changed the working landscape forever. 
He said: "Having spent the last three years based in a business that has working from home at its very core, I can't say I am overly surprised to learn many would like to do this more often. Remember, offices started up essentially to keep paper in one place; hardly a requirement now in our tech driven virtual world. 
"Whilst there will always be a need to meet people the more time we spend working from home and flexibly, the more the office as the default work environment is becoming artificial.
"We all have our own ways to optimise productivity, to be creative, and to see the way through a really challenging situation or problem. I suspect that more and more of us have come to realise that an office is not needed for that."
For the moment many workers are choosing to remain at home. But the reopening of tens of thousands of High Street shops from June 15th has shifted the spotlight back onto getting employees back to work in a bid to increase footfall in shops and boost the economy. 
In reality many businesses have had employees back in the office since May 13th. 
This was the date the Government first announced that where home working wasn't possible staff could return to the workplace. 
Since then employers have had a legal obligation to ensure that the workplace is made COVID-19 secure. 
But according to a study released last week, half of UK companies are not ready for a safe return to work.  
A survey of 100 senior HR executives by e-days found 50% of companies had no way of assessing the impact of COVID-19 on their staff.  
It also found that many are still relying on paper spreadsheets to log sickness, furlough, and holiday. An earlier survey found half of companies lack resources to support COVID-19 linked mental health issues affecting employees. 
Ella Bond, an employment lawyer with Harper James, is currently advising a number of clients gradually bringing employees back to the workplace. 
Support she has provided to client businesses includes offering advice on how to manage the accrued holiday entitlement of staff (including those on furlough), so that the taking of it impacts business operations as little as possible. She has also been advising in relation to the difficult decision many companies will face of having to make people redundant and the best ways of doing that (including the possibility of having part of employees' notice pay funded by their furlough pay). 
Regarding employees' return to the workplace, Bond commented that: "The return to work throws up a lot of areas that employers need to be mindful of. As well as ensuring workplaces are safe and well sanitised, employers also need to be aware of the wider duty of care they have to their employees. For many, returning to work and being amongst others whilst the virus still poses a threat will be stressful and could potentially impact on their mental health. Employers should be alert to this, have good lines of communication with their employees (including carrying out return to work meetings, where applicable) and aim to provide support where any issues arise."
"It is vital that employers carefully consider the Government guidance and what measures will be required in each workplace in order to adhere to those. This should include a thorough risk assessment, robust policies and procedures and clear directions and signage. Employers will also need to be alert and act quickly should those guidance measures be updated."
"Employers should also aim to offer staff proactive advice on their mental and physical wellbeing and safety. I am advising clients to regularly remind staff about social distancing and the latest Government advice, including the need to wear face coverings on public transport as they may need to use that for getting to and from work or attending premises 'off-site'. Employers are having to balance the need for productivity and meeting business demands with all relevant safety measures and wellbeing support. It is a challenge - but businesses are increasingly rising to it."
Those challenges are both varied and ever-changing
Barry Searle whose firm Intqual Pro provides cyberspace training workshops said a continuing issue his business is facing are announcements linked to schooling and people's ability to actually get into work.
"This is a big problem," he said. "Not just in our business but with our clients too. We are now transitioning back to the office and have an element of classroom based training where it is necessary or more appropriate. We are able to maintain social distancing, have reduced group sizes and have all of the appropriate measures in place."
But while Searle is able to control the safety of his workers, other things, which he can't control, are proving a barrier to his firm's chances of recovery. 
"We've found a big inconsistency around the provisions of loans and grants to support our business," he revealed. 
"We have three different companies on three different local authorities. Two were given their grants within seven days of application, for the other we are at two months and still no sign."
"Supply chains will also be a huge issue for everyone. Thankfully our supply chain is very short and unaffected. But clients not being able to get into office sites because their employer can not ensure safe social distancing or child care problems will be an issue for us for coming months. 
"This  shows that it is not necessarily your own business continuity plan and strategy that influences your Covid response, but the strategy of your entire supply and customer chain."
For other startups their eyes are more closely fixed on the performance of the economy. 
Jack Gossington, from Bidonomics, is one of many startup entrepreneurs who has had to pivot the kind of services he offers to get through the crisis. 
Harper James helped the marketing expert create a business which revolves around receiving a commission for all the leads that websites he builds generate. 
He said: "As a remotely run business our firm will be impacted solely by the knock on effects from the recession following the pandemic. For us to grow we need firms to need the economy to start motoring."
A key date which will be in the diary of many firms returning to work premises will be June 24th. This is the day many companies are expected to pay the next quarter of rent on commercial property they may be leasing as a base for their business. 
Reports last week claimed that tens of thousands of businesses will struggle to make these payments. 
Christen Mulgani, a commercial property solicitor with Harper James, fears a surge in insolvency proceedings will have a big impact on the relationship between tenants and landlords.
She said: "Whilst the government seeks to re-start the economy by permitting businesses to re-open the commercial property landscape is most likely to have undergone significant and permanent change.
"The stark reality is that countless businesses have simply not (or are unlikely to) survive the COVID pandemic and a massive increase in insolvency proceedings is inevitable. This will see landlords on the backfoot as they lose what were previously good and secure tenants. The immediate cost to them is obviously the loss of rent and costs of recovery or enforcement action, plus the requirement for them to pick up the rates on any empty units. For large institutional landlords there may be a more serious consequence of compromised cash-flow on any lending or security arrangements.
"Coupled with the immediate wave of forfeitures and disclaimers is the longer term impact of a potential material shift in working methods as the COVID restrictions in many cases have compelled companies to enable and facilitate working from home or genuine flexible working. For many it has been a revelation and is likely to result in both employers and employees re-assessing the merits of going back to the office for the traditional working week.
Additional costs of having to make all working spaces compliant with the new COVID requirements may give smaller businesses additional pause for thought. The Cost of deep cleans, work-station screens, additional hygiene and sanitation requirements, ventilation and personal space considerations are likely to be significant.
All in all, I think we are likely to see a very heavy swing towards a tenant's market in both existing and future letting arrangements. For the landlords a secure tenant will now be a valuable commodity.
"Rents are likely to fall and as most existing leases will have an upwards only review clause and it may be more favourable for tenants to exercise break clauses and seek smaller premises at the reduced rate.
Simon Smith, a dispute resolution solicitor, added: " As we speak the Corporate Governance Bill is going through Parliament and is likely to become law by the end of this month. Currently, the government has introduced restrictions on a landlord's ability to pursue certain enforcement action against a tenant by temporarily banning the use of statutory demands and winding up petitions, possession proceedings and rent arrears recovery. The logic behind these steps is to ensure that commercial tenants do not face legal action where there is an inability to pay due to COVID-19. 
"One thing that is clear is that the best way of trying to resolve these issues is to keep open the lines of communication between landlord and tenant. Otherwise there could be a stalemate with a struggling tenant on the one hand and a landlord restricted from taking legal action on the other. Stalemates frequently finish up in court with consequential cost and uncertainty which nobody wants to see."