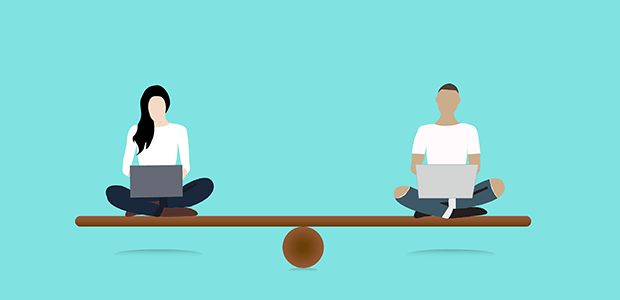 INvolve calls for more ambitious gender equality targets to tackle growing workplace gender gap
Following what INvolve call the biggest set-back for women's equality in a generation, and as children and workers finally return to school and workplace, Suki Sandhu OBE has called on all companies to 'stop shelving gender equality and set the precedent' if we are to solve the gender inequality crisis caused by the pandemic.
According to new research from INvolve, supported by Censuswide, which surveyed over 1,000 people, only 12% believe there is gender equality in their place of work and only 8 percent report to have a clear understanding of their company's gender equality targets. 
While recent news that most FTSE 100 companies have achieved the 33% target for women on boards set by the Hampton-Alexander Review is progress, this is still far from representing equality across all levels of business and our findings clearly show that businesses have a very long way to go before anything like gender parity in the workplace is achieved.
Suki Sandhu OBE commented: "While most within the FTSE100 itself have reached the 33% target set by the Hampton Alexander review, we can't help but feel there is a 'one and done' situation occurring here which has been exacerbated by the pandemic.  
"Post-2021, very few FTSE100 companies have publicly available or external data which showcases a determination to push the boundaries of the Hampton Alexander review by creating ambitious new targets and aims to drive gender parity. It appears that because of the pressure of the COVID-19 pandemic, the emphasis placed on gender diversity and closing the gender divide has fallen by the wayside. But at what cost? 
"Women's progression in the workplace has fallen behind by at least a generation. Only 2,500 companies met the encouraged deadline of gender pay gap reporting in April and, as we can see by our data, only one in ten people believe there is gender equality in their place of work. Without ambitious targets in place, the disparity women are facing, and have faced for decades, is likely to become entrenched and our businesses, society and economy will suffer because of it." 
The call for serious change come as INvolve releases its latest HERoes Women Role Model Lists, a global celebration of women in business who are playing a central role in breaking down gender diversity barriers at work, using their positions to keep diversity and inclusion at the top of the business agenda.  
Three British Women are in the Top Ten Executive List of this year's global HERoes Women Role Model List with Ann Cairns, Executive Vice Chair, of Mastercard trailblazing as the top British woman on the list. She is joined in the Top Ten by Chair of KPMG UK, Bina Mehta, and Chair of the Deloitte Global Board of Directors, Sharon Thorne.  
Meanwhile another British woman, Ramat Tejani, Programme Lead for Amazon Web Services, is named at number two in the HERoes Future Leaders List, which highlights those tipped for future leadership success. She is joined by three other women, all of whom have showcased incredible grit and determination to make the workplace a place of equal opportunity. These include Amrit Teja, Operations Manager of Digital Acceleration for National Grid; Shelina Janmohamed, Vice President of Islamic Marketing for Ogilvy and, for the third time in three years, Jenny Koo, Head of Operations Risk Management for Capital One.  
When asked about her inclusion in the list for the second time running, Ann Cairns of Mastercard said: "I am incredibly honoured to have featured in the INvolve global Women's Role Model List for the second year running. But I am even more pleased to be able to draw attention to the importance of gender and broader diversity in business by doing so.
"I am committed to ensuring all women have the same chance of success as their male counterparts and that the business world reap the benefit of accessing the whole talent pool. I know from my experience at Mastercard just how rewarding it can be to really invest in your brightest minds, irrespective of their gender or background. 
"Also, as the chair of the 30% Club, which campaigns for greater female representation at board and executive level, I am delighted the UK is on the path to parity at board level but there remains much more work to do if we're ever to achieve gender balance at executive leadership level.
"There are just eight female CEOs across the FTSE100 and women of colour remain woefully under-represented at every senior level. That's why the 30% Club has introduced race targets for our members, established a race equity group working with our established investor group and developed the Mission Include strand of our cross-company mentoring programme. 
"The report by INvolve showcases just how much work there is still to do, and it's imperative change begins now." 
Jennie Koo, Head of Operations Risk Management for Capital One, added: "The pandemic has opened people's eyes to the challenges women face every day, all of which have been exacerbated by the crisis. According to a piece of research that I read only a few weeks ago, women would rather drop out of work completely than tackle any workplace issues, a shocking finding.
"Combined with the results of INvolve's research, it's clear that we are far away, too far away, from where we need to be in terms of gender equality in the workplace. 
"I completely agree with what Suki has said, organisations need to do more to push gender diversity expectations if we are to really see change post-pandemic. Businesses need to be bold; they need to address to root cause of any systemic gender disparity and they need to put tangible actions in place to drive for gender equality in the workplace."  
KPMG Chair, Bina Mehta, added: "As KPMG UK's first female Chair, I'm following in the footsteps of many women who have paved the way in our firm's 150-year history, each of them having strived to bolster the representation of women in business, whilst encouraging the next-gen to follow. 
"KPMG UK has long championed inclusion, diversity and equity and I'm proud of the many ways our firm has pushed the agenda forward. There is still work to be done to eradicate the structural and cultural barriers that exist for women and other historically under-represented groups." 
The HERoes Role Model Lists, supported by Yahoo Finance UK, is one of three sets of role model lists produced annually by INvolve, a consultancy which champions diversity and inclusion in business; the others are focused on LGBTQ+ and ethnic minority role models.