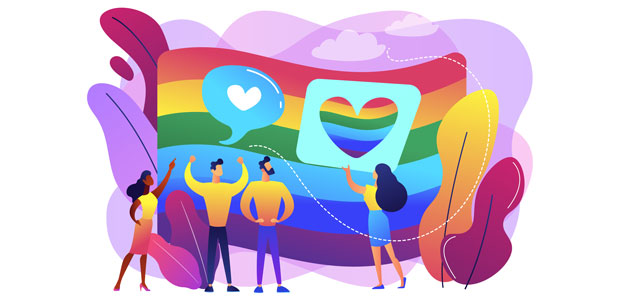 The importance of LGBT+ role models for organisations
You can't be what you can't see. This is a phrase that crops up time and time again. We often see organisations pledge to take action to boost the number of opportunities for LGBT+ professionals to take up leadership positions; however there is still a lack of visible LGBT+ role models across business.
We know that there are currently no publicly out LGBT+ CEOs in the FTSE 100, a figure that has decreased since 2018. It's worrying to see this number fall and this signals a moment where business leaders need to take action to ensure two things; that all employees feel comfortable in a culture where they can bring their whole selves to work, and that these individuals all have equal access and opportunity to rise into leadership positions.
Role models shape strategy and culture across a range of dynamic and fast-growing sectors, and they also demonstrate that anyone can be successful and secure a leadership role, within any industry. What's important now is that LGBT+ inclusion is prioritised and does not fall behind other areas of inclusion, but instead joins the general call for accountability and action across all under-represented groups.
We recently released our OUTstanding LGBT+ Role Model Lists, celebrating LGBT+ leaders in business who are helping to change perceptions and support more LGBT+ individuals to rise to the top of their organisations. It's all of our responsibility to ensure that LGBT+ professionals have that access, support and opportunity to climb the corporate ladder.
In order for this to happen in the long term, it is crucial for businesspeople to be able to come out and bring their whole selves to work. Employees must be part of a culture that welcomes, values and respects the individual contributions and experiences of every person on their team. Through non-discrimination policies, educating your teams at each level and championing key role models, you can help to make your workplace a more inclusive and celebratory one.
Alongside recognising the incredible range of diverse talent within our organisations, employers should also take action by implementing key changes to ensure that opportunities are available for all.
Make use of inclusion benchmarking solutions
It's important to implement methods to ensure that LGBT+ talent have the same opportunities to develop their careers. We know the value in seeking external consultancy support to ensure that this can be met, and to enable organisations to set a benchmark from which to monitor growth and evaluate effectiveness of current programmes and initiatives.
In using tools such as RADAR, you can receive a thorough assessment, as well as practical and easy to implement steps in order to support diversity and inclusion at all levels within the business. From recruitment and retention to development and resourcing, finding core solutions to your everyday challenges is essential.
Create focus groups
 With diverse talent comes fresh, new perspectives and businesses can benefit from a wide range of views, ideas and thoughts, which can be used as an opportunity to inform company culture and the employee brand. By organising focus groups, businesses are inviting their employees to shape policy and agenda, entrenching inclusion from the outset.
Employee Resource Networks
Organisations should encourage the formation of employee resource groups or business networks where employees can shape an organisation's culture and support in efforts to improve LGBT+ representation. This also creates a formal channel of communication between employees and senior leadership teams, as employee networks are vital in being able to discern what your employees need.
Offer digital trainings
A workplace culture is the product of the behaviours displayed within a business. Having an informed workforce will ensure that this awareness is implemented throughout the business and ensures that individuals are held to account.
There are a range of online workshops, resources, digital trainings and inclusion solutions available to enable employers to empower their teams to build a more inclusive work environment. Aligned with this is also recognising the value of adding 'authentic voices' to the conversation.
If LGBT+ individuals are to feel empowered and inspired, they must see other people like themselves succeeding and securing senior positions. It is through celebrating the range of diverse talent and affording them the opportunity to thrive within our businesses that allows us to take a step towards elevating LGBT+ voices at every level.