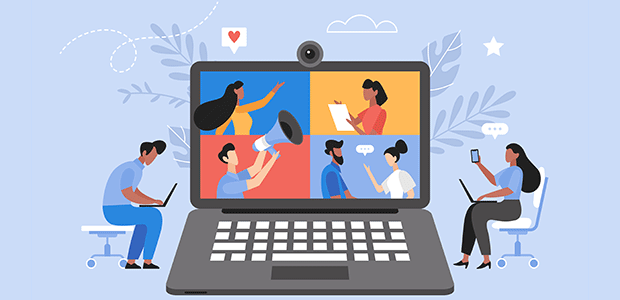 Implementing the 'big four' to post-pandemic event success
As society reopens and businesses adapt to post-pandemic life, now is the ideal time for growing businesses to consider not only how their audiences may have changed but also the best ways to engage with them. Some of the most exciting changes have occurred in the way events are delivered, and we believe there are four key steps that businesses should take to establish and host impactful post-pandemic event programmes. By following these steps, your events will deliver and exceed their objectives, and help achieve wider business objectives too.
Step One: Level up in-person events by going hybrid
Despite the pandemic-related turmoil society has endured over the past 18 months; a silver lining has been how the necessary widespread shift to remote working and online communication has revealed many advantages over in-person activities. This has been self-evident in the events space, where delegations have flocked online. In November 2020 alone the number of people attending virtual events on the Eventbrite platform was 34 times the number in January earlier that year.
Now that society has reopened, the virtual element has remained popular, and we are now seeing a move toward hybrid events which blend in-person and virtual elements to allow greater numbers of attendees to network more effectively, engaging with the content they prefer. If a company incorporates a hybrid approach, delegates can fit attendance around their schedule leading to bigger audiences. Looking ahead, startups should consider hybrid events as a way to increase the exposure of their content to more people and make attendance more appealing to a wider audience.
Step Two: Sustainability is key
The recent IPCC climate report was another stark reminder of the urgency with which we must address climate change. Consumers have never been more demanding of businesses when it comes to climate conversations, and so making and meeting ESG objectives should be a priority. Pre-pandemic, events were one of the UK's worst offending industries when it came to greenhouse gas emissions, emitting 1.2bn kg of CO2e from diesel generators every year and the average in-person event wasted 15-20% of the food it used to boot. Happily, virtual events cut a large majority of these carbon emissions and waste, and tools such as Live Group's sustainability calculator can ensure businesses keep these to a minimum as in-person elements are included once again.
Step Three: Double down on data
Customer insight is central to marketing, product development and growing a business. One key advantage of virtual events is the quantity and quality of data the format generates, which can then be fed into engagement analytics tools to inform improve the company's offering. 
Companies who have leveraged this superior data input from virtual events may now need to consider the data 'black hole' which will be left if they return to their pre-pandemic in-person events calendar. Hybrid events are the solution.
Hybrid events delivered using quality technology which capture data across all formats will provide a long-term counter to this challenge. Indeed, 82% of event planners agree that good data practices will be critical in running successful hybrid events, but 50% find that running virtual events is making data management a lot more complicated. Companies should therefore make sure that data collection is tailored specifically to business objectives to avoid over-saturation and capitalise on consumer feedback.
Step Four: The rise of the Chief Engagement Officer?
With hybrid events come a new focus on a need for flexible and accessible digital content. Responding to these new customer needs and types of engagement is paramount, so much so that a developing a dedicated Chief Engagement Officer role may be a wise move. This person would have responsibility for ensuring the business is making the most of data and audience insights to become an expert in external engagement strategies.
Improved accuracy in the way we measure engagement means businesses can develop more refined KPIs and extend event experiences and interactions far beyond a couple of days. Deep engagement takes time, so interacting with participants both before and after the peak of activity over days or weeks maximises the chance of inspiring positive behaviour change. This deeper and wider pool of data and insights extends beyond utility in events, and can be used to inform the wider communications strategy and objectives of the business.