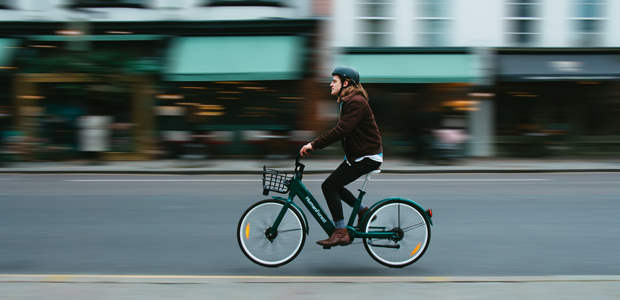 HumanForest: London's first free sustainable mobility solution
HumanForest is an exciting new mobility startup, committed to you and the planet. Offering Londoners 10 minutes free every day, on a truly green e-bike. Here, Startups Magazine speaks to Agustín Guilisasti, Founder of HumanForest to find out more.
Firstly, please could you outline what the mission of HumanForest is?
HumanForest's core goal is to improve the air quality of our cities. We believe that by offering affordable micro-mobility solutions we can empower people to make sustainable choices.
By providing London's only truly green shared e-bikes we will facilitate up to 7,000 rides and avoid almost 4 tons of Co2 from being emitted into London's air every day from Spring 2021 onwards! From there, we want to expand across the planet - one city at a time!
That's an impressive mission statement. What inspired you to create HumanForest?
I previously worked for Cabify, Spain's first Unicorn and the earliest mobility company to become carbon neutral. As part of a sustainability project, the Cabify team took a trip to the Amazon and I was struck by the rainforests' vastness, its beauty and its vital role in the functioning of the entire planet.
When I moved to London a year later to complete a Masters in Data Science I felt removed from the beauty of the rainforest which I had experienced. I wanted to find a way to bring the great Amazon rainforest and protector of our plant, to the cities, but I wanted to create a different kind of forest where humans are the trees.
Working together, like a huge ecosystem, I believe our communities can help reduce CO2 levels by making sustainable lifestyle choices. It was this alongside an acknowledgement that the shared mobility solutions in London were too expensive, they were pricing average people out, that inspired me to build HumanForest as we know it today.
What makes HumanForest unique?
HumanForest is different from other shared mobility solutions because it combines micro-mobility with digital marketing to create a social impact platform. Unlike other solutions, we partner with like-minded corporates to offer them access to HumanForest riders via our app. We provide our partners with digital marketing space and they reach new audiences whilst connecting their brand with sustainability.
This model allows us to offer the most affordable shared mobility. We have no unlocking fee and offer ten minutes free daily to everyone. We only cost 0.15p after the free ten minutes are over. This affordability is made possible by our partnership model.
Finally, and most importantly, we're green! Our operations are powered by renewable energy and we are in the process of being approved by First Climate. We are planning to be Carbon Negative by 2022.
And how have you found moving from a secure job at Cabify to building your own mobility company?
Making a big decision like starting your own business is not easy, of course. There are big risks and leaving the security of a world you know is daunting. However, I think when you have a driving purpose it helps to ground you whilst also keeping you motivated. For me, helping build a more sustainable planet is my driving mission. When I remind myself of this I am able to gain the perspective I need to keep believing that the risks associated with starting your own business are worth taking.
Once the initial step into creating HumanForest was taken, from then it was much easier. The success of our trial this summer proved the business model and we saw a great demand (too much even to fulfil!) from Londoners looking for a new way to move around the city. As we gear up to our relaunch in Spring 2021, I am only excited about what the future holds.
How many ideas did you have before deciding HumanForest was the one to pursue?
The world of mobility is really the only one I have known. At Cabify, we tried new ideas constantly evolving the company into the success it is today. 
HumanForest brings together a lot of ideas and when it all came together, I knew it was the right time and product to pursue the business.
You have spoken in the past about the importance of your team. How have you built the right team?
You're right! To me, the team is everything. Alongside HumanForest's co-founders, Caroline Seton and Michael Stewart, we have built a team of passionate and hardworking individuals. Within that we look to nurture talent by giving people the tools and the opportunities to grow into bigger roles and learn as they go. This is supported by having a very experienced team of mobility professionals - in total we have over 50 years of sector experience.
I also believe that it is really important to empower people to be able to share their thoughts and opinions openly. This facilitates idea generation that isn't impounded by group think. Having the right people, providing them with support and opportunity to grow whilst also ensuring that their voices count is how HumanForest operates a strong and thriving team!
What does success look like for HumanForest?
That's the easiest question so far! For us, success is reforesting the world, one e-bike at a time. We want to bring affordable micro-mobility solutions to every city in the world, helping to improve air quality as we do.
So far what have been the biggest challenges to building your own company?
COVID-19 has been a big challenge. Having said that, it's also given us a lot of opportunity. Launching a company in the midst of a pandemic is difficult because there are so many unknowns and more risks around aspects like the supply chain.
Nevertheless, it's also created an opportunity for HumanForest to reiterate the importance of sustainable and socially-distanced mobility solutions. Lockdown has made many people conscious of how much air pollution we have been living with.
It has also encouraged people to find new and safe ways of moving that support both mental and physical wellness. We are launching at the right time to benefit from some of the few positive trends that COVID-19 has encouraged.
How do you continually seek to drive innovation?
At HumanForest we are always seeking out ways to improve our operations. For example, we are currently looking into repurposing disused telephone boxes as charging and battery storage facilities. This will help reduce the operational costs and make us more efficient.
In my opinion, the main driver behind innovation ideas like these is being connected to a range of people and being open to their ideas. Innovation cannot take place in a silo, it needs to be collaborative.
At HumanForest I encourage the whole team to keep an ear to the ground to find opportunities for innovation across the whole organisation. As I said earlier, giving people a voice and listening to them carefully can often be the best way to facilitate change.
What is the company doing financially?
We raised £1.8m in a seed round over the summer, from leading figures in the mobility world including Juan de Antonio and Vicente Pascual, founders of ride-sharing app Cabify.
As an extension of this round, we are now crowdfunding via crowdcube. We've met our £1.25m target and are now overfunding to raise even more equity to buy even more e-bikes.  We will be using this capital to launch a new fleet of 1,500 e-bikes in London in 2021 and plan for opening a second European city in 2022. We have global growth ambitions and are excited to succeed in London before taking HumanForest to many more capital cities.
Breathe, pedal and be part of our HumanForest!