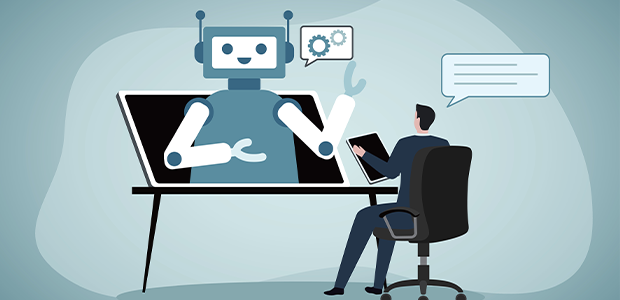 How your brand can launch an awesome AI experience for your customers
WOLF Qanawat, the British audio entertainment communities app which I head up, recently launched its first customised AI Virtual Assistant, named Yasmine. The development marks a significant milestone for our UK-based startup, which has rapidly grown into one of the largest online communities for the Arabic-speaking market.
Yasmine is fluent in Arabic and provides real-time assistance, helping users find content, connect with others, engage in fun and entertaining conversation and navigate the platform effectively.
The decision to integrate AI into our product offering was a natural evolution of our app, following on quite quickly after the launch of our new VR feature. However, it took a wealth of consideration and planning.
Here is some advice that will help you launch an AI experience for your customers if it's something you're considering.
Why do brands need AI?
It seems like there is no getting away from AI, so much so that AI has been named the Collins Word of the Year 2023 by the dictionary publisher Collins. There is an ever-increasing number of uses for AI and it will become a bigger part of our lives in the future – so let's embrace it.
The main use of AI we are finding for our own products, and those we build for our partners, is as a virtual assistant. That means customers treating a brand's AI as a source of all knowledge about the company and their interactions with it.
For example, for new users to our WOLF Qanawat app, our AI virtual assistant Yasmine can answer any questions users have about how to use the app. This includes asking who certain people are in the community, what shows they may want to attend or channels they may want to join to meet their tastes.
An AI like Yasmine doesn't just reply robotically. The level of language understanding that they have means if the customer 'banters' with them using modern slang, the virtual assistant can 'banter back'. This provides a resource which represents a brand and its character and values incredibly well.
The virtual assistant acts as a support staff member that never gets tired, or needs a coffee break, and is always on top form. It provides great customer service and keeps human resource costs under control.
How do you decide if your brand could benefit from introducing an AI experience?
Using AI as a virtual assistant is ideal for brands which have customers that typically have a lot of questions and need information regularly and quickly. A virtual assistant provides a superb interface to meet all these customer needs instantly without a customer having to search for it or contact someone who works at the brand.
AI virtual assistants are incredibly popular with younger audiences who have no hesitation or fears about engaging with a synthetic form of customer service representative for brands. So much so that even the Royal Navy is now using a new conversational AI assistant to offer "better and quicker" information to younger candidates to enable applications.
What is the first step to take when considering AI?
To start, you should think about how your customers currently get information about your brand. Is it hard and slow for them to access all the information they would find useful? Is it expensive or cumbersome for you to give them that information? And is it the case that when they receive information it is not done in the most ideal way? If the answer to these questions is yes, creating an AI virtual assistant for your brand could provide superb solutions in this scenario.
The next questions to consider are: who can build this for you? How much would it cost? And what effort is required to feed the AI with all the data it would need to contain in order to comprehensively service your customers?
What skillset do you need?
You either need a software engineering team in house who specialise in AI, or you need to find an external business partner to provide this for you. Your internal IT department will need to provide data feeds to the AI engineering team.
Also, your marketing team will need to decide what information to feed into an AI assistant and what tone of voice and brand guidance you can give the virtual assistant to customise it for you. This needs careful consideration to ensure that your brand's values are soaked into the core of your AI assistant, the language and tone of voice it uses and all the information it offers your customers.
How long can the process take?
It's reasonable to imagine that you could go from idea to having an AI virtual assistant in a couple of months. But then you need an ongoing maintenance and iterations process with your in-house or external software engineering team.
This is because AI is progressing incredibly fast and continuously adding more potential benefits for your customers. You need to keep considering offering these benefits in case your competitors push ahead of you in this area and win your market share.
Ultimately, an AI virtual assistant isn't necessarily for all brands, but if you're trying to appeal to younger consumers and you want to enable them to access lots of information quickly, you should carefully consider it.