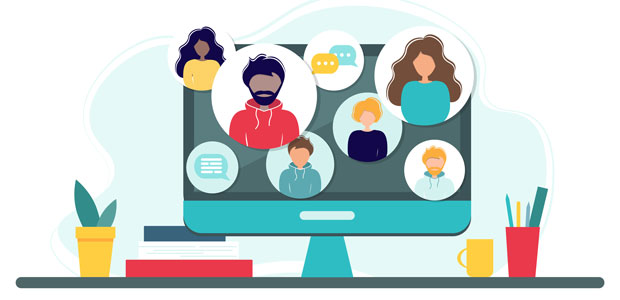 How Working Remotely Has Changed Company Culture For The Better
Over the last twelve months companies have had to adapt quickly to new situations they may have once been unfamiliar with. If these experiences have taught us anything, it's that if you respond quickly and efficiently to changing surroundings, you can continue to excel.
As a social media agency, technology and teamwork has been our saving grace and has enabled us to continue developing outstanding content campaigns, from the comfort of our own homes.
So, how has our company culture changed? And what does this mean for the future?
Keep Contact Consistent
To state the obvious, working from home is significantly different to an office environment. That's why it's more important than ever to ensure that structure remains in place, albeit virtually. 
Creating a routine that mirrors your old 9-5 office scenario enables everyone to stay on track, like having regular virtual meetings helps to mimic what once was. By introducing multiple methods of face-to-face communication including Google Meet and WhatsApp groups, we're able to keep our finger on the pulse and stay creative.
Through emails, messages can be misconstrued, that's why hopping on a quick video call can help to save time, avoid confusion and keep teams in the loop. By utilising Hubspot's meeting tools, colleagues and clients can automatically book appointments that fit our schedules, saving hours of time spent on unnecessary emails.
As many people continue to adjust to a virtual way of working, it has shown that the ingredient to keeping company culture alive is communication.
Want to get results? Communication is key. Need to brainstorm an idea? No problem, let's jump on a video call.  The best way to generate new ideas is by bringing everyone together.
Set Goals And Keep Motivation Levels High
In order for a business to grow, it's important that everyone within it has individual goals to achieve and understand the vision of the brand. It's critical to instil a company culture that promotes both, with everyone working towards one target.
While the future may seem unclear, it's essential to have clear goals, whether that's in a month or a year's time. Looking forward and learning from the past will promote positive mindsets and ensure that teams stay on-track. 
Sharing and where necessary, updating, the vision of the brand can act as a catalyst for positive change. Only through change will new opportunities open up, that's why setting goals are what shapes attitudes within company culture.
It's important to set realistic goals but at the same time push yourself, the likelihood is that if you aim high you will work harder. Manifest what you want to happen, work hard and start this year on a high.
Celebrate Wins
It's key to reward hard work, celebrating the small wins. Although celebrations may not be what they used to be, in person, as a team, there should still be a focus on making them happen, virtually. 
Grab yourself a drink with your team, take part in a quiz or order a team takeaway.
Company culture is fuelled by co-operation and coming together. Celebrating these wins also creates a sense of achievement and helps individuals to continually develop.
Reward hard work and allow others to feel proud of what they have accomplished. 
Leverage Advances In Technology
Company culture wouldn't be as it is today without technology. It has proved that the possibilities with technology really are endless. 
Virtual calling platforms such as Zoom, Microsoft Teams and Google Meet have been a crucial way to recreate work meetings and client presentations from home.
Platforms such as Asana, have enabled teams to assign tasks and deadlines which provides structure and a sense of productivity within the team.
Not only this, but online training courses such as LinkedIn Learning which has over 16,000+ online courses taught by real-world professionals has been a valuable resource for many who are wanting to expand on their knowledge from the comfort of their own home.
Without technology, company culture would have hindered dramatically.
Planning For The Future, Today
Whilst the past twelve months have been a turning point for many, it is evident that company culture has changed significantly, for the better. During this time friends, family, neighbours and colleagues have come together to support each other. 
Colleagues are developing stronger relationships through clear communication during the working day, especially with the home working set-up. The work dynamic on virtual calls is a time that as a team, you collectively raise spirits and keep motivation levels high.
Being able to motivate yourself and adapt to consistent change, both positive and negative, has been a test for everyone, but it's safe to say we have passed that test. Replicating a work setting into what was previously a personal space, balancing life challenges whilst continually to keep growing in your career is a lot to juggle, but the hardest part is over.
The three key ingredients that have kept company culture alive is clear: communication, goal setting and positivity. 
The typical company ethos has changed, with the new working from home dynamic in which companies have had to adapt their way of communication. But in this instance, the change has been a blessing in disguise, especially for Social Republic.