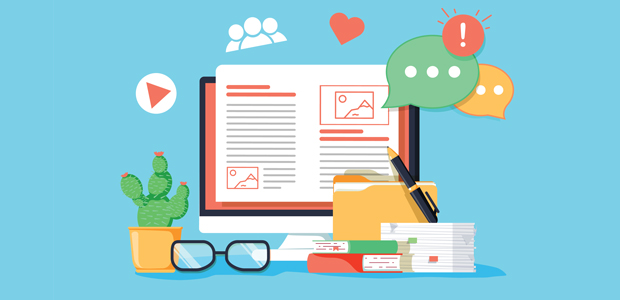 How to Win at Blog Writing
A blog is a regularly updated website or web page, typically one run by an individual or small group that is written in an informal or conversational style.
There is an estimated 600 million blogs on the internet out of 1.7 billion websites (GrowthBadger 2019) and over 2.5 billion blog posts are being published each year worldwide. That's 6,912,000 blog posts published per day, and 4,800 blog posts published every minute (Internet Live Stats, 2021). These impressive statistics show just how important blogging is and why it's crucial to any startup.
But before we get started on creating our blog, there's a few solid tips to follow to ensure we maximise its impact with those you'd love to read it.
Content is King
Content is king as they say! You can shout about new content on your website and on all of your social media platforms. Blog content that appears directly on your website is not only a proven way to reach out to prospective customers and engage with regular customers, but it also supports all your other marketing activities.
Here's how a blog helps build your startup business:
It develops customer relationships

Positions you as a brand leader

Drives traffic to your website

Helps to convert traffic into leads

Creates useful content for social media

Drives long-term results

Helps with link-building

Generates leads
Language
Blogs are a great way to share information, detail products and services, and increase exposure. It's a clear and direct route to customers to help build relationships and is a space to let the brand's personality shine. But how do you begin to put a blog together and see results?
Unlike a website, which of course is a great way to showcase your brand, a blog is the perfect platform to strengthen search engine optimisation (SEO) and domain authority. Ultimately, a blog is your ideal content marketing tool. It's a way to convey your brand personality and voice through the tone and language you create for your business. Getting it right is extremely important as it helps to set your brand apart from your competitors.
How your blog is written and the message it communicates should match the brand identity. A company blog is the business's voice so it should be written to reflect this through the use of language. If your brand is young and informal use language to match. If it's technical or deals with serious issues choose terminology that will resonate with your audience. To achieve this successfully it's important to know and understand your audience.
Many of the world's leading thinkers have argued that language shapes perception. After all, the language we use creates a particular influence in the mind of the person reading it. Therefore, the language your business uses will impact how people perceive your brand, its product and services, and its position in the marketplace.
Check Your Content
Ensuring a blog is well-written and captures a business's audience correctly is key. Clearly, language choice is important for external communication like blogs, but it's something businesses can overlook or miss the mark on if writing experience is not their normal 9-5 focus or is not their favourite task.           
It's very important to take your time when writing your blog to ensure the right message is put across and you are addressing your audience correctly. Write, rewrite and rewrite again. Take your time and get feedback from others in your company or network before posting, or seek support from a trusted content writing company.
Planning your Blog
Planning is key to getting your blog post right. Before you write anything make a plan so you know exactly what direction you are taking.
Here are our top tips to getting it right:
Topic

. Choose a topic your audience finds important and wants to know more about. Make sure it's also something you are interested in so your passion for the subject is conveyed in your writing.

Outline

. Know how you are going to start and where you are going to end to keep it precise and to the point

Title

. Craft a headline that not only captures your audience's attention but also lets them know what you are blogging about.

Write

. Write your post in the correct style and language to suit your audience. Write, read, edit and re-read again to make sure it flows and is reflective of themessage you'd like to convey.

Divide

. Make content skimmable so your customer can skip to the parts they find important. Use bullet points or sub-headers to achieve this.

Images

. Use images to really sell the blog and bring it to life.

Share

. Utilise every word of your freshly written blog by putting it on other social media channels.
Not Everyone's Cup of Tea
Blog writing can be time-consuming and is not for everyone. It does take some practice and skill to get right and so a marketing expert is a good choice if you are time-short, less than confident on blogging, or just need someone with the creative flair to join all your dots and create a winning depiction of your brand.
If you're short on time or simply want a second pair of eyes and hands on your content marketing visit Lion Spirit Media and Roaring Content for support and advice.