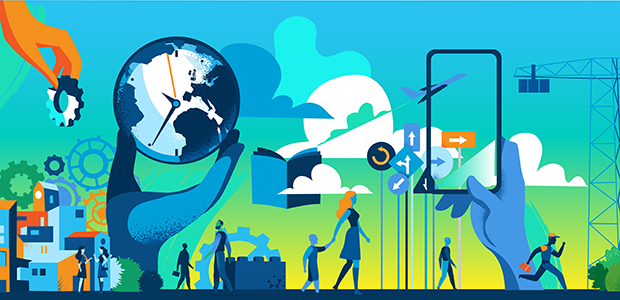 How technology has helped the transition into new ways of working
Nothing is set in stone. With signs that many industries are starting to bounce back after the COVID-19 pandemic, it can still be tricky to predict what lies ahead and what can be done to future-proof businesses for a successful 2022 and beyond.
The future of work will be a slow and difficult process, formed in conversations between employees and their managers as a resurgent workforce learns to articulate new best practice.
Recent studies show that employers are ready for the future of work, and one thing is for sure: the familiarity with technology built over the last couple of years has made this transition possible. Technology has equipped companies to improve communication and hiring decisions in spite of a difficult market, and teams are now able to listen to staff and to improve more effectively than they could have pre-pandemic.
Now, the challenge will be to find new ways to address the challenges highlighted throughout the pandemic, and to use the digital tools available to help tech companies to continue to scale post-COVID and to grow sustainably.
Understanding the role technology will play in the future of work starts with understanding the challenges and opportunities facing employees today. Employers must now respond to the concerns built over the lockdowns around broken communication and delivering meaningful work.
At the same time, the autonomy and trust built through the fully remote stages of the pandemic cannot easily be forgotten, and post-pandemic workplaces will recognise that greater freedom and flexibility is conducive to higher employee retention rates, efficiency and wellbeing.
This realisation is key as leaders look to define the shape of the future office. Employees, having proven their ability to work effectively from home, will have more opportunities to make their own decisions about how and where they work so long as efficiency does not suffer. Naturally, teams must engage with new metrics of success to make flexible working viable and competitive, with data gathered being used to inform decision making across organisations.
Where teams can successfully interpret how employees work online - without breaching privacy or appearing to micromanage - they will generate better information. This, in turn, will inform near-future AI and machine learning tools that can make predictive suggestions about how to improve performance and hiring practices.
Data will form the backbone of a workplace in transition. Businesses today already recognise the importance of listening to their employees, having weathered a year-long exodus of staff feeling forgotten or no longer seeing the point of their work. Now, the challenge will be to make better use of the tools available to understand the needs and full value of the skills of the workforce. Technology will play a central role in allowing employees to communicate the obstacles they encounter as their jobs evolve.
Forging the post-pandemic workplace is not an overnight process and both employers and employees will continually be assessing and reassessing their needs. To facilitate this, modern businesses must make the most of technology that captures the movements of the employee experience, which may include  volunteered staff surveys, AI and predictive analytics or IoT-grounded sensor data from around the office. Being able to understand and interpret trends in real-time will enable HR teams to keep wellbeing high, and recruiters to ensure new arrivals are the best fit based on current insights into which employees fit best with the company culture.
Along these lines, recruitment tech will help businesses adjust to a competitive candidate-driven market. Leaders will be expected to demonstrate a strong workplace culture that is sustainable both online and off. A combination of remote and office work is likely - and viable - in many sectors, but leaders must ensure communication does not break down and contribute to stalled career progression as it did throughout the first year of the pandemic. When used well, software will help employees to build meaningful relationships whether online or in person, to arrange regular meetings with their managers and to self-report any concerns or issues.
Proximity bias is also becoming an established talking point as employers grapple with the possibility of promoting or forming stronger relationships with employees who spend more time in the office.
The future of work must be sensitive to the needs of vulnerable staff, and must embrace the flexibility of remote work in order to be fully effective, but it must also make space for individuals to bond and form a connection with the company itself. Without a defined company culture built between physical spaces, differences between companies for remote workers will be limited to salary.
Understanding the role of technology in the workplace of the future again comes back to the central questions of the present. Employees today recognise the potential in hybrid work so long as the benefits of flexibility are not undone by the challenges of distance and relationship building. Various technologies innovated throughout the pandemic will find extended roles in the months to come as teams look to bridge communication gaps, delivering to employees - above all - the meaningful and productive experience of work that gives them every reason to stay.