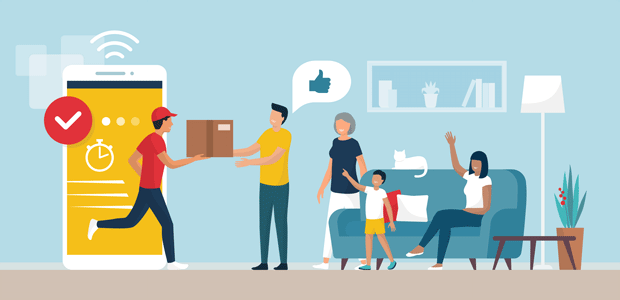 How to Successfully Manage a warehouse
Warehousing is an essential activity that promotes the orderly storage and distribution of finished products inside factories or even in places intended for this purpose and is crucial in the supply chain process. Successfully managing them is vital if you want your business to thrive.
An effectively managed warehouse can make all the difference to productivity within your business. It's easy to overlook, but being organized can benefit your business.
What is a warehouse?
Before we dig into how to manage a warehouse successfully, let's understand what a warehouse is. 
Delivered by your suppliers, materials or products must be temporarily stored in warehouses. For example, if your company takes advantage of price discounts by making large purchases, you'll hold that extra material until the factory needs it. And sometimes, your finished products may go to your warehouse until the customer places an order.
A warehouse is a building for storing goods, and it's the location where you and your team prepare products before their distribution. Different businesses and industries that temporarily keep products in bulk before shipping them to other areas or individually to end consumers use a warehouse building.
Have you ever wondered where your Amazon product comes from before being delivered to your house? A warehouse. And Amazon is just one of many businesses that use warehouses to store and distribute goods. 
What is the importance of a well-managed warehouse?
Your warehouse plays a crucial part in ensuring that your company meets its productivity goals. Efficient warehouse management adds efficiency, consistency, and quality control to the process by enabling you to move goods through your warehouse at maximum speed, improving every stage of the fulfillment process.
A great way to keep track of your warehouse and ensure that everything works smoothly is by using a warehouse management system. This way, you'll reduce errors in logistics management by keeping a record of every step of your merchandise lifecycle. Ensure product accuracy is real-time updates by allowing distributors and clients to know what you have in stock.
A well-managed warehouse will also improve and value your customer experience and give your company positive reviews.
5 Ways to successfully manage your warehouse
As we've seen in this article, managing a warehouse isn't easy, requiring patience, efficiency, and professionalism.
To help you in this task, we listed five tips to manage your warehouse successfully.
Plan your warehouse space
If you use dollies, forklifts, or other machinery in your warehouse, rent a space with a proper layout. Have an area that will fit your machinery and your employees comfortably.
You'll also need to plan the layout of how you'll display your inventory. Make sure to show the most popular items in a more accessible area to make your team's job quicker.
Every inch of your warehouse costs you money in rent, electricity, and other utilities, so make sure you make the best use of space.
 

Acquire a powerful warehouse management system
As we already know, managing a warehouse demands a lot of work, so acquiring a warehouse management system will make your logistics process more effective. They'll support you to understand your inventory better, help your team find items quickly, speed up shipping processes and make your warehouse management more efficient.
Multiple options of WMS have mobile apps that will help your warehouse be even more effective as you can manage it from anywhere you are.
Plan for different demands
Businesses have different seasonal demands. Plan ahead and accordingly for yours. Certain times of year will be busier than other times, so you want your stock levels to reflect that. Predict the demand based on historical trends, and ensure that your stock is at an optimal level for that period.
Provide a safe space
In any business, the safety of your team has to be the most critical item on your list. And for a warehouse, safety is the number 1 item on the list.
When you work in an environment with heavy machinery and potential unsafe areas, implement safety protocols and make sure your staff understand and follow the rules.
Train your staff properly
Besides training your team regarding safety protocols and unsafe areas, spare time to prepare them on how the warehouse process system works.
Teach them how to select and find products correctly from the inventory. Train them to correctly use the machinery, the warehouse management system, print labels, dispatch items. Your team needs to know how to make a warehouse function efficiently.
Human error is one of the most common problems in logistics, so train your staff to leave those errors to a minimum.
Managing a warehouse isn't easy, but you'll be running your warehouse smoothly in no time with patience and training.