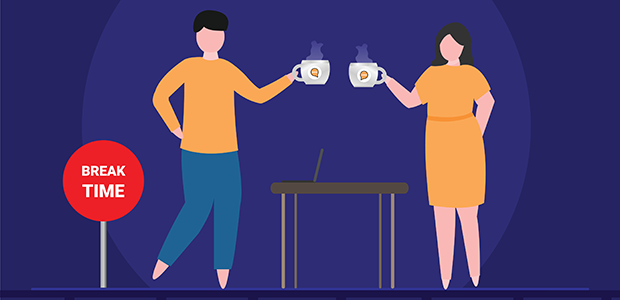 How regular breaks can increase productivity
Perhaps the biggest question in creativity is, 'What do you do when you're stuck?' In interviewing Andrew Reich, one of the head writers and executive producers of hit TV sitcom Friends, I discovered that there are a number of techniques in leading the creative process that can be generalised and applied to any function or industry. One of the techniques that emerged repeatedly was to embrace taking breaks and changing one's environment.
Sometimes the solution is not to encourage a different answer but spark a different mood or energy in the room. In Japanese gardens, if you walk from one area to the next, the garden might suddenly look and feel entirely different, which in Japanese is loosely translated as 'change feeling.' If you walked into the writers' room of hit TV sitcom Friends, so often what they'd be doing would not look as if they were working.
They'd be tossing a ball around, playing some stupid game, or just talking about something that seemed totally off-subject. But very often they would do that for a while, and then someone would ask, 'Wait a minute. Is there a story in this?' So often, appearing as if they were wasting time would lead to 'Wait, there is something here!' There were times when the room would just get really quiet. Everyone was stuck. So how do you get unstuck? Andrew Reich understood that sometimes the group just needed to blow off steam, or be shocked awake, or laugh, or indeed just 'change feeling.'
If the next level of unsticking a group is to change mood, Andrew also returned to his origins of creative writing and would take a group into a completely different environment. He relates, 'I've taken teams of about four people on a walk, going back to my earliest writing experiences, maybe not with twelve people because that becomes a parade rather than a walk, and you end up having a bunch of separate conversations. But after sitting for a long time and suddenly you're out in the fresh air and moving, that alone shakes things up.
Or completely the opposite – a nap! I'm a big believer in napping for refreshing the brain. Sometimes you have to get out of the room when you're hitting a wall. It's also about keeping perspective to relieve the pressure I may be putting on myself. It's just a television show. Sometimes it starts to feel so weighty and serious, I have to step back and let go of whatever attachment of the moment I'm obsessing about. I also don't want to apply too much process in the writers' room, particularly early in the brainstorming or gestating of ideas. Structure comes later. First, we have an interesting idea or dilemma proposed. Then we ask how we fit that into a structure that makes it satisfying.'   
Working harder doesn't always produce better results, but creating or recreating the conditions or environment for inspiration does. There is an urban myth that renowned TV writer and show runner Aaron Sorkin of hits like The West Wing would take five showers a day because he comes up with so many great ideas there. If you think, 'I have to think of a great idea for a show,' you're just not going to.
The best ideas really often do suddenly appear – a force outside of yourself. So how do you put yourself in a position to be receptive to those things? How do you relax because it will never happen if you're looking at your phone and doom scrolling? Andrew finds it may happen on a walk, being in nature, a beach, a forest, and of course in the shower. You do relax there to the point where you realise, 'I was clenching and working so hard, but as soon as I relaxed, ding! There's the solution.' You cannot 'hard work' yourself into creativity.
Once you have an idea and an outline, then you can work hard. But at the inspiration point of the process, there's no forcing that. You just have to trust the process, yourself and the environment that help you get there.