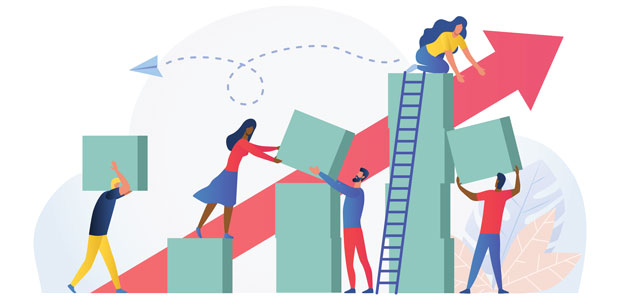 How to refocus on sustainable growth during a crisis
A crisis seems an unlikely time to use for improving growth, but for many startups there's an unexpected opportunity to slow down and refocus their growth and marketing plans on their fundamental, long term growth opportunity. It's crucial for startups to build resilience and a path towards sustainable growth by building the right growth marketing framework and strengthening customer relationships.
Where previously you might not have been able to justify reviewing and adjusting your plans, with the current slump in demand and increased uncertainty, you might of course not have much of a choice than to revisit your original plans. But this might just be the opportunity you didn't know you needed - to get that extra bit of space from investors' and customers' expectations and analyse if your business is following a sustainable path of growth. 
Sustainable growth for most startups is best achieved through what we call Slow Growth thinking. Slow Growth is the attitude to take the necessary time and effort to build a cost effective growth framework before trying to scale it. This requires companies to optimise for growth metrics that reflect the fundamentals of business success, rather than excessively focus on 'fast growth' or top-line customer acquisition. The top metrics include the strength of your customer relationships and the cost effectiveness of your growth marketing framework. Based on these metrics, it's crucial to set growth targets according to how fast you can grow, rather than what others expect of your business.
So even if times are difficult, those startups investing in the right kind of growth will be coming out of the crisis more resilient and with a more profitable framework for growth than many of their competitors. It's exactly this kind of resilience and long-term thinking that is increasingly highly valued by startup investors, to convince them that a startup has the right plan not just to grow but also to achieve profitability and scale without excessively burning cash.
Having that in mind, what do successful startups do with their growth marketing during a crisis or downturn? The best approach we've been working on with our clients in recent months is centred around building strong, long term relationships with new and existing customers. Strong customer relationships are based on mutual trust and respect between your community and your brand, which will get you a high customer lifetime value, a high rate of organic growth through referrals, and the ability to bounce back from the downturn very quickly because you've already got an active community.
The most successful startups build their customer relationships around their brand's mission, rather than just its products or services. For example, our friends at Coconut support freelancers and micro-entrepreneurs through an app-based platform, but also through a highly engaged community, useful resources and representing their audience's interests in front of the government. Emphasising this mission enables companies to continue strengthening their customer relationships even if times are difficult and demand is low.
In order to make the most of the current situation, startups should go through the following process:
Startups should take some time now to slow down to check if they're on a path to sustainable growth based on a scalable, profitable growth marketing framework. They should also reflect on what their core brand promise to customers is, ie. what they would like their customers to achieve and what values they stand for.

With these insights, startups need to review how they can best add value to their customers right now and beyond. If demand for their main product or service has changed, there might be better formats or distribution channels for their product. Or, they might focus on adding value through relevant content, insights or other 'free' support that will bring brand and customers closer together.

Being clear on goals, brand mission and value proposition, the next task is to start crafting a growth marketing framework. It should be made up of at least 3-4 channels, and always including organic search, email and referrals. Building the framework is a process of several months, and the goal is to make it cost effective before trying to scale or invest large amounts of money.
With all these plans in place it's most likely a very good idea to invest in some paid and non-paid marketing activity to grow the audiences and customer base. As long as you have a cost effective growth framework, this is exactly what creates great, sustainable businesses - the kind of brands customers and investors love.
So whilst nobody asked for this current crisis and downturn, there might be a huge opportunity for startups to get on a more sustainable and resilient path towards long term growth.
Read more about Slow Growth thinking.