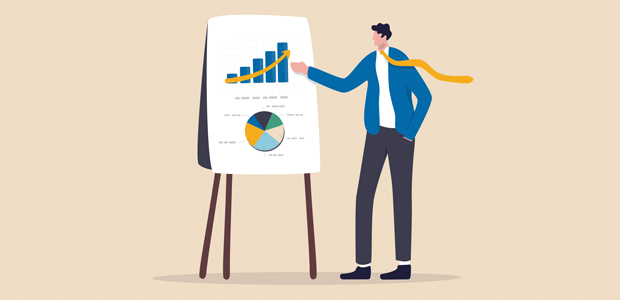 How to Present a New Idea to Investors
You've come up with a business idea, created your presentation and you already know what needs to be said. The very next step is to find potential investors and persuade them to fund your business proposal. In order to do that, you need to be able to effectively present your business.
There are several types of presentations out there: pitch decks, promotional, instructive, persuasive, decision-making presentations, promotional videos, graphic design proposals, etc. All of them were created by using the exact same key elements.
Besides the key elements of a presentation, another important aspect of the entire event is - you! During the presentation, you need to be able to demonstrate the following:
Passion

Integrity

Experience

Realism

Commitment

Vision

Leadership

Knowledge of the matter

Openness for collaboration
And one more thing - practice! Practice until you're able to deliver the presentation naturally, with confidence and charisma. Present your pitch to your family, friends, or your team members.
Key elements your presentation must have
1. Introduction
Set the mood of the presentation from the very beginning. Tell people who you are and why you are here. Needless to say, it's always a good idea to place your full-color logo in the introduction slide.
Having a graphically consistent presentation is a fantastic attribute that should serve your audiences as a clue about just how dedicated you are to your brand.
2. Team
Investors invest in people, not business models. By far the most important part of each presentation is the team slide. You need to be able to prove to your investors that you have a serious, passionate team backing you and your business plan up.
Take your time and concisely elaborate on each members' role in the team. Think outside the box - use an interactive slide or create a visual map of your superstar team in order to engage the audience even more. Talk about every single individual you have onboard and why are the right people to lead your project.
3. Problem
Start with a compelling story - everyone loves stories! The story itself should address the problem you're currently focusing on in the marketplace. Try to research your investors - what industries have they invested in previously and based on that information - tailor the story around it.
Also, identify the problems your product will help resolve. Elaborate on the nature and origin of the problem. Make sure to be concise enough so your audience will be able to follow you closely. 
4. Solution
Straight off the bat - explain how your product will deal with the indicated problems. Explain how your solution is better, budget-friendlier, more efficient when compared to other companies' solutions.
Go into detail but don't be too technical. Be aware at all times who your audience is. They should be able to follow you through each section.
5. Your target market and client acquisition
If you can, try developing a buyer persona - your ideal customer, in order to accurately represent your market. Don't over exaggerate and say that the whole world is a potential customer of yours (even though that might be true one day). Be realistic about your primary target group for which your product is being created. Try to describe the initial reach you're trying to obtain.
Create a slide that explains your strategy for acquiring clients. How will you reach them? How much will it all cost? This information is valuable to the investors and it's easily overlooked.
6. Special sauce
Explain what makes you different from other solutions on the market, and why you are trustworthy. Share any data you have that confirms there is a high demand for your business idea.
Pro tip: 2021 is the year in which socially responsible businesses are truly emerging. Get on top of that trend by sharing your values and principles with the investors. If your angel investor can see the philanthropic aspect as a bonus point, you are on a roll.
If you don't have a CSR strategy in place yet, you can always express your devotion to the community through the business plan, or partner up with a company that can help you get the best out of CSR, such as the WorldFair Business Program.
7. Competition
Create a compelling chart where you would describe the key differences between your product/idea and another, competitive one.
Visualise the data, take your time to expand on each advantage your product has. For investors, this could be a turning point in deciding to get on board with your team. Make a strong statement but don't go overboard.
Pro tip: Be realistic with your weaknesses as well. Come clean about the downsides of your project and how you plan to make up for them.
8. Revenue and Business Model
Potentially the most intriguing piece of information for the investors is your business model - how will you make money. Where do you see the project in one year or in 5-10 years? Present the budget projection, along with a brief sustainability and growth plan.
9. Contact information & follow-up
As the closing slide, reserve some space for your contact information - email address, phone number (either your personal or the phone number of the company), any social media links.
Make sure to specify the details of a person who will be in charge of answering the inquiries. You don't want your investment contract to go through Bob, the team designer.
Keep your follow-up game strong at all times. Investors should be able to reach you easily. Have a well-thought-out business plan always on-hand and ready to share with potential backers.
DO'S and DON'TS of your presentation
Whether your pitch deck is designed for a fashion brand or a SaaS company, there are several rules which you should closely follow in order to create a beautiful, informative and useful presentation.
Although many great presentation templates exist on the world wide web, several guidelines can be extracted from each and every single top-performing PowerPoint template.
DO create a presentation that has the design & brand consistency
As stated previously, having a fully designed presentation will leave a positive impression on your investors. Taking some time to fine-tune your presentation will help impress your audience. 
Embed your logo on every slide, incorporate the brand colors to the banner in every slide possible, use the same font type, color and size as predicted by your visual identity.  This is especially useful for a conference presentation - to have your logo/banner on every slide, so the audience will know at any given moment who you are and why you are there.
Brand consistency is a method of showing that your company can align presented ideas with its core values, to truly guarantee remarkable customer experiences. Brand consistency ensures that your brand is recognised across all social media platforms and other marketing channels you use.
The more consistent your brand is, the more compelling it is to your customers. This way, you build reliability and trust with your current and potential customers.
DO leave a good first impression & practice your storytelling
The very first couple of minutes are crucial in order to set the tone for the entirety of the presentation. Demonstrate confidence and knowledge of the topic you're presenting.
As stated above, before your big day - it's recommended that you practice the presentation several times in front of your friends, family, or colleagues. You want to be able to do the entire presentation without stuttering and hiccups, in one sitting.
DO reserve one slide for one idea/topic
By following the aforementioned list of key elements, try to differentiate the topics of your presentation and separate them into slides. The audience needs to follow you closely throughout the presentation.
Reserve one slide for one thought. When opening up a new slide, always announce what the topic of the presentation during the next few minutes will be. Do not mix the topics to avoid potential confusion.
DON'T waste time
Before the presentation, you should already be well informed about how much time the investors have dedicated to listening to your story. Based on that information, tailor your presentation around that time.
Use the time you were given mostly in key aspects of your presentation, but make sure to reserve some space for every topic on your list.
DON'T do the entire presentation in either text or picture format
A key attribute of a good presentation is that the audience is able to visualise the information you're presenting. Whether you're trying to achieve that with either text, charts, pictures, graphs, or videos - it's totally up to you and your personal preference.
It's really challenging to read the text at the same time you're trying to attentively listen to the presenter talk. Try to avoid putting your audience in this grim situation.
You should be careful and try finding a perfect, golden ratio between the text and pictures. When presenting different metrics, always ask yourself would it look better as a  chart or a graph.
Conclusion
Presenting your idea to potential investors is a stressful event. That being said, if you incorporate these tips and instructions in your presentation, you'll be able to create a professional-looking presentation. Being well prepared is like you're halfway there already!
When preparing your next pitch, take one step at a time, and gradually you'll improve your presentation-delivering skills along with your design skills, slide by slide.