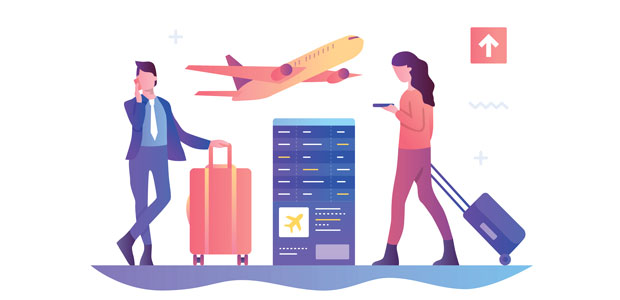 How to prepare for business travel in a post pandemic world
Over the last few weeks, we've surveyed our customer base, with the findings indicating that most UK businesses are starting to return to pre-pandemic levels of business travel, with plans to increase their business travel further in the future. Even international travel, which is still somewhat disrupted, is slowly increasing. These seem reflective of the wider UK too as the country gets to grips with a hybrid way of working with more miles on the road and in the air, while home working remains here to stay.
40% of businesses surveyed in our research travelled more in 2021 than in 2020 and a further 41% travelled at the same rate. Only 13% answered that they travelled less with the remaining 6% not traveling for meetings at all. Encouragingly, 57% answered that they will increase their business spend on travel in 2022. 36% intend to increase their travel budget by 20-50% and a further 15% plan on increasing it by 50-75%.
Therefore, although videoconferencing has grown to the point that 42% believe that it has replaced face-to-face meetings, it doesn't seem to have reduced the appetite for business travel overall, even though other factors including record fuel prices in the UK and its associated volatility must be noted. This could be due to the amount of time that employees spend in meetings, which therefore makes it justifiable for businesses to use both videoconferencing and face-to-face meetings depending on the situation.
How businesses can prepare for increased business travel
With business travel increasing and fuel and other costs due to rise in the foreseeable future, now is the time to evaluate your policies and practices with an eye to improving them.
Hybrid meetings have become more commonplace over the last year or so, meaning that you and your business can save money by only attending the most important meetings in person. If what many respondents are saying is correct and the culture around meetings has changed then companies can be more flexible.
It may also be worth tightening up the rules, especially around international travel. Although 74% of companies surveyed do not travel internationally, 13% travelled more in 2021 than in 2020. Whilst restrictions around international travel have lifted in the UK and across most of Europe, it is still possible to be denied entry into some countries if employees test positive for COVID-19. Therefore, rules need to be made to ensure that tickets can be refunded or swapped into another person's name. You will also need to make sure that you are getting the best deals on travel, ensuring that a budget is set.
Cutting fuel expenses
79% of respondents said that they have spent money on fuel for business travel in 2021, with the number of businesses intending to travel more set to increase. There are a number of ways to reduce fuel spend, ranging from using electric vehicles (EVs) to carpooling where possible. However, this does not solve the administrative headache around lost receipts and factoring in additional expenses such as hotels (35%), food (23%) and COVID testing (20%).
In order to control all travel costs, a combined fuel and expense card would allow employees to put all of their business travel expenses on a company card as opposed to their own, cutting down on administration costs, allowing companies to set limits and review transactions online. Such cards also have all the benefits of a standard fuel card with cost savings on fuel and reduced driver route deviation for those travelling by road with access to the largest fuel network. Fuel is one of the biggest necessary costs for businesses and savings in this area is key in the current climate with businesses under increased pressure.
To streamline and track travel expenses further there are some innovative all-in-one travel platforms, such as Roomex, that are built for today's mobile workforce and enable employees to book accommodation, manage expenses and consolidate spend into a single invoice. Such a platform lodges combined fuel and expense cards in to enable weekly invoicing for all travel spend, including accommodation, meals, expenses and even train travel. This results in making travel management easier, safer and more efficient for businesses.
Managing travel expenses
As businesses plan for increased travel and with the cost of all forms of travel predicted to continue increasing over the next few months (at least), it is important that they consider how they manage business travel and look into the options for streamlining spend while the mobile workforce is on the road or in the skies. This is an essential key in navigating the modern way of working.