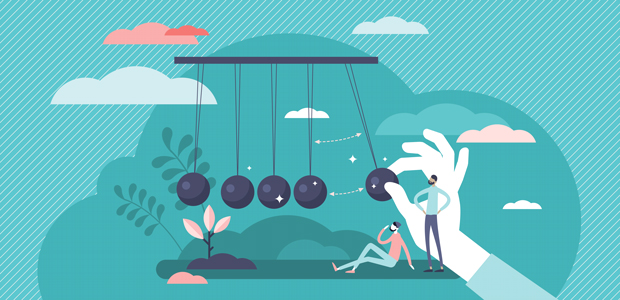 How to make money investing in positive impact businesses
COVID-19 has materially impacted the way investors are looking at prospective companies to put their money into.
Investors and market watchers are looking at how brands have been performing over the past year, what measures they are taking to come through the crisis and how they are changing their business practices to be sustainable in the long term – that's according to Claire Blackwell of St. James's Place who I spoke to her recently as part of our work here at the WealthiHer Network.
In this context, sustainability has two meanings. In a recent podcast with the IWF, Karina Funk, Partner at Brown Advisory and named one of the 100 Women Leading the U.S. Finance Industry Confidently Into the Future, explained that true sustainability comes from the intersection of positive, fundamental and sustainable business drivers, ensuring the longevity of the business.
This is also something that Sian Sutherland, Co-Founder of A Plastic Planet agrees with. She has been quoted as saying now is a time of great opportunity for business. There is a responsibility for businesses to examine their whole supply chain to ensure it is able to withstand another global crisis and climate change.
Both Sian and Claire want to see a change in the way that sustainability is used. The word 'sustainability' is un-aspirational. It is over-used and the meaning has become diluted. They would prefer the use of 'responsibility'. Responsibility for the waste that we create, for the economic principles that we have and for our actions as consumers and as businesses. This personal responsibility can force both consumers and businesses to look at their practices and make changes for the better. Responsibility is a privilege. If we consider ourselves in a privileged place and we take that responsibility, then we have to show up as the best versions of ourselves: as consumers, as companies, as governments and as a whole ecosystem.
But can you be both socially responsible and make money whilst doing so?  The short answer is yes. Investors can choose to put their money into companies that are already doing well on a responsibility front, or they can use their investor clout either as an individual or a group, to effect change in the business. If you have a pension, you may find that as a shareholder, you can positively impact the way that the business is run. As Claire said: "As an individual investor, you do have clout through the power of scale. Collective size and scale allows access to companies to drive their sustainability concerns."
And it's important to engage with companies that are not meeting sustainability or responsibility standards to influence their long-term behaviour.
"It's in that long-term game, in really sticking by and helping the management, that you can start to see long-term results." Sustainable companies are differentiated and clients and consumers hold them in high regard and are loyal.
Gabrielle Branson, who is another of our WealthiHer Network partners and deputy CEO of Kleinwort Hambros, believes choosing to challenge can be difficult, but is important. "A lone voice isn't always enough. The collective voice is a powerful force, bringing different parts together to drive forwards."
The finance industry has a responsibility to educate consumers on the impact they can have through responsibly investing and using their investments as a force for change.
As Karina Funk stated in her podcast "environmental efficiency is instrumental to a healthy bottom line" and in the UK, Mark Carney, former governor of the Bank of England, warns that firms ignoring the climate crisis will collapse. So there is a clear imperative for businesses small and large to behave in a responsible way.
As a result, environment, social and governance are hot topics at the moment, but these are not things that businesses can get off the shelf. They are strategic commitments that require investment and expertise at board level, accepted by the entire management team and put into practice across the board. If a company is successful at this, they can create an increase in consumer confidence and loyalty, helping to make the business sustainable in the long-term.
Do you believe that businesses can be both socially responsible and make money whilst doing so?