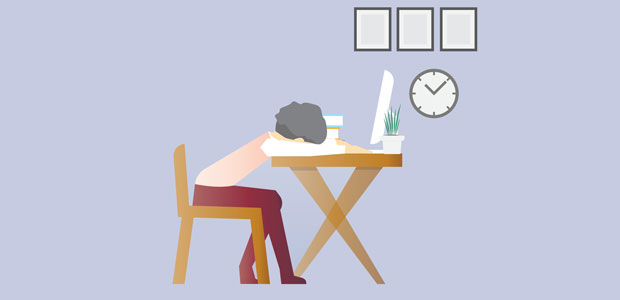 How leaders can help their team combat the work from home fatigue
For many, December will soon mark almost eight months of continuously working from home, a complete shift from normality when it comes to working and riding the balance between work and home life. Google trends data also reveals searches for 'burnout' peaking as the UK entered a second national lockdown earlier in November.
So, with more people likely to be experiencing work from home fatigue, in this article, I share tips on how business leaders can help to combat this form of burnout.
1) COMMUNICATION IS KEY
It will come as no surprise that communication is a vital part of this strategy - with every element of running a business or managing a team, communication is the key to success. For many at the moment, they may be living alone, in shared accommodation or having to juggle the added pressures of being at home more often, like childcare for example.
All of this can lead to feeling a sense of isolation from the team and the company, something that is difficult to ignore when you spend day-to-day with your team in the same office. To aid this and keep the communication flowing, teams can use instant messaging like Slack and Google Chat.
While daily huddles and weekly catch-ups with a line manager/mentor using a mixture of video and voice calls help to keep updated. Keeping a constant open door to communication can replicate that feeling of being in the office where we can so easily chat to one another.
2) DEFINING THE PURPOSE
Without leaving the house for the journey to the office and being sat in front of a screen with no real in person contact, it's difficult not to question the purpose of what you're doing. For team leaders, it is vital that every member of the team is aware of what they're doing and why they're doing it, aside from simply logging the hours and getting through the day. It starts at the top with senior management, through company-wide communication, which keeps the team updated on business progress, any wins, challenges and opportunities.
This communication then needs to filter down through the hierarchy with each level of the team being aware of how their work contributes to the overall goal of the company. No role in a team is obsolete and everyone contributes to the success of the overall goal and defining this purpose, more now than ever before, is vital to give your team a sense of purpose and being.
3) TRUST YOUR TEAM AND SHOW IT
For many, they will be questioning whether they're doing enough to show they are working as 'normal' and this can lead to overworking and in turn, burnout. Ordinarily we are defined by the 'office hours' - leaving at 5:30pm, taking lunch at the same time each day and being at your desk visibly working for all to see. All of this is removed when teams are separated and working individually at home, and this leads to teams feeling the need to 'prove' themselves.
Team leads can avoid this feeling by being flexible, having less formal meetings and catch-ups, while keeping these streamlined and avoiding times where people may be having lunch or just beginning work, with many likely to have adopted a new routine. Ensure deadlines are broad and given with as much notice as possible so they are attainable and met. It's important to be mindful around questioning work that hasn't been done or if time-tracking.
For example, instead of questioning where time has been spent if a task is short by a few hours, team leaders need to demonstrate a trust in their team, so the wording of these conversations should be considered so that it isn't accusatory in tone.
4) BE CLEAR ON THE PRIORITIES, EVERYTHING ELSE WILL FOLLOW
When delegating work to your team, be absolutely clear of the deadlines and what the top priorities are. For many in the team, particularly those who are less experienced, being thrown out of the office situation where they are surrounded by peers and can follow the lead of those more experienced could make elements of the job difficult.
As team leader or manager, making workload priorities explicit from the offset and checking in once a week on progress can help to guide the workload without micromanaging. 
5) ENCOURAGE MOVEMENT AND MAKE IT A TEAM ACTIVITY
When work becomes home and home becomes work, it's hard for any of us to strike a perfect balance, but getting outside and moving around can be the perfect way to break up the day - including taking a much-needed break from the screen. But how do you ensure your team is not neglecting their own need for fresh air and daylight?
If your company doesn't have a social chat, it would be wise to start one now if only to keep your team connected over something other than work. In this chat, a nice idea could be to start a weekly thread where the team shares photos of something they've done that week. The idea is that this will encourage people to get out so that they have something to share.
You could even start a team group on an app like Strava, which will create a leaderboard for the amount of miles each person logs in exercise outside. It doesn't have to be strenuous, so whether they're walking or in a wheelchair, riding or running, it encourages the team to get outside and spend time away from the screen.